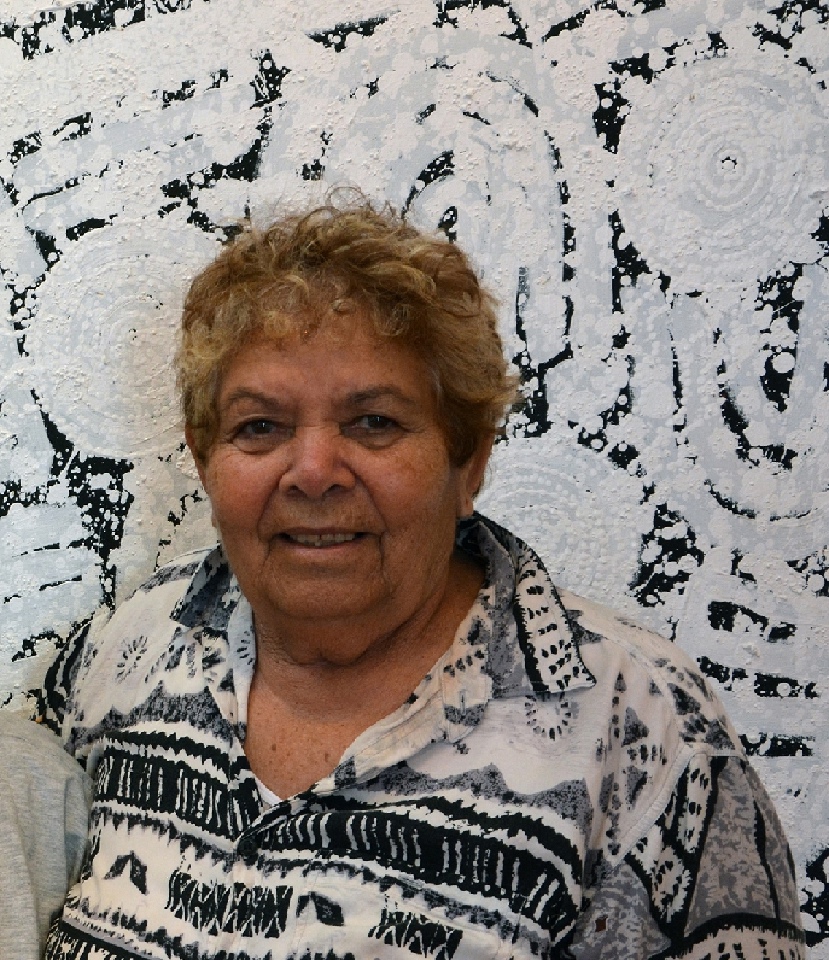 DOB: c. 1942
Born: Bundy River Station, NT
LANGUAGE GROUP: Anmatyerre
COMMUNITY: Utopia, NT


Barbara Weir was born c.1942 on Bundy River Station in the area of Utopia, Aboriginal Art Regions of Central Australia. Barbara Weir's mother is the late famous Aboriginal Artist Minnie Pwerle. Barbara's father was the Irish station owner, Jack Weir. Barbara was taken from her family and fostered out as one of the 'Stolen Generation' but, in the 1960's Barbara returned to Utopia and stayed with her aunt Emily Kame Kngwarreye.

Barbara's career as an artist was inspired by the dynamic community of artists at Utopia and the work of her adopted grandmother Emily Kame Kngwarreye. Emily's work had a profound impact on her and in the early 1990's she began seriously to explore her artistic talents. Highly experimental in her approach, she tried many mediums and in 1994 went to Indonesia with other artists to explore the art of batik. This gave her new insights into her own process and she returned full of ideas on how to develop her own style.

Barbara is a highly talented, inventive, creative, energetic and hard working artist, who paints in a number of different styles and who pushes her own artistic boundaries in doing so. Because of this, her important part in the Utopian community, her family connections and her difficult life experiences at the hands of the white administration of the day, she is a highly collectible artist, and one who continues to grow in stature at a steady rate.

Exhibitions:

1995, 1997, 2003, 2007, 2009 Dacou Gallery, Adelaide
1995, Davis Avenue Gallery, Melbourne
1996, 2002, Framed Gallery, Darwin
1996, Gallery Woo Mang and Partners, Paris, France
1996, 1997, 1998, 1999, 2006, 2007 , 2008 Flinders Lane Gallery, Melbourne
1996, 1997, 1998, 1999, 2000, 2002, Quadrivium Gallery, Sydney
1996, 1997, 1998, 2008 Fireworks Gallery, Brisbane
1997, Art Gallery of South Australia, Adelaide
1997, Hogarth Galleries, Sydney
1997, Sutton Gallery, Melbourne
1997, Barry Stern Gallery, Sydney
1998, ARTEXPO, New York, USA
1998, 2001, Chapman Gallery, Canberra
1998, Adelaide Festival Theatre, Adelaide
1998, Exhibited extensively in Europe including: Switzerland, Belgium, Germany, The Netherlands
1999, 2002, Japingka Gallery, Perth
1999, 2000, 2001, Tandanya, Adelaide
1999, 2000, 2002, 2006 Gallery Savah, Sydney
2000, ArtSauce, Singapore
2000, Redback Art Gallery, Brisbane
2000, AMP Building, Sydney
2000, "Women's Business", Chicago, USA
2001, Mbantua Gallery, Alice Springs
2002, Knut Grothe Galeri, Charlottlenlund, Copenhagen, Denmark
2003, Alison Kelly Gallery, Melbourne
2003, Glen Eira City Council Gallery, Melbourne
2004, Addison Road Gallery, Marrickville, NSW.
2004, Mbantua Gallery (USA exhibition: Portland, Nashville, Knoxville, Hartford, Greenwich, Philadelphia and New York).
2006, APS Bendi Lango Art Exhibition, Rio Tinto Offices, Melbourne.
2007, Australian Embassy, Washington, USA.
2007, "New Works from Utopia", Space Gallery, Pittsburgh, USA
2008, Gecko Gallery, Broome.
2008, "Walking Together to Aid Aboriginal Health", Shalom Gamarada Aboriginal Art Exhibition, University of NSW, Kensington, NSW.
2008, "Utopia Revisited", NG Art Gallery, Chippendale, NSW.
2008, "Dreamings - The Land", Outback Aboriginal Land, Caulfield, VIC.
2008, Red Rock Gallery, Beijing, China.
2009, Janet Holmes a Court Gallery, Perth.
2009, "Utopia, Colours of the Desert", Gongpyeong Art Space in collaboration with Dacou, Australian Embassy in Korea and Crossbay Gallery, Seoul, Korea.
2010, "In the Footprints of Barbara Weir", Central Art, Alice Springs
2012, "Barbara Weir", Kate Owen Gallery, NSW



Collections:

Art Gallery of South Australia, Adelaide
Art Gallery of Queensland, Brisbane
Artbank, Sydney

Queensland College of Art Griffith University
Ebes Collection-Workum, The Netherlands
University of Adelaide, Adelaide
AMP Collection

AUCTION DETAILS:
Title: Grass Seed Dreaming, 2003
Details: Synthetic polymer paint on Belgian linen, 240 x 150 cm
Auction Price: $31,200
Auction House: Lawson~Menzies, Aboriginal Fine Art, Sydney, 09/11/2005, Lot No. 126
66 works listed from the 1970's onwards.