We are lucky to have wonderful clients from all walks of life and from all over the world! Here are just a few of their (unsolicited) comments about the Gallery and their Aboriginal art.....
Polly's beautiful piece is absolutely perfect in its new home. The pic really doesn't do it justice but here it is as promised. Surrey you were absolutely correct about the size. Thank you from this very happy 40th birthday girl! We will definitely be back. There are more white walls here!
-
Thank you so much for being so courteous, warm and helpful. Such a delight. It has made buying from the gallery so easy! Your enthusiasm for the artwork is only matched by your incredible organisational efficiency in making sure every step is covered off so I feel really comfortable that everything is in hand and I can focus on being really excited about the delivery of our new piece of indigenous art!
Lindy, Canberra ACT
-
My Azeza Possum Ramzan work arrived safely today. It is a gift for my baby granddaughter and I have hung it in our guest room where she sleeps when visiting. I will explain some basics of Aboriginal art when she is a much bigger girl.
Thanks again
Christine, Newcastle NSW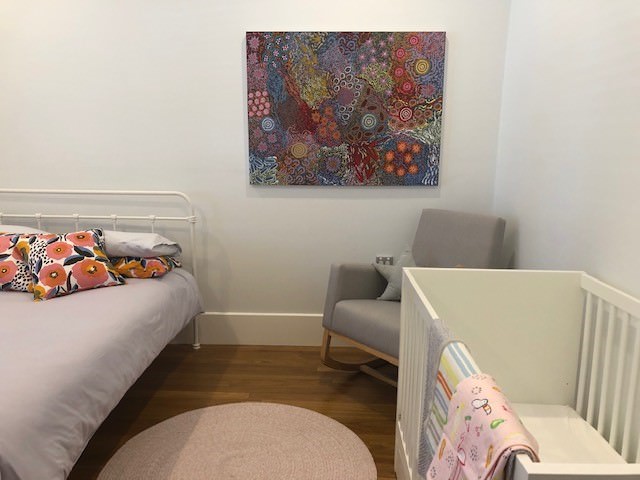 -
I just wanted to say thank you very much for your help with the selection of the artwork. They arrived safely, have been installed and we are receiving lots of very positive comments. It was so great to have your expert help and thank you for being so patient with us on a busy day. We were very impressed with your service and just wanted to pass on our thanks!
Felicity, Canberra ACT

-
I would like to thank you so much for the warm welcome and introduction to the inspiring work you have in your beautiful gallery. Finding your gallery was the highlight of my time in Sydney! The lovely lady down stairs was also so friendly (sorry I forget her name, but will not forget her!) I will call again some day soon I hope! Thankyou again and take care,
Lucy, Christchurch, New Zealand.
-
The weeks have flown by and I haven't written to thank you so much for organising the installation of the Walangkura paintng while we were on holidays in January. Simon got the biggest surprise when we arrived home…he was completely stunned. He absolutely loves the painting and we're really enjoying having it in our home. It's very special! I hope things are going well for you, and look forward to visiting the gallery again soon.
Jo, Eastwood, NSW
-
Firstly, I must congratulate you all on the incredible customer service you showed my husband and I yesterday - we both agreed, it was the most positive, hospitable and genuine service we have encountered in an Art Gallery, in any part of the world. Your service was warm, sincere and personal; your knowledge and artistic skills and talents evident yet humble. You all showed such a respect for the art you showcase, the artists and indeed the process of researching/purchasing, from a customer's perspective. Thankyou, you all made such a positive impact, and created such a lovely (and loving) energy and feeling - we will definitely return. We received enormous generosity from our family and friends for wedding gifts, amongst those gifts - some cash, and we left your space agreeing we must invest in a piece from your gallery to honour our wedding celebration, as well as the generosity of our loved ones. Being Monday - I am heavily engrossed in my work - but will definitely sit with a glass of wine, and view your website with the attention and sense of exploration it deserves. Thankyou once again to each of you who made our visit so special - you and your space are incredibly memorable. Best regards,
Lynette, Paddington, NSW
-
The painting from Elaine Woods survived the trip to Thailand very well and made it to Switzerland in the bag of our daughters surfboard! ;-) Here your documentation and the certificate were awaiting us! We were very keen to have the painting on the wall in our living room right away, so Martin bought the wood for the frame the next day after our arrival! Since then we enjoy the warm red-orange colors every day, as it warms our room while we just got snow outside!!!
The size is absolutely perfect and it looks gorgeous! We are very happy that you asked for this smaller piece of Aboriginal Art for us from Alice Springs as we like it very much!!!
With best wishes from all of us from cold and white Switzerland,
Franziska and Martin
Switzerland
-
I just wanted to let you know that I received the red Walala Tjapaltjarri today. It's great! Thank you very much for arranging such quick and efficient delivery. I'm sure Kari is going to love it (she won't see it until later). I'll try to drop by the gallery next time I'm in Sydney, though I have no idea when that might be. In the meantime you may very well receive inquiries from friends of mine in France. My blue Walala has caught several people's eye. :) Best regards,
Dany, France
-
Our two Gabriella Possum paintings look just amazing in our house - it was great to be able to meet the artist in your gallery too. We will be back! (Gabriella is centre in the photograph)
Glenda and Noel, Alfords Point, NSW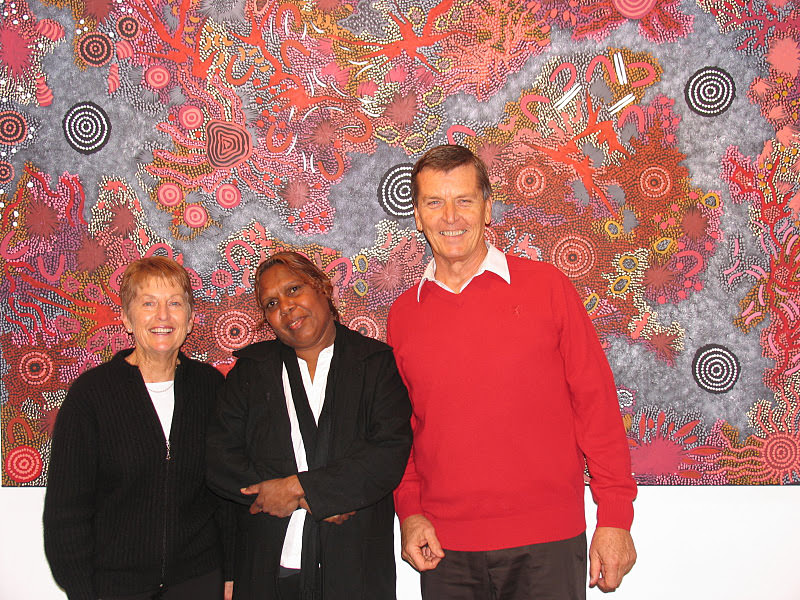 -
Hi Kate,
.......thanks - and yes - the painting has a big wow factor and everyone who comes in comments on it!
Liz, North Ryde NSW
-
...... I have not forgotten how I was affected by wandering into your gallery that day and have told many people about it. Hope to see you soon.
Lesley, Darlinghurst, NSW
-

I don't know which of my three paintings to photograph - they are all stunning and make such a difference to my home. This Kudditji is amazing the way it changes at different times of day - and it looks equally good whichever way up I put it. The Walangkura too is so powerful. I will be back when I am ready for my fourth artwork!
Michael, Balmain, NSW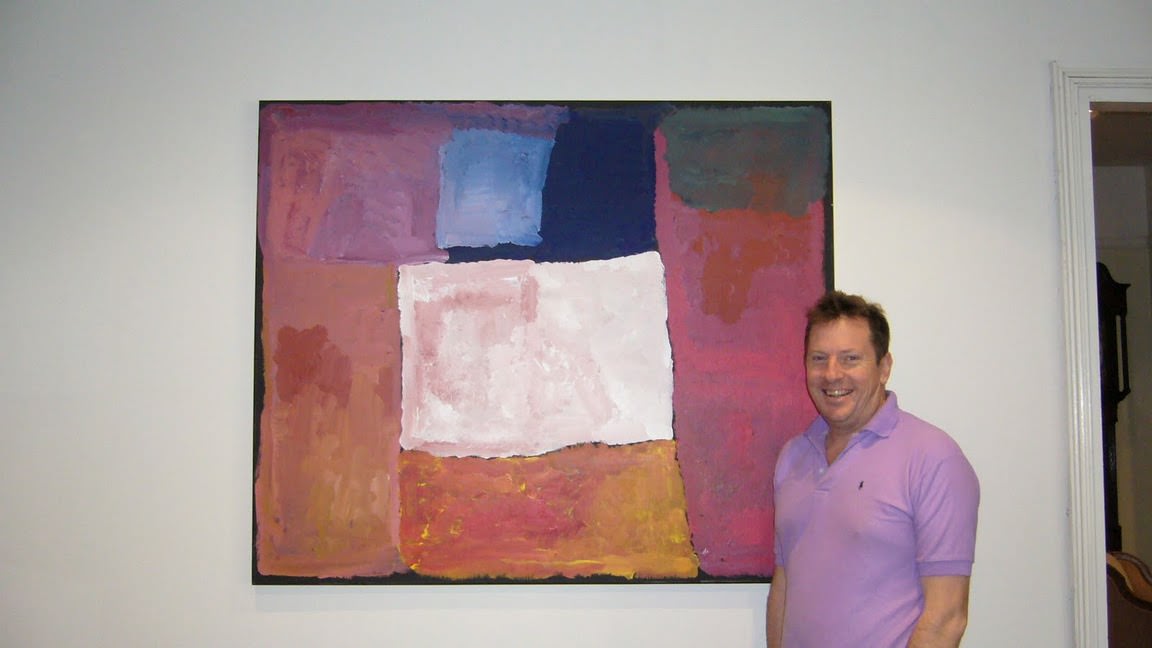 -

I have been enjoying browsing this Kate Owen Gallery website for several months as there are so many brilliant paintings to look at. I have been amazed by the selection and quality of paintings, available through the gallery, by so many very gifted artists! It is a pleasure to explore this website, thank you for creating such a fabulous space!
May I also add as a footnote that I have recently purchased a Kudditji painting from your gallery. Today I received the COA in the mail. I must tell you that, having purchased indigenous art from three other galleries in Australia, your documentation is the most professional and complete that I have yet come across. Congratulations to you all for running such an excellent gallery!
With every good wish,
Romana, Mosman, NSW
-
Many thanks for sending the documents through and yes we are very excited and pleased with the purchase. Agreed, it does vary with different light conditions and we are looking forward to having it hung our home. Your staff were extremely helpful and patient and your gallery is a beautiful space, a lovely way to spend a Saturday afternoon.
Thanks again, regards Karen, Sydney, NSW
-
I would like to thank you and your staff for the stunning efficiency with which you had both Gracie Wards safely delivered to Woy Woy yesterday. Paul and I (and all the staff) are pleased to have them brighten up our office.
Geoff, Woy Woy, NSW
-
Mistakes will always happen – it's as certain as life itself. It's how we choose to deal with mistakes that sets us apart, both as individuals and as businesses.
Thank you for choosing to accept my feedback, and turning disappointment into delight. I will be your strongest brand ambassador for many years to come.
I am flying to Brisbane tonight, so won't be able to pick up the painting until next week. I will try for Tuesday, but it may be as late as Thursday.
If you are in the gallery, I would love to say hello and convey my thanks personally. Cheers,
Gillian, Ultimo, NSW
-
Attached is a photo of Michael and one of our daughters in front of the Kudditji painting that we recently bought from you on the wall in our house. It looks great and will look even better when we have the lighting installed. It's amazing how much our daughter's current hair colour matches the painting !!
regards
Julie & Michael, Drummoyne
-
Dear Carrie,
That was a good surprise hearing from you and bringing up holiday memories! Thanks for that!
..........the painting has been stretched and now it has become a jewel in the flat - quite often before going to work I have my coffee in front of the painting, dreaming about how Molly Pwerle and the other artists are painting in the heat of the day and probably do have no idea where all their works end up.... And of course Christine is also enjoying it as well as she has become a big fan of Australia. I hope business is doing well and you also have had a good share of holidays during your summer season. All the best,
Michael, Utrecht, Netherlands
-
....... I love the painting more and more.. it just grows in meaning for me. So amazing that a painting can hold so much even tho I don't know what it is....
Thanks for having such a gallery,
Liz, NSW
-
.......yes the art work looks fantastic, and I'm very glad we purchased the painting, as there is a great feel to it.
Diane, Caringbah, NSW
-
"Wow! This gallery was really worth visiting Australia for! I love it!"
Dennis "DJ" Moulton, Los Angeles, California, March 2012'
-
I just wanted to let you know we came in on Sunday. Daniel spent a lot of time with us and he was fantastic. He brought a number of pieces over to our house yesterday and we ended up buying three paintings and I think they look fantastic! Things look so different at home that your service is great, bringing out works and helping with the decision process. And as I said, we thought Daniel was great, very helpful but without any pressure. Just thought you would appreciate the positive feedback!
Best wishes, Michael, Sydney March 2012
-
"The paintings have arrived safe and sound. Thank you – they are magnificent."
Jean, Interior Designer on behalf of her client, Western Australia, March 2012