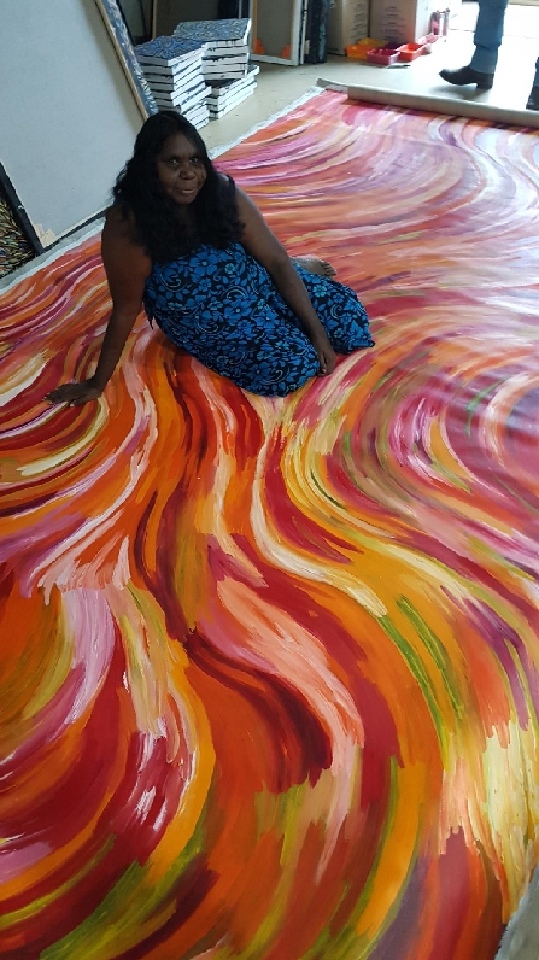 DOB: 1960
Born: Boundary Bore, Utopia, NT
LANGUAGE GROUP: Anmatyerre
COMMUNITY: Utopia, NT


Anna Price Petyarre, born 1960, is an Anmatyerre woman from the Boundary Bore area of the former Utopia Station, north east of Alice Springs. Anna is also known as Anna Pitjara, Anna Price and Anna Price Pitjara. She is the daughter of the late Glory Ngarla (Ngale, or Ngal) and niece to the late Emily Kame Kngwarreye.

Anna began painting in the early 1980s.

Anna initially primarily painted Yam Seed Dreaming in a colourful and intricate expression of the songs and stories associated with her plant totem, the Bush Yam, and its seeds. The Bush Yam has been a staple food and water source for the Anmatyerre people for countless years and the seeds that form and scatter from the plant are ground up to make flour for damper. During ceremony, it is Anna's duty to pay homage to the yam seeds and give thanks for their abundance and regenerative qualities. By painting to the tempo of a ceremonial song, Anna expresses her connection to her plant totem in a permanent medium.

A versatile and creative artist Anna has changed her painting style radically several times over the last decade and now concentrates on extremely finely dotted works which represent her country and its ceremonial sites at Boundary Bore.


Collections
Art Bank, Sydney, NSW
Art Gallery of South Australia, Adelaide, SA
Powerhouse Museum, Sydney, NSW
Museum & Art Gallery of the Northern Territory, Darwin, NT
Holmes a Court Gallery and Gallery Collection, Perth, WA
Art Gallery of Western Australia, Perth, WA
Queensland Art Gallery, Brisbane, QLD
The Kerry Stokes Collection
Anthropology Art Museum, Perth, WA
Art Gallery of New South Wales, Sydney, NSW
Mbantua Gallery Permanent Collection, Alice Springs, NT
National Gallery of Australia, Canberra, ACT
National Gallery of Victoria, Melbourne, VIC
Awards
1998 Finalist 15th annual National Aboriginal and Torres Strait Islander Art Award.
History
SOLO EXHIBITIONS

2004 Anna Price, Mbantua Gallery, Alice Springs

SELECTED EXHIBITIONS:

2019 defining tradition | black + white, Kate Owen Gallery, Sydney
2019 International Women's Day, Kate Owen Gallery, Sydney
2017 Intricate Expressions, Kate Owen Gallery, Sydney NSW
2008 Three Petyarres, Kate Owen Gallery, Sydney, NSW
2005 Small Wonders, Mbantua Gallery, Alice Springs, NT
2005 Yam Dreaming - Atnwelarre, Mbantua Gallery, Alice Springs, NT
2004 Mbantua Gallery USA exhibition; Portland, Nashville, Knoxville, Hartford, Greenwich, New York and Philadelphia
2003 Art from the Dreamtime, Portland Art Museum, Portland, Oregon, USA
2003 Mbantua Gallery USA exhibitions: New City Merchants, Knoxville, TN; Art and Soul Gallery, Nashville, TN; The Cove Gallery Portland, OR; Mary's Woods, Portland, OR
2003 Heart and Soul, Mbantua Gallery, Alice Springs, NT
2002 Galerie Le Temps du Reve, France.
2002 Mbantua Gallery USA exhibitions: New City Merchants, Knoxville, TN; Art and Soul Gallery, Nashville, TN; The Cove Gallery Portland, OR; Urban Wine Works, Portland, OR; Mary's Woods, Portland, OR.
2002 Generations, Japingka Gallery, Fremantle, WA
2002 Hogarth Galleries, Sydney, NSW
2002 Glen Eira City Gallery, Melbourne, VIC
2001 Painting Country, Tandanya, SA
2001 Japingka Gallery, Fremantle, WA
2001 Raintree Aboriginal Art Gallery, Darwin, NT
2000 Women's Business, Australian Exhibition Centre, Chicago, USA
2000 Artists of Utopia, Tandanya, S.A
2000 DACOU (in association with AMP), Mary Place Gallery, Sydney, NSW
1999 Caring for Country - Artists of Utopia, Tandanya, S.A
1999 DACOU Gallery, Adelaide, SA
1999 BMG Art, Adelaide, SA
1998 Quadrivium Gallery, Sydney, NSW
1997 Sutton Gallery, Melbourne, VIC
1997 DACOU Gallery, Adelaide, SA
1996 Utopia Dreaming, Soho Gallery, Sydney, NSW