customer service is extremely important to us!
At Kate Owen Gallery we offer a wide range of services to our clients - it's all about going that extra mile to achieve customer satisfaction, but also designing our services to suit the specific needs of our busy clients. If you have ideas on how we can improve on our services or the way we do business, please let us know. We appreciate constructive feedback - it's how we grow.
'digital hanging' - for the time poor
This is a great service for interior designers, architects and all those time challenged people who are too busy to visit the gallery.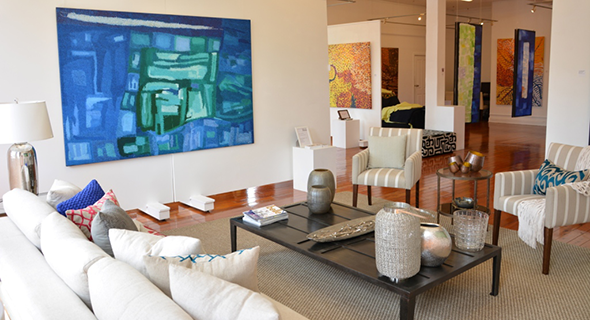 Email us digital images of the wall (including your artist, colour or taste preferences) and we email the photos back with paintings hanging on the wall. See exactly how each painting will look in the room. So easy!

free consultancy for home or business
Our gallery abounds with beautiful artwork. But if you're time poor, we'll bring some to you at your home or business. We'll assess your needs, then bring a selection specifically chosen to suit your taste and your space, or to meet your investment needs. You save time - and our friendly consultants don't even charge!
If you would like to become one of our valued club members, you will be kept advised of special offers, premium artworks and receive additional member benefits and services. It's our way of giving back to our supporters. To become a member, just complete the simple sign up form, and welcome on board!

try before you buy
We encourage you to take a painting or two home for a few days to see how it works in your space. You can learn a lot about your taste this way. Like music, some art takes time to get to know. The best art reveals itself slowly.... We let you have time.

why not commission a painting?
If there's an artist, size or style you like, many artists will do one for you (including Kate). So you get an artwork specially painted for you and it costs you no more for the privilege.
We hope you find our services helpful and we really appreciate hearing any suggestions or feedback at info@kateowengallery.com.