Kate Owen Gallery: bringing Aboriginal art and culture to the world since 2007
We are a multiple award winning gallery in Sydney's Inner West, specialising in contemporary Aboriginal art for modern interiors.
Our Sydney Aboriginal art gallery showcases a large number and a diverse range of styles from Indigenous Australian artists located across the country.
Stretching over 600 square metres on three floors, the gallery showcases major exhibitions of established Indigenous masters and exciting new talent. Artworks range from small, affordable paintings to large, investment pieces.
Our wide and wonderful collection of Indigenous Australian art is available to view and secure on our user-friendly website. Or you can delve into our articles about Aboriginal art and culture.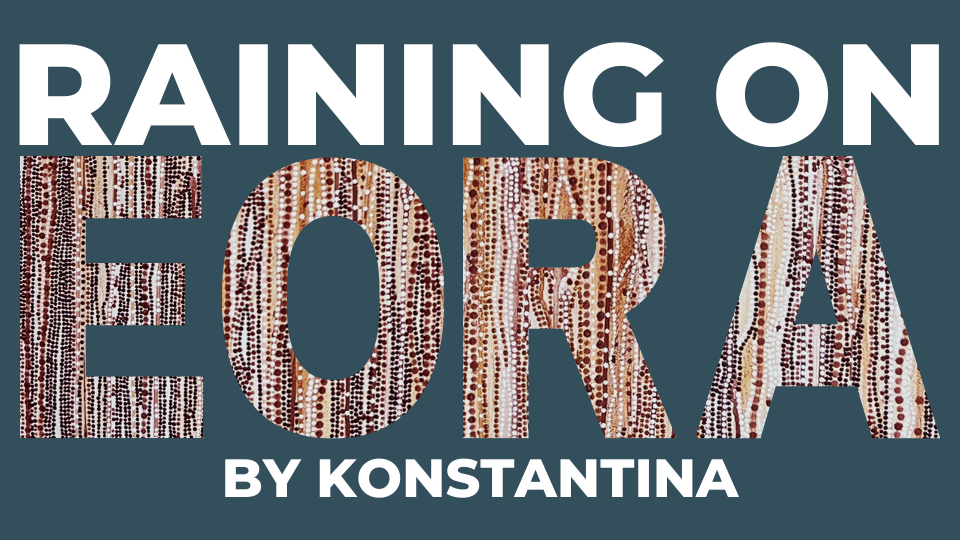 Raining on EORA Exhibition
From: 14 May
Until: 12 June
Konstantina presents her highly anticipated show 'Raining on EORA' - a highly evocative series of artworks created out of sustainably foraged natural ochres and pigments collected on Eora Country (across the Sydney region). Kate has created the collection of artworks using over 50 layers of ochres foraged in each of the 10 original language groups of The Eora Nation. Whilst this may seem simplistic in theory, it is immensely rich in cultural significance for First Nations people of the Eora Nation.
Kate Owen Gallery News
We have an exciting exhibition schedule planned for 2022, including the global launch of the King Sisters sculptures range. The exhibition will also display Sarrita and Tarisse's iconic paintings that inspired the sculptures.
Konstantina will also present her highly anticipated solo exhibition EORA. An evocative collection of Raining Series pieces will be created out of the natural ochres and pigments found on Eora Country. An exhibition not to be missed.
Make sure you join the KO Gallery Club so we can keep you updated about upcoming events and exhibitions in the gallery and, of course, invite you to take part. Emails are usually sent out once a month.
We have some fascinating articles recently posted to our Art & Culture hub, including a piece on Framing Aboriginal Art and The Dreamtime.
Dhinawan Baker
As a proud descendant of the Gamillaroi Bigambul tribe, Dhinawan Baker is passionate about representing his culture through multifaceted artwork including murals, graphic design, and canvas. In recognition of Dhinawan appointment to Manager of Tiwi Design Art Centre, we are celebrating by announcing him as Artist of the Month for June.
Water is the main inspiration for Dhinawan's artwork. Without water, there would be nothing. From cyclones to waterfalls, his unique style highlights and celebrates the importance of water, especially to Australia. Be sure to click the link below to discover Dhinawan's collection at KOG.
Our AWARD WINNING Artists include

Agatha Ngakmik Morgan - Finalist 2021 Calleen Art Award
Allen Stephensen - Finalist 2021 Calleen Art Award
Anna Price Petyarre - Finalist 2021 Calleen Art Award
Barbara Weir - Finalist 2021 Grace Cossington Smith Art Award, Finalist 2021 Ravenswood Australian Women's Art Prize
Camelia Blitner - Finalist 2022 Hadley's Art Prize, Finalist 2021 Calleen Art Award
Charmaine Pwerle - Finalist 2021 Ravenswood Australian Women's Art Prize
Dhinawan Baker - Finalist 2021 Grace Cossington Smith Art Award
Dianne Tchumut - Finalist 2021 Hawkesbury Art Prize, Finalist 2021 Fisher's Ghost Art Award, Finalist 2021 Paddington Art Prize, Finalist 2021 Calleen Art Award
Fiona Omeenyo - Finalist 2021 KAAF (Korea Australia Arts Foundation) Prize
Freddy Purla - Finalist 2021 Fisher's Ghost Art Award
Helen McCarthy Tyalmuty - Finalist 2022 Hadley's Art Prize, Finalist Ravenswood Australian Women's Art Prize 2022, Winner Aboriginal Art Award 2020 Fisher's Ghost Art Award, Inaugural Winner of the Margaret Olley Art Award at the Mosman Art Prize 2017, 2007 24th NATSIAA Finalist and Winner People's Choice Award
Imelda Wood Melamurrk - Winner Indigenous Emerging Artist 2021 Ravenswood Australian Women's Art Prize
Kerry Madawyn McCarthy - Finalist Ravenswood Australian Women's Art Prize 2022, Finalist 2021 Fisher's Ghost Art Award
Konstantina - Finalist 2021 BAM Byron Arts Magazine Art Prize
Niah Juella McLeod - Byron Shire Council Creative Artist of the Year 2020
Polly Ngale - Finalist 2021 Fisher's Ghost Art Award, Finalist 2021 Calleen Art Award
Regina Bamagaya McCarthy - Finalist 2021 Muswellbrook Art Prize
Sarrita King - Finalist 2022 Alice Prize

Guide to Navigating our website
It has never been so easy: If you don't know much about Aboriginal art but you want to look at styles and the range available, visit our Collections page where we have gone through our entire selection of stunning Australian Aboriginal artworks and compiled a huge range of collections and themes for you to explore.
You can also use our Search Aboriginal Artworks tool where you can select price, colours, sizes, shapes, styles, regions and a whole lot of other criteria to find an artwork that's exactly right for you.
While you are scrolling through, you can save your favourite pieces as a 'wish list. We have also incorporated a lot of great tools, such as our 'see art on wall' or 'rotate artwork' options.

Artist in Residence Programs

As well as showcasing roughly eight exhibitions each year, we also include an artist in residence program! This program sees Kate Owen Gallery sponsoring Indigenous artists to travel from remote communities and come and spend one to three weeks painting in the gallery. Each residency is combined with an exhibition of the artist's works. Previous artist in residence programs have included: Sarrita and Tarisse King, Helen McCarthy, Alma Nungurrayi Granites, Julie and Sabrina Nangala, Chantelle Nampijinpa Robertson, Christine Napanangka Michaels, Barbara Weir, Lizzie Pwerle and Teresa Pula.
Please note: due to the incredible family and cultural responsibilities many of our artists hold, these artist in residence programs are subject to change at late notice. Join our mailing list to stay in the loop.

Established Collectible Artists
The unique third level Collectors' Gallery is dedicated to highly collectible and museum-quality works from Australia's leading indigenous artists, many of whom spearheaded the Aboriginal art movement. Artworks range from the famous Clifford Possum and Naata Nungurayi from the western desert, the extraordinary Emily Kngwarreye and her extended family members from Utopia, Kimberley masters such as Queenie Mackenzie and Jack Dale, APY Lands legends including Jimmy Baker, to the highly sought after intensely colourful works of Tommy Watson and many, many more.

New Emerging Talent
For the more speculative buyer or simply for lovers of beautiful art, our newly established and emerging Aboriginal artists are a source of spiritual energy as well as brilliant images with a wealth of variety in colour, texture, subject matter and technique.
Like any good gallery, we select those with an individual 'voice', even at the early stages of their painting career – artists we believe have the potential to grow and develop artistically.
Heath Minjin Wilson
Rak Bulgul - HMWG0006

Each painting is sold with a Certificate of Authenticity guaranteeing the provenance of the work. The Gallery Owner and Director is also the Vice President of The Aboriginal Art Association of Australia (AAAA), an Association that binds members to a strict code of conduct, so visitors can be assured that artists are dealt with fairly, transparently and with respect. We are an apolitical gallery which, above all, honours the right of artists everywhere to create their works where and how they wish.


Free Shipping (rolled) worldwide
We offer free shipping (rolled), fully insured worldwide on all of our artworks. If you would like to ship your artwork stretched, ready to hang on the wall, we can also provide you with some quotes from our trusted shipping and artwork movement companies. For more information, please read through our shipping policy.
Kate Owen Gallery acknowledges the Traditional Custodians of the land on which we work and live, and recognise their continuing connection to land, water and community. We pay respect to Elders past, present and emerging.