Current Exhibitions: Barbara Weir Culture + Country and A Vision of Country
Kate Owen Gallery: bringing Aboriginal art and culture to the world since 2007
We are a multiple award winning gallery in Sydney's Inner West, specialising in contemporary Aboriginal art for modern interiors.
Our Sydney Aboriginal art gallery, stretching over 600 square metres on three floors, contains three separate dedicated exhibition spaces showcasing works from Aboriginal masters, established artists and exciting new talent. Indigenous artworks range from small, affordable paintings to large, investment works.


Barbara Weir: Culture + Country
From: 10 October, 2020 - Until: 8 November, 2020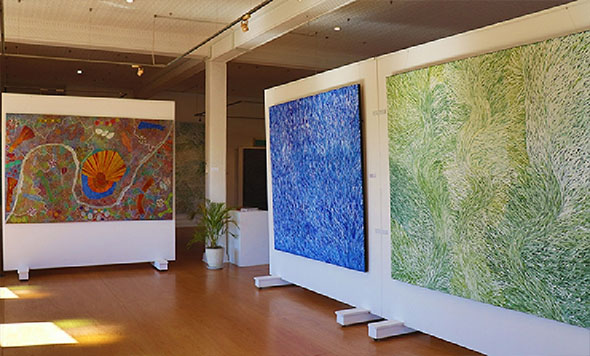 Barbara Weir has excited audiences all over the world with her highly compelling abstract artworks. Hers is an art that is as remarkable in its exquisite expression as the story of her life.
This exhibition has been truly been worth the wait – it is a remarkable body of work and an exquisite expression of Barbara's life, culture and country.
A Vision of Country: Australian Aboriginal Landscapes
From: 24 October, 2020 - Until: 22 November, 2020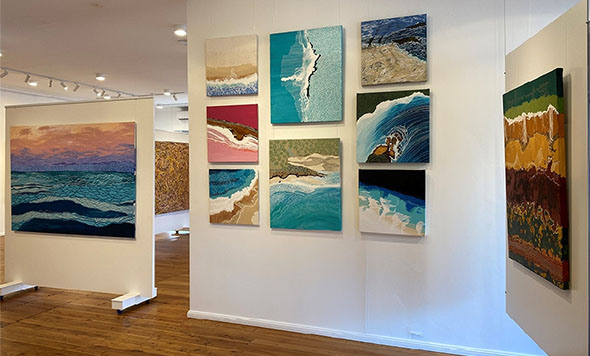 This exhibition brings together some of our most popular artists, who create their vision of Country using the familiar Western landscape format, but in their own distinctive ways.
Artist in Residence
Gadigal artist Konstantina will be painting in the gallery on Saturday 24 and Sunday 25 October. Contact the Gallery for details.
What's new in the gallery/Gallery News
The KOG Crew are still buzzing after winning the highly sought after 2020 Inner West Local Business Awards! This is the second time we've gone home with the trophy and comes off last year's success when we won the Australian Small Business Champion Award.
We know many of you love discovering the stories behind our beautiful artworks, so we've featured some of the epic Dreamtime stories that give us some fascinating insights into Indigenous Australian culture. Recently, we wrote an article about one of the most famous Aboriginal creation stories, the Rainbow Serpent.
Introducing Konstantina. We are so excited to showcase Konstantina's latest body of work. She is an exciting new voice in the contemporary Indigenous art scene, and we are delighted that she will be participating in our next artist in residence in October. Make sure you sign up to our mailing list to receive notification of this upcoming event.
Did you know? Kate Owen Gallery not only has Indigenous paintings, but prints, sculptures and larrakitji memorial poles. Explore our Aboriginal art collections.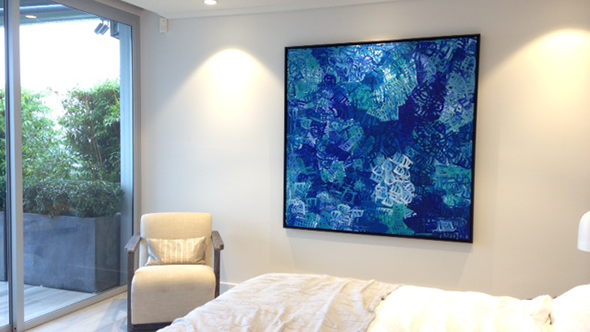 We're here to help you find your perfect piece for the home or office
At Kate Owen Gallery we offer a wide range of services to our clients - it's all about going that extra mile to achieve customer satisfaction, but also designing our services to suit the specific needs of our busy clients. Gallery services include free art consultancy, home trials, digital hanging and gift & wedding registry.
How to find your perfect artwork online
It has never been so easy: If you don't know much about Aboriginal art but you want to look at styles and the range available, use our Find Aboriginal Artworks tool where you can select price, colours, sizes, shapes, styles, regions and a whole lot of other criteria to find an artwork that's exactly right for you.
While you're scrolling through, you can save your favourite pieces as a 'wish list' to return to later, email to a friend, or send through to the gallery and one of our friendly art consultants can happily assist you.
You can also search for highly collectable works, check out your favourite artists, scroll through our current online exhibitions, see our newest artworks, or for the thrifty, you can find a bargain on our sale page. As well as our digital hang, art consultation and home trial services, we now have a feature on our website where you can see how an artwork will look in a lounge, dining, hallway or home office setting! Digital Hanging your Art
As well as our digital hang, art consultation and home trial services, we now have a feature on our website where you can see how an artwork will look in a lounge, dining, hallway or home office setting!
A Big CONGRATULATIONS to…
Goompi Ugerabah - Finalist in the 2020 Paddington Art Prize
Helen McCarthy Tyalmuty - Finalist in the Fisher's Ghost Art Award 2020
Konstantina - Semi Finalist in the BAM Art Prize 2020
Niah Juella McLeod - 2020 Byron Shire Council Creative Artist of the Year
Barbara Weir - Finalist in the 2020 Calleen Art Award
Konstantina - Finalist and Highly Commended in the 2020 Border Art Prize
Kerry McCarthy Madawyn - Finalist in the 2020 Calleen Art Award
Helen McCarthy Tyalmuty - Finalist in the 2020 Calleen Art Award
Gracie Napaltjarri Ward – Finalist in the 2019 KAAF (Korea Australia Arts Foundation) Prize
Esther Bruno Nagngala – Semi Finalist in the 2019 KAAF (Korea Australia Arts Foundation) Prize
Niah Juella McLeod – Finalist in the 2019 Paddington Art Prize
Three Floors of Art and over 2,000 original artworks
The main entrance of our gallery is 680 Darling Street where you'll enter a lovely light filled space showcasing a diverse range of styles from Indigenous Australian artists from across the country. But don't be fooled - this is just a sample of what awaits upstairs! As you continue through the doorway you'll be greeted with a huge range of 30 x 30cm artworks and a series of videos showcasing the artists painting. Head on up the stairs and you'll find another two floors – each with an exhibiting space and a storeroom which you are welcome to browse.

In order to showcase as many styles, sizes and price points as possible, we also have a user-friendly 'racks' area where a range of un-stretched artworks can be perused, pulled out and hung on our viewing wall for a closer inspection. Our friendly art consultants will be available to help you as much or as little as you like.
Artist in Residence Programs at Kate Owen Gallery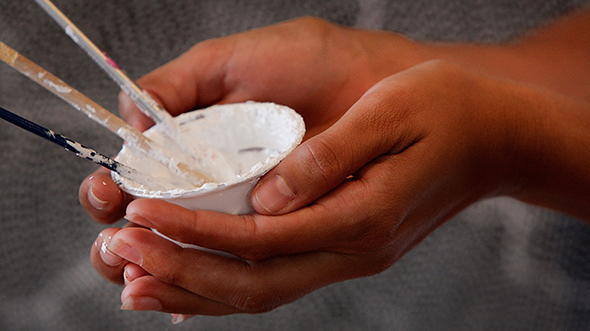 As well as showcasing roughly eight exhibitions each year, we also include an artist in residence program! This program sees Kate Owen Gallery sponsoring Indigenous artists to travel from remote communities and come and spend one to three weeks painting in the gallery. Each residency is combined with an exhibition of the artist's works. Previous artist in residence programs have included: Sarrita and Tarisse King, Helen McCarthy, Alma Nungurrayi Granites, Julie and Sabrina Nangala, Chantelle Nampijinpa Robertson, Christine Napanangka Michaels, Barbara Weir, Lizzie Pwerle and Teresa Pula.
Please note: due to the incredible family and cultural responsibilities many of our artists hold, these artist in residence programs are subject to change at late notice. Best way to stay 'in the loop' with gallery news is to join our mailing list.
Emerging to collectible artists
The unique third level Collectors' Gallery is dedicated to highly collectible and museum-quality works from Australia's leading indigenous artists, many of whom spearheaded the Aboriginal art movement. Artworks range from the famous Clifford Possum and Naata Nungurayi from the western desert, the extraordinary Emily Kngwarreye and her extended family members from Utopia, Kimberley masters such as Queenie Mackenzie and Jack Dale, APY Lands legends including Jimmy Baker, to the highly sought after intensely colourful works of Tommy Watson and many, many more.
For the more speculative buyer or simply for lovers of beautiful art, our newly established and emerging Aboriginal artists are a source of spiritual energy as well as brilliant images with a wealth of variety in colour, texture, subject matter and technique. Like any good gallery, we select those with an individual 'voice', even at the early stages of their painting career – artists we believe have the potential to grow and develop artistically.


Free Shipping (rolled) worldwide
We offer free shipping (rolled), fully insured worldwide on all of our artworks. If you would like to ship your artwork stretched, ready to hang on the wall, we can also provide you with some quotes from our trusted shipping and artwork movement companies. For more information, please read through our shipping policy.
Ethics & Authenticity
Each painting is sold with a Certificate of Authenticity guaranteeing the provenance of the work. The Gallery Owner and Director is also the President of The Aboriginal Art Association of Australia (AAAA), an Association that binds members to a strict code of conduct, so visitors can be assured that artists are dealt with fairly, transparently and with respect. We are an apolitical gallery which, above all, honours the right of artists everywhere to create their works where and how they wish.



Kate Owen Gallery acknowledges the Traditional Custodians of the land on which we work and live, and recognise their continuing connection to land, water and community. We pay respect to Elders past, present and emerging.