Our Aboriginal Art Collection
it's not just all about dots!
You will be amazed to see the wide range of different expression adopted by our Indigenous artists. In our gallery we see many people who previously had no interest in Aboriginal Art, and who have their 'eyes opened' to it for the first time, by the sheer beauty and diversity around them.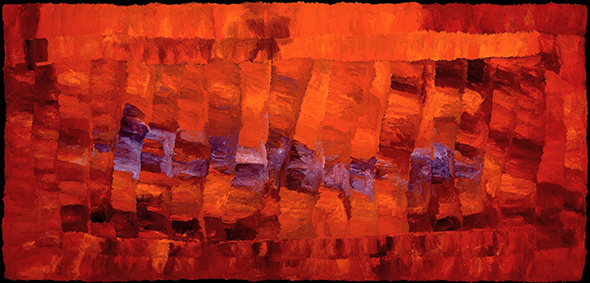 Kudditji Kngwarreye, 'My Country' 240 x 500cm
The majority of our Indigenous artworks use ancient iconography and embody traditional Aboriginal dreamings passed down for thousands of years through Australia's indigenous culture.

For example, the painting above by Kudditji Kngwarreye, has a highly contemporary abstract feel, yet is about the Emu Ancestors back in the creation time, moving across the lands of Kudditji's home in Utopia (250 kms NE of Alice Springs) and creating the sacred places, the hills, valleys and rivers etc.

It is hard for westerners to understand or connect that story with Kudditji's paintings, because the spirituality of the Aboriginal people is so different from ours. Nevertheless, there is a level at which we do subconsciously respond to Aboriginal art - there is definitely an extra dimension there which connects with people of western cultures.

And, purely as works of art, these paintings are superb, and can hold their place in any gallery in the world, with or without the stories behind them.

This is what the Kate Owen Aboriginal Art Gallery is all about: sourcing the most exciting, yet authentic, contemporary Aboriginal art, and selecting paintings which can stand alone as 'GOOD works of art', and which can shine in any company!
Kate Owen Gallery's highest goal is to see Aboriginal Artwork in as many homes and workplaces as possible, so that the respect for and interest in the Aboriginal people and culture that is engendered by such wonderful paintings, can be a continuing force for reconciliation and understanding.
our huge range
We have 2,0+ artworks by over 200 artists housed in our gallery in Rozelle. To see a list of the artists we stock, simply visit Browse Artworks on the left hand side of any page on this website, select view paintings by artist and the (very long) list will appear. If you are new to indigenous art, or are looking for a painting for your home or business, you may find that the Art Search section, just below it, is more useful. There you can select artworks by price, colour, size, shape, region, style, and many other search criteria.
When you find an artwork you like, simply add it to your Wish List to print out later or to send in to us to have ready for your visit.
emerging, established and master artists
In our third level Collectors' Gallery, we showcase highly collectible Aboriginal artworks from recognised master artists, ranging from the famous Clifford Possum, to the extraordinary Kudditji Kngwarreye with his Rothko-like colour fields (see image below), his sister Emily Kngwarreye, perhaps the greatest genius of the genre, the highly sought after intensely colourful works of Tommy Watson and many, many more.
For the more speculative buyer or simply for lovers of beautiful art, our newly established and emerging Aboriginal artists are a source of spiritual energy as well as brilliant images with a wealth of variety in colour, texture, subject matter and technique. Like any good gallery, we select those with an individual 'voice', even at the early stages of their painting career – artists we believe have the potential to grow and develop artistically.
small gifts to large corporate pieces
A work of art can be the perfect gift that keeps on giving, or a beautiful 'piece of Australia' to take home with you from your travels. Our 30 x 30cm wall is extremely popular with visitors to the gallery and we invite everyone to make their own beautiful artwork combinations!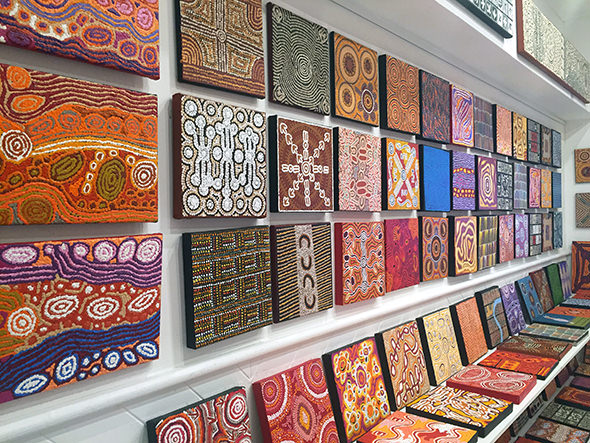 Australian Companies can do their bit to place a magnificent Aboriginal Artwork in the public eye. We have many large and powerful pieces of Aboriginal art perfectly suited to corporations, foyers, board rooms and public areas – many are over 2 x 3 meters in size.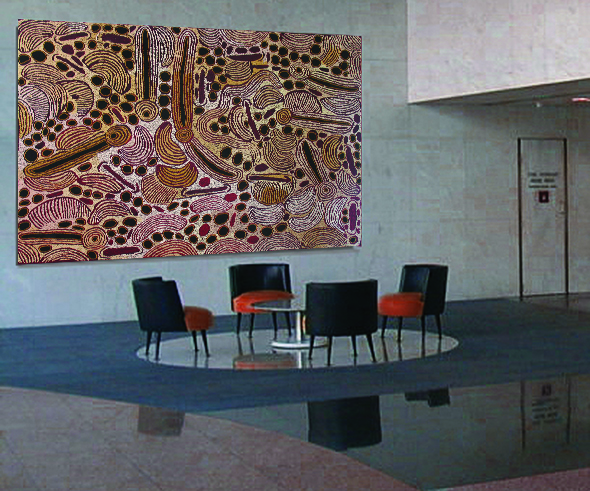 It definitely says something positive about your business if you display these fine Aboriginal paintings in your building and, as many of them are rare and painted by respected elders, they are likely to be a good investment at the same time.
affordable to investment
We respect individual people's motives in buying art. Not everyone buys art for investment or for the artist's name. If you simply want a piece that will please you, or give that 'wow factor' to your interior space, that's fine by us, and we are confident you will find it at our gallery.
We have an extensive stock of small, medium and large sized Indigenous paintings, a huge range of styles and colours and prices which can satisfy the needs of home makers and interior designers. We also have a great Sale Specials page where many quality Aboriginal paintings have been discounted by 20% to 80%!
Our friendly, helpful staff is there to give their time to answer your questions, share their knowledge, and help you find the artists that you most respond to.
integrity, provenance and authenticity
Kate Owen Gallery is a proud member of the Aboriginal Art Association of Australia (AAAA), the pan industry organisation for people involved in Indigenous art. Gallery Owner and Director, Geoff Henderson, has been a Board Member of that Association since 2009.
All paintings come with certificates of authenticity and, where available, 'work in progress' photographs of the artist creating the work and of the artist with the completed work will also be provided.
The purpose of this is simply to protect the artists and the works they sell from those who would undermine the industry and at times, even the artists themselves.
We are an apolitical gallery which, above all, honours the right of artists everywhere to create their works where and how they wish. We respect and uphold their right to work in their community or to sell their works on the open market - as they choose. We hold only that as this fundamental freedom is respected, ethical behaviour is maintained by all parties involved.