So you've found the perfect artwork – hooray! But how do you get it from the gallery to your wall at home? Here we'll explain all about our framing and shipping services.
Shipping
We offer free shipping (rolled) worldwide
Whether you purchase an artwork in the gallery or online, you are eligible to take us up on our offer of complimentary shipping (rolled) worldwide.
We highly recommend reading through our Shipping Policy & Returns Policy, and to contact us - It is important that we understand your stretching, delivery, freight and insurance needs so that everything goes smoothly for you.
For International Clients - Please Note: You may be required to pay customs, duty and port charges in the country where the art is delivered. Any such charges are the buyer's responsibility and the buyer should make their own enquiries.
Kate Owen Gallery has developed strong partnerships with artwork transportation companies such as Pack and Send, Moving Art, and Art Van Go, and we can happily provide you with shipping quotes. We have arranged delivery of countless artworks across Sydney, Australia and the world for the last 12 years. Want to find out more about the shipping process? Check out the video below.
Sydney Locals – think you might be able to fit your stretched artwork in your car? We have seen some pretty creative attempts at fitting your beautiful artworks in your cars over the years…as a general rule anything larger than 90 x 120cm stretched will need to be professionally shipped.
Framing
All the pieces here at Kate Owen Gallery are beautiful original paintings. The vast majority of the artworks are painted with synthetic polymer paint (acrylic) on linen or canvas.
While viewing artworks on our website, you'll notice it'll say whether the artwork is 'framed' or 'unframed'. When we say the artwork is 'framed' we mean the artwork has been stretched over a wooden frame – there is no border around the artwork or glass in front of the piece. This is the way you will see Australian Aboriginal Art displayed in major galleries and institutions. Some people refer to this process as 'stretching' an artwork.
We offer a complimentary framing service for all of our clients, so if you see that an artwork is listed as 'unframed' we can happily stretch and string the artwork for you so it is ready to hang on your wall.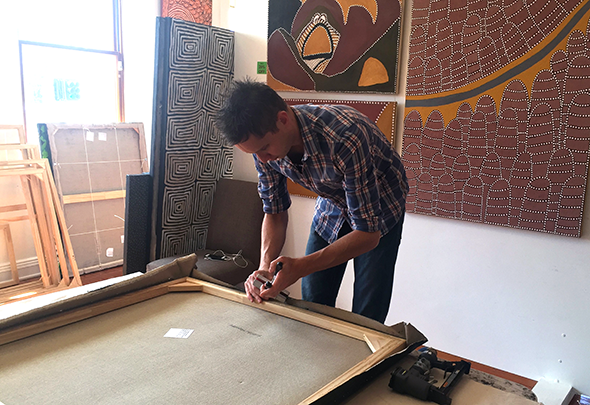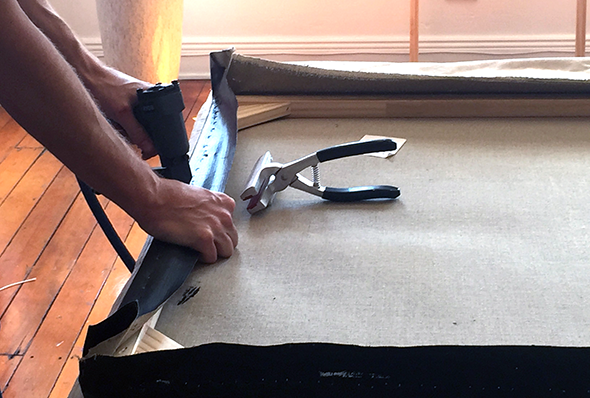 All framing is done on Tuesdays and Wednesdays, so there is a capped number of artworks that we can frame in two days. We will endeavor to have your artwork framed within a fortnight.
If you do wish to place a frame around the artwork, we can recommend some businesses to you who know how to appropriately handle our artworks.
Some tips from our art consultants:
We recommend taking advantage of our complimentary framing service and seeing how the artwork looks 'in situ'. More often than not, we find artworks don't need an extra frame around it
If the artwork is made of delicate materials, such as ochres or natural pigments, then a shadow box frame is a great way to protect the edges. Our art consultants can recommend some businesses who know how to appropriately handle such delicate artworks.
Still have some questions? Head on over to our Frequently Asked Questions Page, or please don't hesitate to contact us.