We are a multiple award winning gallery in Sydney's Inner West that specialises in contemporary Indigenous art for modern interiors. Just 10 minutes by bus or taxi from the CBD, the Gallery is Sydney's go-to art space for everyone from new buyers to established collectors.
With artworks ranging from small affordable works to large investment pieces, our three light-filled floors showcase major exhibitions of indigenous masters, established artists and exciting new talent.
The unique Collectors' Gallery is dedicated to museum-quality works from Australia's leading indigenous artists, many of whom spearheaded the Aboriginal art movement.
Kate Owen Gallery has its own dedicated indigenous art studio in Alice Springs, allowing us to source central and western desert art directly from the artists as well as from Aboriginal Art Centres. We also feature works from a variety of other regions including the Kimberley and Top End.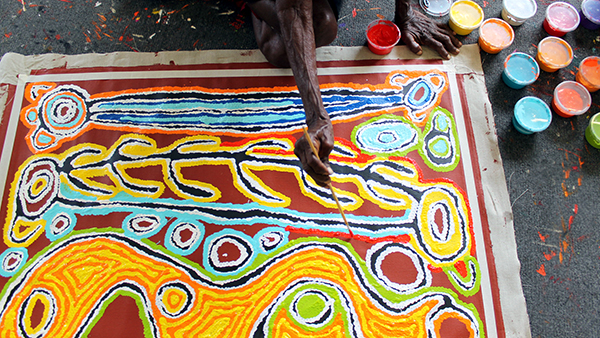 Kate Owen Gallery is committed to upholding the rights of Indigenous artists and is a member of the Aboriginal Art Association of Australia (formerly known as Australian Indigenous Art Trade Association), an organization noted for giving indigenous artists a 'fair go' since 1999.

And as you will see when you visit us, we offer many helpful Gallery Services to make your experience with us a pleasant one
Where are we?
Our bricks and mortar gallery is on the corner of Victoria Road and Darling Street at Rozelle in Sydney - just 3kms from the city centre.

The main entrance is at 680 Darling Street. From here, you can enjoy wandering through our three large floors of carefully selected Australian Aboriginal art.
opening hours are 10 - 6pm every day
so come and visit us!
Can't visit the gallery?
If you can't make it to our gallery in Sydney, then this website is the best place to view and buy any of our paintings, either by getting in contact with us to discuss, or by using our secure payment portal on line. We have over 1000 artworks in stock, so try our Advanced Aboriginal Art Search, to narrow down the range. There you can search by colour, style, type of artist, region, shape, size and more.
About kate owen
Born in Cornwall, but a resident of Australia since infancy, Kate Owen has always had a passion for art. After giving up her corporate career in 2000 to pursue her passion for painting and then losing her first gallery to developers in 2007, Kate established Kate Owen Gallery as studio and gallery for her own works. Unfortunately, the gallery continued to be a full time job for Kate, and although it was a source of great satisfaction, no time was left for painting. In July 2013 Kate sold her gallery to Geoff Henderson, one of her long term suppliers, and cast off to take up a lifestyle of travel and painting. Kate Owen Gallery remains an agent for Kate's artworks.
more about kate - original works
Talk to us!
We are always interested in hearing from Aboriginal Artists, Aboriginal Community Art Centres, private studios and collectors wanting to sell their works.

Please don't hesitate to contact us to see what we can do for you.

Kate Owen Gallery
680 Darling Street
Rozelle, NSW 2039 Australia
Phone: (02) 9555 5283
World: -612 9555 5283
Email: info@kateowengallery.com

Join the KO Gallery Club Today
Or you can follow our blog, or join our friends on Facebook, Instagram, Pinterest and several other social networking sites.