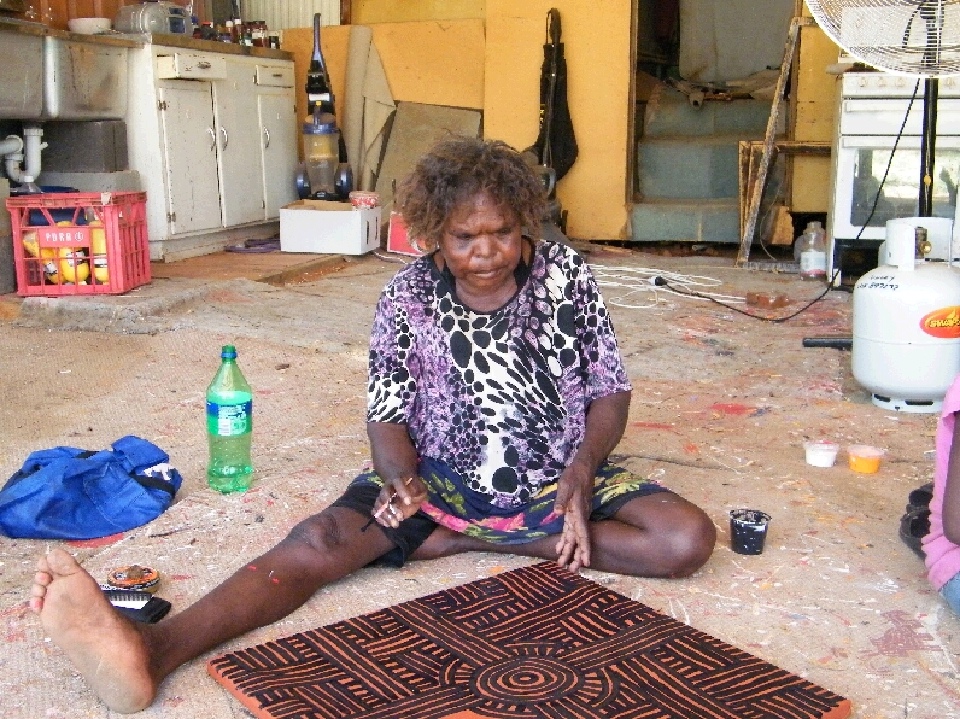 DOB: c.1942
Born: Winron, near Kiwirrkurra, WA
LANGUAGE GROUP: Pintupi
COMMUNITY: Kintore, NT


Born in around 1940 in Winron, Pintupi country, across the Western Australian border, east of Kiwirrkura, Bambatu Napangardi grew up in the bush living a traditional life with her family, hunting and living off the land, as the Aboriginal people did for thousands of years before her.

While visiting relatives in Balgo she met Dinni Campbell Tjampitjinpa and they married in Balgo. Dinni Campbell's older brother, Anatjari Tjampitjinpa, was one of the original artists painting in Papunya. He watched the old men painting during the 70's and assisted his brother Anatjari for some months. By doing this he gained valuable experience in mixing colours, laying out stories onto canvas and helping to paint.

During one of these visits to Papunya in 1981, Uta Uta Tjangala invited Dinni as one of the men to assist him to paint a very large canvas depicting events at the site of Yumari. To be asked by Uta Uta to assist in painting was regarded as a great honour. When Dinni finished his apprenticeship and became an artist in his own right, he began painting for Michael Hollow's Aboriginal Desert Art Gallery, in Alice Springs, Melbourne and Sydney since 1991. Dinni Tjampitjinpa and Bambatu Napangardi have four sons and two daughters. Sadly Dinni Campbell passed away in Alice Springs Hospital in 2000.

Bambatu Napangardi was an apprentice to Dinni Campbell for many years; she started painting her own dreamtime stories passed on to her by her Mother and her Father and also her famous husband Dinni Campbell Tjampitjinpa. The skills and techniques she has learnt from her husband and by watching the old man paint is now applied to her own paintings. Her works are quite typical of the old men and women from Kintore and Papunya. The techniques she uses in her work tend to focus on painting in line work and dotting techniques showing body paint designs and the many traditional symbols (icons) seen in Central Desert paintings. Bambatu loves to paint the dreaming stories of her people and to convey them to the world. Bambatu's daughter Christine Nangala is now apprenticed to her. In this learning time, Bambatu is teaching Christine the skills she has learnt over so many years.

Collections
Luciano Benetton Collection, Venice
History
Selected Group Exhibitions

2021 50 Years of Papunya Tula Artists, Kate Owen Gallery, Sydney
2019 International Women's Day, Kate Owen Gallery, Sydney
2019 Defining Tradition: the first wave & its disciples, Kate Owen Gallery, Sydney