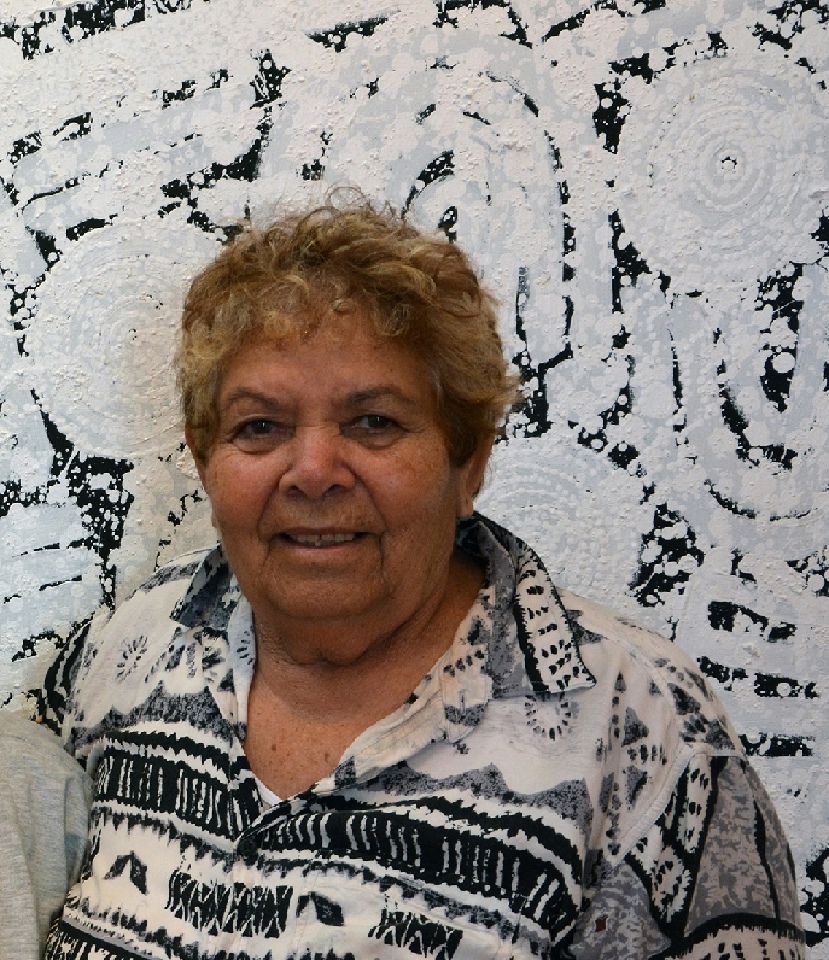 DOB: 1945
Born: Bundy River Station, NT
LANGUAGE GROUP: Anmatyerre/Alyawarre
COMMUNITY: Utopia, NT


Barbara Weir was born in 1945 at Bundy River Station in the region of Utopia, North East of Alice Springs; her mother the late Minnie Pwerle, renowned Utopia and Australian artist, and her father an Irish station owner Jack Weir.

Being of mixed heritage Barbara was hidden from welfare patrol at a young age by her family, including her Aunty, the late Emily Kame Kngwarreye. Barbara has fond childhood memories living at Utopia with her large extended family, and in some of her works today she will depict the caves where she would collect water with her coolamon.

Her idyllic childhood was disrupted when at the age of ten Barbara was suddenly taken from her family by welfare from Utopia Station (now known as Utopia Homestead), as she was collecting water. She is one of the people known as the "stolen generation". Barbara was taken to Alice Springs, but because she kept speaking her Anmatyerre and Alyawarr tongue, was moved further away to children's homes and foster families around Australia, eventually ending up in Darwin. During these years she was forced to speak English, and was told that her mother had passed away. Though she lost contact with her family she was determined to return to them, however she only knew her home as 'Atnwengerrp', the Anmatyerre word for her home. Eventually, this was the only word she could remember in her language.

Barbara married Mervyn Torres and in 1969 they moved to the remote community of Papunya where Mervyn was a field officer. Little did they know that they were about to witness the birth of the Aboriginal Art movement; when the Papunya men painted their stories for an external art market. It was during this time when Mervyn had a fortuitous conversation while in Alice Springs, which lead to Barbara finding her family.

The reunion was a happy one, but it was marred by the fact that Barbara was unable to communicate with the family, as she had forgotten her language. In 1977 Barbara returned to the land of her birth, with her three children for good. Over the coming years, Barbara had three more children and reclaimed her Anmatyerre and Alyawarr languages. Barbara's children had the opportunity to grow up surrounded by their extended family, understand where they came from, as well as learning the lore. This depth of knowledge arguably explains why Barbara Weir's daughters have become great artists in their own right; they paint with a confidence and assertiveness only possible when there is an intimate knowledge of subject matter.

On returning to her home, Barbara quickly rekindled her unique relationship with Emily Kame Kngwarreye (who was by then a well-known batik artist). The Utopia women were well known for their beautiful batiks, and it contributed to the Aboriginal community buying back the region of Utopia in 1974, and making it their own. Barbara Weir was active in the local land rights movement during the 1970s and worked towards regaining Country. At the same time, Barbara became interested in batik, and showed a flair and talent for it. After witnessing the events that took place in Papunya, Barbara made the natural transition to painting in 1988, which coincided with a project from the CAAMA shop which introduced the Utopia Batik Group to painting on canvas with acrylic paints. Early works by Barbara reveal how she experimented with colour and style to tell her stories linked to the land, history and culture. In some instances, earthier tones, overt iconography and dot work float above a black background, while in other examples there are linear motifs of body paint designs that echo the artworks of Barbara's Aunt, fellow esteemed artist Ada Bird.

In the following eight years, Emily Kame Kngwarreye catapulted on to the Contemporary art scene, and Barbara assisted her aunt navigate through the Western 'Art Business' as well as encouraging other women from her extended family to paint, including her mother Minnie Pwerle.

In 1996, after the death of Emily Kame Kngwarreye, Barbara concentrated on developing her skill as an artist and soon attracted the attention of collectors by producing works that were contemporary in style, including her now renowned "Grass Seed" and "My Mother's Country" paintings. Barbara is a highly talented, inventive, creative, energetic and hardworking artist, who paints in a number of different styles and who pushes her own artistic boundaries in doing so. She enjoys painting in the comfort of her home, where she can be free to intuitively experiment. Recent works have seen Barbara incorporate ash from her country in her paint, resulting in some incredible textures and subtle hues in her work.

Barbara Weir's exhibition history is extensive, and anyone who has the pleasure of spending time with Barbara will hear of her vast travels throughout America, Europe and Asia to paint and exhibit her work. As Barbara enters her 70s, she shows no signs of slowing down and continues a considerable travel and exhibition schedule. She remains a great inspiration to those around her.

In January 2009, Barbara was listed in the top 50 of Australia's most collectable artists in the Australian Art Collector Magazine, alongside Emily Kame Kngwarreye and a handful of other indigenous artists. She is a highly collectible artist, and one that continues to grow in stature.


Collections
Art Gallery of South Australia, Adelaide
Art Gallery of Queensland, Brisbane
Artbank, Sydney
Queensland College of Art Griffith University
Ebes Collection-Workum, The Netherlands
University of Adelaide, Adelaide
AMP Collection
History
Exhibitions:

1995, 1997, 2003, 2007, 2009 Dacou Gallery, Adelaide
1995, Davis Avenue Gallery, Melbourne
1996, 2002, Framed Gallery, Darwin
1996, Gallery Woo Mang and Partners, Paris, France
1996, 1997, 1998, 1999, 2006, 2007 , 2008 Flinders Lane Gallery, Melbourne
1996, 1997, 1998, 1999, 2000, 2002, Quadrivium Gallery, Sydney
1996, 1997, 1998, 2008 Fireworks Gallery, Brisbane
1997, Art Gallery of South Australia, Adelaide
1997, Hogarth Galleries, Sydney
1997, Sutton Gallery, Melbourne
1997, Barry Stern Gallery, Sydney
1998, ARTEXPO, New York, USA
1998, 2001, Chapman Gallery, Canberra
1998, Adelaide Festival Theatre, Adelaide
1998, Exhibited extensively in Europe including: Switzerland, Belgium, Germany, The Netherlands
1999, 2002, Japingka Gallery, Perth
1999, 2000, 2001, Tandanya, Adelaide
1999, 2000, 2002, 2006 Gallery Savah, Sydney
2000, ArtSauce, Singapore
2000, Redback Art Gallery, Brisbane
2000, AMP Building, Sydney
2000, "Women's Business", Chicago, USA
2001, Mbantua Gallery, Alice Springs
2002, Knut Grothe Galeri, Charlottlenlund, Copenhagen, Denmark
2003, Alison Kelly Gallery, Melbourne
2003, Glen Eira City Council Gallery, Melbourne
2004, Addison Road Gallery, Marrickville, NSW.
2004, Mbantua Gallery (USA exhibition: Portland, Nashville, Knoxville, Hartford, Greenwich, Philadelphia and New York).
2006, APS Bendi Lango Art Exhibition, Rio Tinto Offices, Melbourne.
2007, Australian Embassy, Washington, USA.
2007, "New Works from Utopia", Space Gallery, Pittsburgh, USA
2008, Gecko Gallery, Broome.
2008, "Walking Together to Aid Aboriginal Health", Shalom Gamarada Aboriginal Art Exhibition, University of NSW, Kensington, NSW.
2008, "Utopia Revisited", NG Art Gallery, Chippendale, NSW.
2008, "Dreamings - The Land", Outback Aboriginal Land, Caulfield, VIC.
2008, Red Rock Gallery, Beijing, China.
2009, Janet Holmes a Court Gallery, Perth.
2009, "Utopia, Colours of the Desert", Gongpyeong Art Space in collaboration with Dacou, Australian Embassy in Korea and Crossbay Gallery, Seoul, Korea.
2010, "In the Footprints of Barbara Weir", Central Art, Alice Springs
2012, "Barbara Weir", Kate Owen Gallery, NSW
2017 'Atnwengerrp Revisited' Family Show and Artist in Residence Program - Kate Owen Gallery, Sydney





AUCTION DETAILS:
Title: Grass Seed Dreaming, 2003
Details: Synthetic polymer paint on Belgian linen, 240 x 150 cm
Auction Price: $31,200
Auction House: Lawson~Menzies, Aboriginal Fine Art, Sydney, 09/11/2005, Lot No. 126
66 works listed from the 1970's onwards.