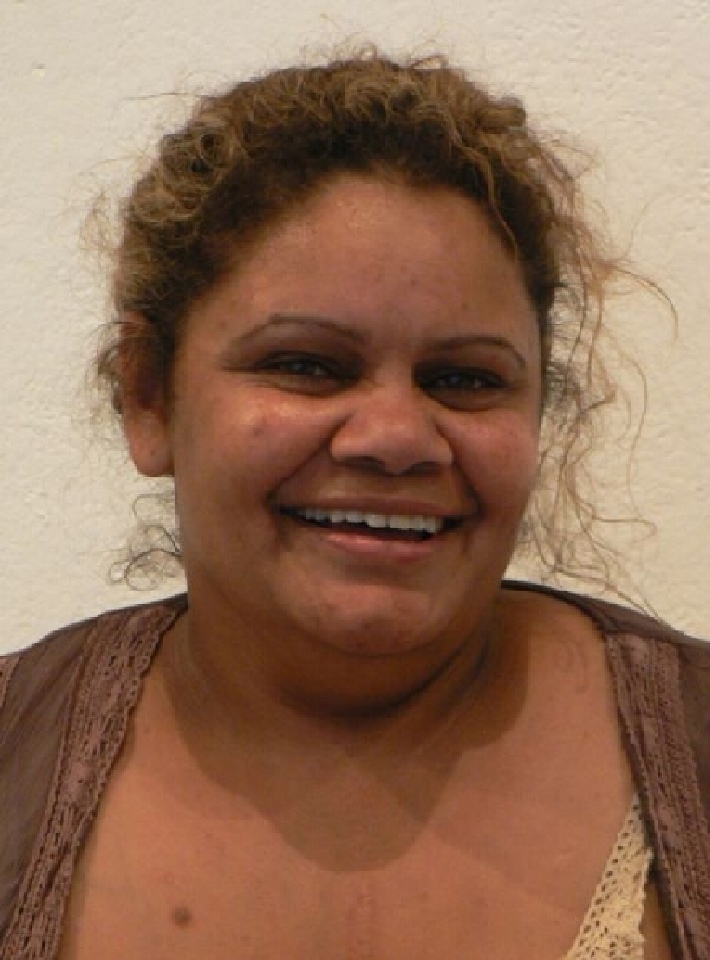 DOB: c.1968
Born: Birri Guba, QLD

Bibi Barba was born in Roma and raised in Liverpool, Sydney, Australia. Inspired by her Grandmothers stories of her life and love of the land, Bibi's artwork has developed a sense of vivid storytelling, melding traditional indigenous design with contemporary style and innovative colour combinations.

Speaking fondly about her childhood Bibi says, "Every Sunday night, we'd go to Nan's for dinner. And she would tell us stories. I know they were stories of her life. She would say to me, 'you have to go back home. Go home and get the feeling for your country. Feel it. Paint it'."

And Bibi did just that. She says, "I adored my Grandmother, so I went back to the Australian Bush and started to physically feel my culture. That's what she told me to do. In a way, I'm saying thank you to her in my paintings."

Bibi started with watercolour tubes, painting symbolic stories onto paper in rich pinks and greens and yellows. She never showed anybody, the paintings stayed hidden until a friend came across them. Her friend then took some of the small paintings to show a gallery owner. He was so impressed by Bibi's instinctive style that he invited her to exhibit her work in his gallery.

Her first solo exhibition, comprising of 25 watercolours, sold out. Since then Bibi has continued to develop her technique, telling stories about her life and love of her land through sensuous shapes and vibrant colour on canvas.

Bibi has evolved in technique since then, "I use all kinds of materials to paint, ranging from traditional earth pigments and sand to acrylics, watercolours and inks." Bibi has recently adopted a new technique of embossing painted silk onto Belgian linen fibre canvas. This gives the painting a rich lustre.

"My paintings depict traditional women and their children in a natural setting, living off the land. They are inspired by my grandmother, aunty and my mother. I hope to capture the sensuality of the women and the freeness of the children roaming about in the landscape in which they are depicted."

Many of her recent works are predominantly inspired by the Australian Landscape. They use bols colours and repetitive patterns that represent the nature and movement found in the Outback.