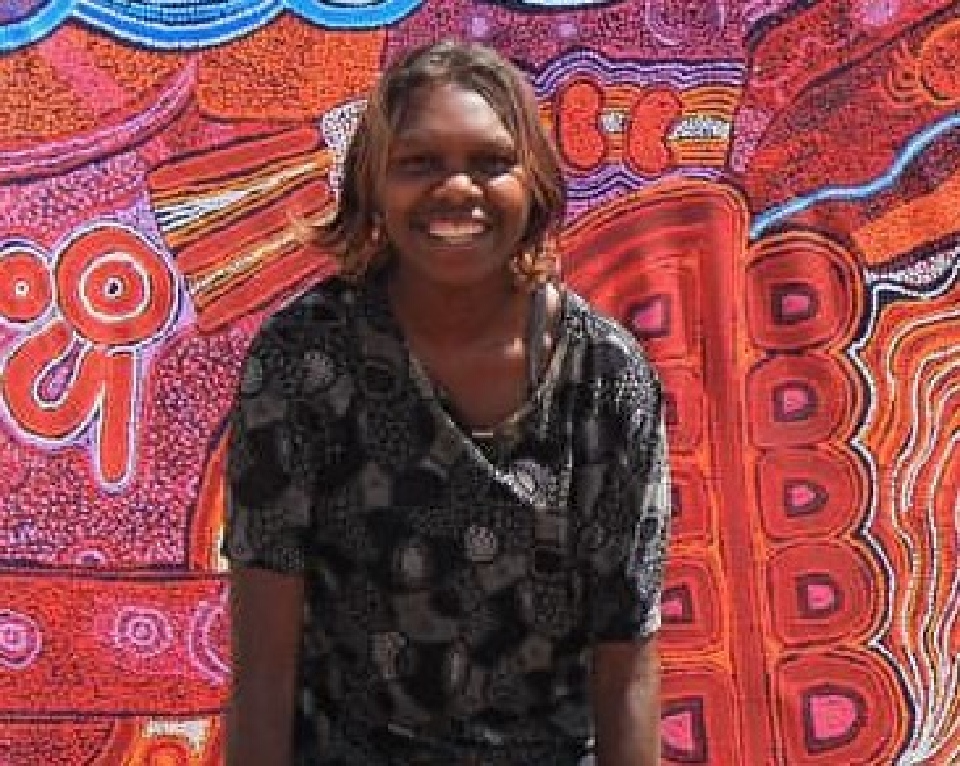 DOB: 1993
Born: Alice Springs, NT
LANGUAGE GROUP: Pitjantjatjara
COMMUNITY: Kanpi, SA


Clarise comes from a large family of artists; with the great Jimmy Baker as great-grandfather, Kay Baker as grandmother, Kani Tunkin as aunty and the talented Teresa Baker for her mother, it is not surprising that Clarise Tunkin is bursting with artistic talent.

Clarise is part of the exciting next generation of artists creating rich, energetic artworks with a sensational individual quality. Whilst only painting since 2012, her talent was recognised when we was selected as a finalist in the 2015 Telstra Aboriginal and Torres Strait Islander Art Award, which is held each year at the Art Gallery and Museum of Northern Territory in Darwin.

Clarise comes from the community of Kanpi in the Anangu Pitjantjatjara Yankunytjatjara Lands (APY Lands) in South Australia. It is located about 20km south of the Northern Territory border at the base of the Mann Ranges. Clarise attended school in the Pitjantjatjara lands, as well as in Adelaide, and has been taught by her mother about country and the sacred stories associated with it, just as Teresa had been tutored from her Tjamu.

Clarise paints the stories of Marlilu, a Pitjantjatjara creational figure, and her work certainly holds an enigmatic power. Clarise recalls visiting Marlilu's cave with her mother at age fifteen. Her bold lines, intriguing compositions and daring colour combinations gives her work an assuredness well beyond her youthful years. We look forward to seeing what the future holds for this talented artist.


Collections
Monash University Collection, Melbourne
Awards and Recognition
2016 33rd NATSIAA, Darwin - Finalist - collaborative piece with Teresa Baker
2015 32nd NATSIAA, Darwin - Finalist
History

Selected Solo Exhibitions

2018 Clarise Tunkin Exhibition - A Magnificent APY Lands Artist, Mandel Aboriginal Art Gallery, Alphington, VIC


Selected Group Exhibitions

2020 Anangu Artists - We carry story in our hearts, Japingka Gallery, Perth
2019 International Women's Day, Kate Owen Gallery, Sydney
2019 Women's Show, Yaama ganu, Moree, NSW
2019 Landscape Colours, Japingka Gallery, Perth
2018 Baker Family Exhibition, Kate Owen Gallery, Sydney
2017 PALYA: NYAPARI NOW, Short St Gallery, Broome WA
2016 Family Ties: The Next Generation, Outstation Gallery, Darwin
2016 Good Together, Short St Gallery, Broome, WA