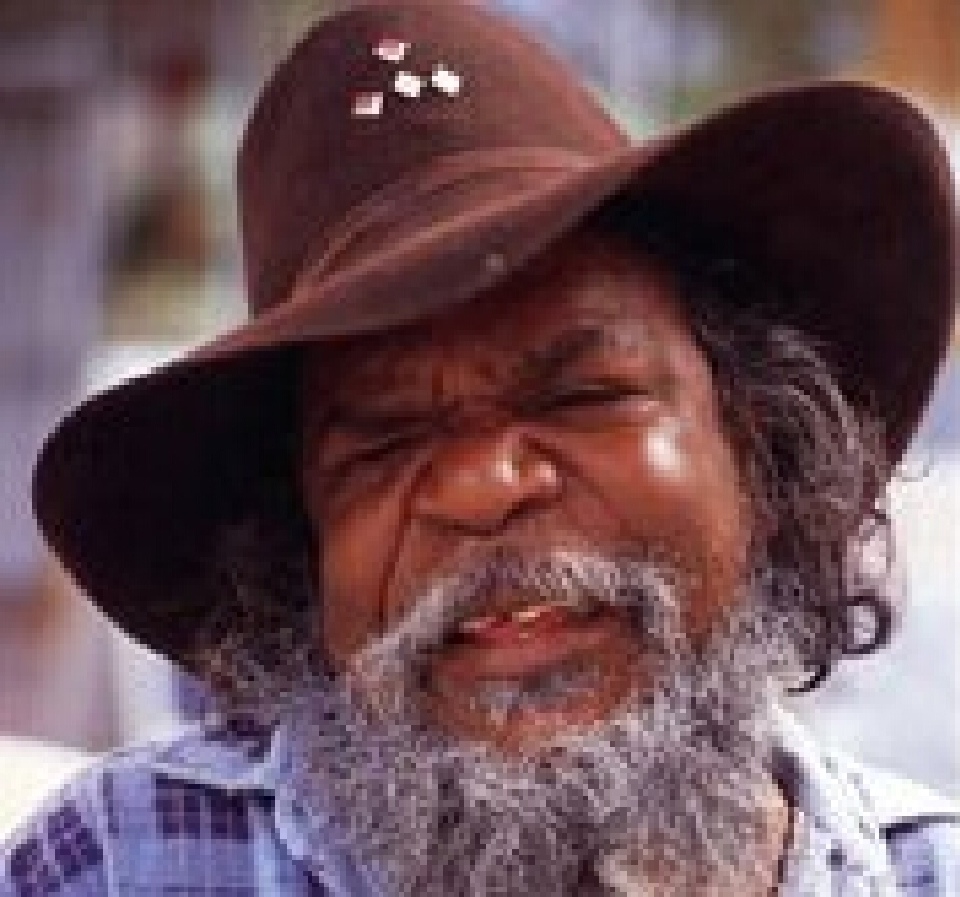 DOB: c.1932- 2002
Born: Napperby Station, NT
LANGUAGE GROUP: Anmatyerre
COMMUNITY: Alice Springs, NT


Clifford Possum Tjapaltjarri was born in Tjuirri, an area north west of Alice Springs also known as Napperby Station. His father was born at Ngarlu, a location west of Mt. Allan, and his mother from Warlugulong, and area southwest of Yuendumu. This broad stretch of territory defined the diversity of subject matter in Clifford's paintings. Clifford enjoyed a traditional bush upbringing and was given the name Possum by his paternal grandfather. In the 1940's, Clifford and his family re-located to Jay Creek, where he became a stockman, working at several stations throughout the area.

Clifford Possum was said to be a true master artist, his character, charisma, and total dedication to his art and dreamings, as well as his tireless promotion of his, and his families work, has set a high standard in establishing this movement from it's inception to the present day. Art lovers and collectors, both here and around the world have held the Desert Masters in high regard, because of the efforts by individuals such as Clifford.

Clifford passed away in Alice Springs on the 21st June 2002, after recently being recognised for his contribution to Australian Art and culture, by being made an "Officer of the Order of Australia". His final days where spent at the Hetty Perkins Nursing Home Alice Springs where he passed away surrounded by close family and friends. He will be sadly missed by those who worked with and knew him well, as well as art collectors and dealers around the world.
Clifford Possum was born in 1932 on Napperby Station. He worked extensively as a stockman on the cattle stations in and around his traditional country. During this time he developed an encyclopaedic knowledge of the Dreaming Trails that criss-cross the area to the north of the western McDonnell Ranges, which he depicts in painting his Dreamings.

His career as an artist began in the 50's when he carved snakes and goannas. By the 70's he was one of the most accomplished carvers in Central Australia. His first opportunity to paint came when one of Albert Namatjira's sons gave him acrylic paints and the master began his work. Clifford, living at the Papunya Community was one of the first artists to be involved with the Aboriginal Art Movement.

The art of Clifford Possum is notable for its brilliant manipulation of three-dimensional space. Many of his canvasses have strong figurative elements which stand out from the highly descriptive background dotting. In the late 70's he expanded the scope of Papunya Tula painting by placing the trails of several ancestors on the same canvas in the fashion of a road map. Within this framework, he depicted the land geographically. This laid the foundation for traditional Aboriginal Iconography to be placed on canvas. The other artist working with him took his lead and removed any elements of European Art from their work. In doing so Clifford, as well as the other artists involved with the Papunya Tula Movement helped to develop the true definition of Aboriginal Art, an art revolving around a culture, The Jukurrpa.

In some of his stories Clifford attempts to give a visual impression of sunlight, cloud, shadow and earth to denote specific times of the day. His paintings show superlative skill, incredible inventiveness of form and are visually spectacular.

Clifford's work is contemporary but essentially Aboriginal in inspiration. To appreciate its full richness it is imperative that it is seen not only by its colour, composition and balance but by its mythological detail. One of the extraordinary qualities of Clifford's work and other Western Desert artists is that they are a visual writing and speak to the Aboriginal as books do to Europeans.

When asked why he became an Artist, he answered,
"That Dreaming been all the time. From our early days, before European people came up. That Dreaming carry on. Old people carry on this law, business, schooling for the young people. Grandfather and grandmother, uncle and aunty, mummy and father, all that, they been carry on this, teach 'em all the young boys and girls. They been using the dancing boards, spear, boomerang all painted. And they been using them on body different times.

Kids, I see them all the time, painted. All the young fellas they go hunting and the old people there, they do sand painting. They put down all the story, same like I do on canvas. All the young fella they bring 'em back kangaroo. Same all the ladies, they been get all the bush fruit, might be bush onion, plum, might be honey ants, might be yala, all the kungkas (women) bring them back. Because everybody there all ready waiting. Everybody painted. They been using ochres all the colours from the rock. People use them to paint up. I use paint and canvas that's not from us, from European people. Business time we don't use paints the way I use them, no we use them from rock, teach 'em all the young fellas."

Clifford is one of the most renown Aboriginal Artist of his time. He was the chairman of the Papunya Tula Artists from the 1970's to the 1980's. His work is featured in many of the main galleries and collections around Australia and Internationaly,Collections include the National Gallery in Canberra and the New South Wales Art Gallery. His work has travelled extensively around the world, including, 'Dreamings' The Art of Aboriginal Australia in New York, Chicago, Los Angeles and St Louis. He has had a book published dedicated to him and his paintings, 'The Art of Clifford Possum Japaltjarri', by Vivien Johnson. He is and has always been regarded as the leading figure in Australian Aboriginal Art.



Auction Details:
Title: Warlugulong
Details: Synthetic polymer paint on canvas, bears artist's name and title on Art Gallery of South Australia, Clifford Possum Tjapalatjarri Retrospective Tour label, on the protective foam core backing attached to the reverse of stretcher, 202 x 337.5 cm
Auction Price: $2,400,000
Auction House: Sotheby's Australia, Important Aboriginal Art, Melbourne, 24/07/2007, Lot No. 114

Clifford Possum Tjapaltjarri has had 457 works listed from the 1970's onwards.
Collections
Artbank, Sydney
Art Gallery of New South Wales, Sydney
Art Gallery of South Australia, Adelaide
Art Gallery of Western Australia, Perth
Berndt Museum of Anthropology, University of Western Australia
Broken Hill Art Gallery
Donald Kahn collection, Lowe Art Museum, University of Miami
Flinders University Art Museum, Adelaide
National Gallery of Australia, Canberra
National Gallery of Victoria, Melbourne
Pacific Asia Museum, Los Angeles
Parliament House Art Collection, Canberra
Queensland Art Gallery, Brisbane
South Australian Museum, Adelaide
The Holmes a Court Collection, Perth
The Kelton Foundation, Santa Monica, U.S.A.
Hank Ebes Collection, Melbourne
Awards and Commissions
2002, Medal of the Order of Australia
1991, Mural, Alice Springs airport
1991, Strehlow Research Foundation, Alice Springs
1985, Mural design, Araluen Centre, Alice Springs
1983, Alice Prize, Alice Springs, NT
1970s and 1980s, Chairman of Papunya Tula Artists Pty Ltd
Selected Exhibitions
Solo Exhibitions

1987, Paintings of Clifford Possum Tjapaltjarri, Avant Galleries, Melbourne
1988, Clifford Possum Tjapaltjarri Paintings 1973-1986, Institute
of Contemporary Arts, London
1990, Rebecca Hossack Gallery, London


Group Exhibitions

2019 Beyond Time, Australian Aboriginal Art, Booker Lowe Gallery, Houston, TX, USA
2019 defining tradition | black + white, Kate Owen Gallery, Sydney
2017, Gems of the Stockroom, Kate Owen Gallery, New South Wales, Australia.
1974, Anvil Art Gallery, Albury, New South Wales, Australia.
1980, The Past and Present of the Australian Aborigine, Pacific
Asia Museum, Los Angeles
1980, Papunya Tula, Macquarie University Library, Sydney.
1981-82, Aboriginal Australia, National Gallery of Victoria, Art
Gallery of Western Australia, Australian Museum, Queensland Art Gallery
1982, Perspecta (with Tim Leura), Sydney.
1983, XVII Bienal de Sao Paulo, Sao Paulo.
1984, Painters of the Western Desert: Clifford Possum Tjapaltjarri,
Paddy Carroll Tjungurrayi and Uta Uta Tjangala, Adelaide Arts festival
1984, Aboriginal Art, an Exhibition Presented by the Australian Institute
of Aboriginal and Torres Strait Islander Studies, Canberra
1985, Dot and Circle, a retrospective survey of the Aboriginal acrylic
paintings of Central Australia, Royal Melbourne Institute of Technology, Melbourne
1985, The Face of the Centre: Papunya Tula Paintings
1971-1984, National Gallery of Victoria, Melbourne.
1987, Circle Path Meander, National Gallery of Victoria, Melbourne
1987, Aboriginal Art from the Central Desert and Northern Arnhem Land,
Community Arts Centre, Brisbane
1988, Dreamings, the art of Aboriginal Australia, The Asia Society
Galleries, New York.
1988, The Fifth National Aboriginal Art Award Exhibition, Museum and Art
Gallery of the Northern Territory, Darwin
1989, A Myriad of Dreaming: Twentieth Century Aboriginal Art Westpac Gallery,
Melbourne; Design Warehouse Sydney [through Lauraine Diggins Fine Art]
1989, Aboriginal Art: The Continuing Tradition, National Gallery of Australia, Canberra
1989, Papunya Tula: Contemporary Paintings from Australia's Western Desert,
John Weber Gallery, New York,
1990, l'ete Australien a' Montpellier, Musee Fabre Gallery, Montpellier, France.
1990, Songlines, Rebecca Hossack Gallery, London
1990, Contemporary Aboriginal Art from the Robert Holmes a Court
Collection, Harvard University, University of Minnesota, Lake
Oswego Center for the Arts, United States of America
1991, Aboriginal Art and Spirituality, High Court, Canberra
1991, Alice to Penzance, The Mall Galleries, The Mall, London
1991, Australian Aboriginal Art from the Collection of Donald Kahn, Lowe
Art Museum, University of Miami, USA
1991, Canvas and Bark, South Australian Museum, Adelaide.
1992, Crossroads-Towards a New Reality, Aboriginal Art from Australia,
National Museums of Modern Art, Kyoto and Tokyo
1993, Tjukurrpa, Desert Dreamings, Aboriginal Art from Central Australia
(1971-1993), Art Gallery of Western Australia, Perth WA
1993/4, ARATJARA, Art of the First Australians, Touring: Kunstammlung
Nordrhein-Westfalen, Dusseldorf; Hayward Gallery, London; Louisiana
Museum, Humlebaek, Denmark
1994, Dreamings - Tjukurrpa: Aboriginal Art of the Western Desert; The
Donald Kahn collection, Museum Villa Stuck, Munich
1994, Power of the Land, Masterpieces of Aboriginal Art, National
Gallery of Victoria.
1994, Yiribana, Art Gallery of New South Wales, Sydney.