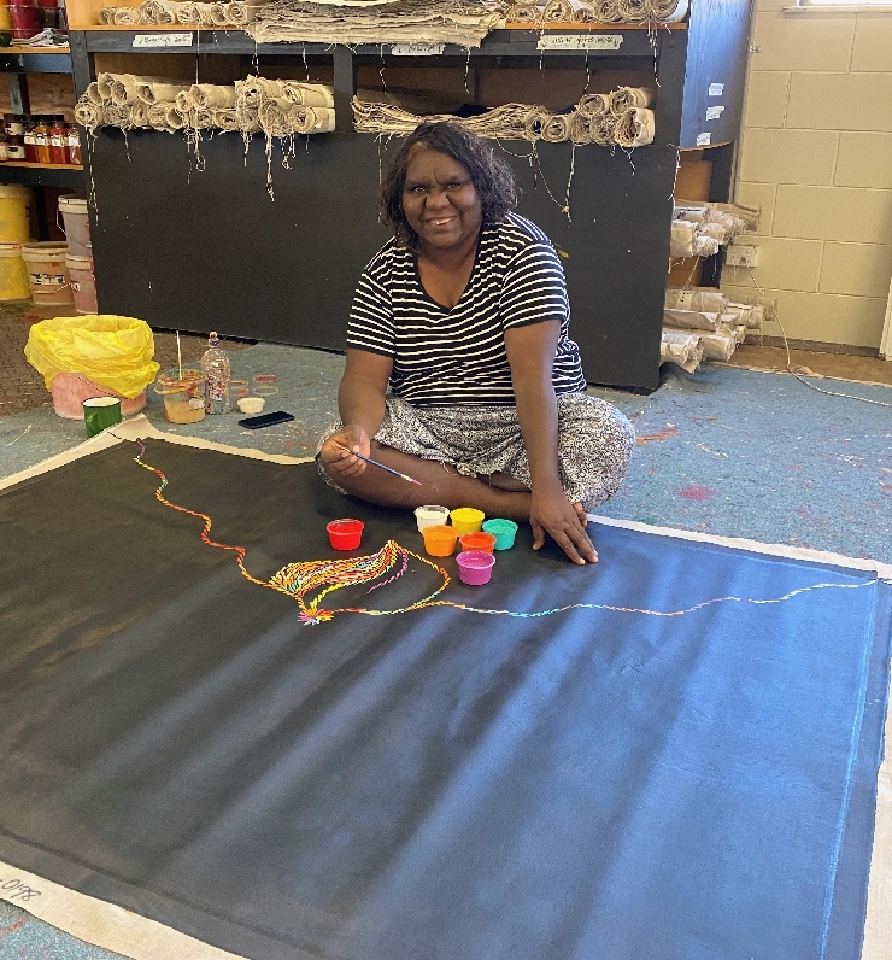 DOB: 1979
Born: Utopia, NT
LANGUAGE GROUP: Anmatyerre
COMMUNITY: Utopia, NT

Dulcie Pula Long is the daughter of renowned artist Jeannie Petyarre and continues the strong painting tradition of her extended family. She comes from the Utopia region of the Northern Territory; a community that has astounded the art world since Aboriginal people put paint on canvas in the late 1980's. The Utopia women in particular caught the attention of the international art world for their sense of colour, creativity, genius and contemporary appeal. Dulcie grew up surrounded by these artistic prodigies including Emily Kame Kngwarreye, Gloria and Kathleen Petyarre, Greeny Purvis Petyarre and the Pwerle sisters, Minnie, Emily, Galya, Lizzie and Molly.

Dulcie began her artistic career depicting the interweaving leaves of the Pencil Yam from the Alhalkere Country of her mother. It is an important bush tucker food for Aboriginal people as well as a significant dreaming story which is celebrated in their Awelye ceremonies. The Pencil Yam and Bush Medicine leaves are a common motif for her creative relatives and Dulcie's work has captivating rhythmic strokes and vibrant colours. Dulcie also paints this story with reverence for its history and with the hope that the spirit of the plants continue.

While continuing her family's tradition of painting this story, Dulcie has also branched out and started to pursue a more individualistic and minimalistic style. Her works depict ancestral country where important Awelye ceremonies take place. Fine rows of dots marking out the locations of sand hills, bush scrub, river flood plains and sometimes waterholes and ceremonial sites. Despite Dulcie's progress to a more restrained colour palette, there is exceptionally fine attention to detail, complex designs and underlying cultural meaning.

With an impressive portfolio of paintings, subjects and styles already to her name, Dulcie continues the Utopia art tradition of creating bold artworks with colour, style and flair. Time will tell if she will join her family members as one of the greats.