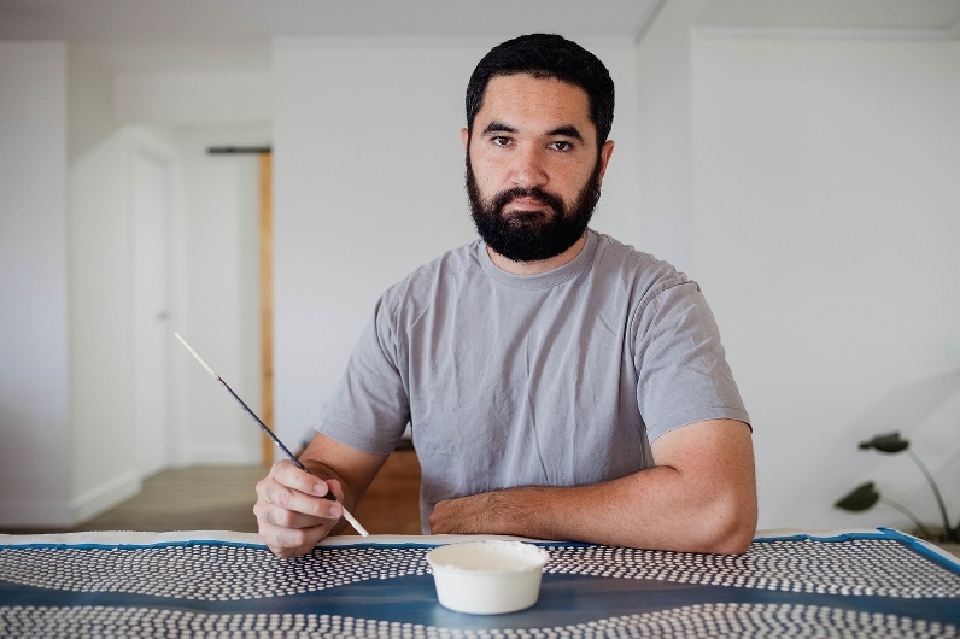 DOB: 1995
Born: Longreach, QLD
LANGUAGE: Gunggarri, QLD
COMMUNITY: Gunggarri / Iningai, QLD

Ethan Kotiau is an urban Aboriginal artist who currently resides in Terrigal NSW. Born in Nambour Queensland, 1995, Ethan has ancestry with the Gunggari tribe of Central QLD, Cook Island Maori and ties to the Iningai people of Central west QLD. Raised in Longreach, outback Australia, Ethan has always been inspired by the beauty of the natural world around him. He began exploring his artistic talents at a young age through music and over time, he developed a passion for painting.

Working primarily in the acrylic medium, Ethan's paintings are a celebration of the beauty and tranquility of the Australian bush. From the intricate patterns of native fauna to the graceful movements of native wildlife and waterways, each of his pieces captures the essence of the natural world through representational imagery with incredible skill and precision.

Ethan's goal as an artist is to create refreshing and peaceful artwork that invites the viewer to connect with Aboriginal culture and nature in a meaningful way. Through his unique blend of traditional and contemporary styles, he hopes to inspire a deeper appreciation for the natural world and the Indigenous cultures that have thrived there for millennia.

"I love the simplicity in a lot of the traditional Aboriginal art from the past. I keep that principle in my work. I like to keep it simple, not over complicate it. I think you see that in my paintings, they aren't loud but subtle and discreet. However, once you look closer there's more to them than meets the eye. That has been my experience of aboriginal culture and our community growing up."

With his talent, passion and commitment to his craft, Ethan Kotiau is quickly becoming one of Australia's most exciting contemporary artists and his work is sure to inspire and delight for years to come.