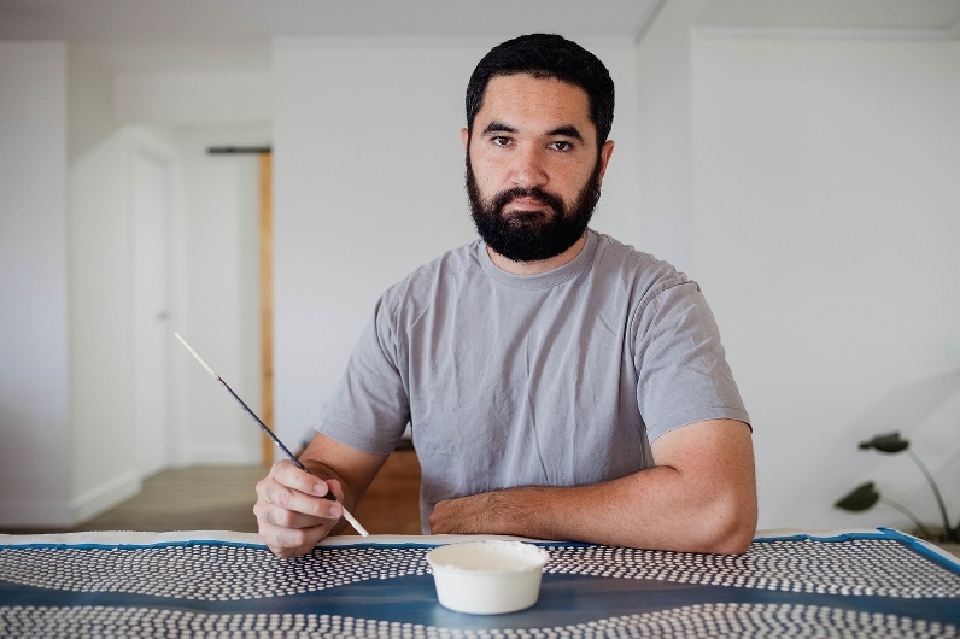 DOB: 1995
Born: Longreach, QLD
LANGUAGE: Gunggarri, QLD
COMMUNITY: Gunggarri / Iningai, QLD

Ethan-James Kotiau is an urban Aboriginal artist who is reconnecting to Country and culture through his passion of storytelling with art. Born in Longreach Queensland, 1995, Ethan has ancestry with not just the Gunggari and Iningai tribes of central QLD, but also Cook Island Maori. This rich and diverse cultural mix provides Ethan with a unique connection when painting.

Ethan first picked up a paint brush in 2018 after being inspired by the late Ningura Napurrula Gibson when he visited a desert art exhibition in Brisbane. "Her work and her story resonated with me, reminding me of my late grandmother. My nan belonged to a special generation as one of the last to be born the Yumba (traditional campsite). She always encouraged me as a kid to practice culture. It was always evident that she loved her culture, family and never forgot where she came from. So much so that when she passed away, her request was to be laid to rest with our old people, where she was born, the Yumba (campsite) on Gunggari Country. She gave me a gift and the exhibition reminded me of that, I knew from then on I was meant to paint. I know she would be proud that I'm painting."

Ethan's art practice is dedicated to forging a style unique to his 2 ancestral tribes. In his work he thoughtfully uses traditional elements in a contemporary way, to provoke a feeling of nostalgia and optimism. "I love the simplicity in a lot of the traditional Aboriginal art from the past. I keep that principle in my work. I like to keep it simple, not over complicate it. I think you see that in my paintings, they aren't loud but subtle and discreet. However, once you look closer there's more to them than meets the eye. That has been my experience of aboriginal culture and our community growing up."

Ethan draws inspiration from his childhood, when his grandmother and elders of the Iningai tribe taught him about their Country, culture, and Indigenous ways. Ethan now has a deep sense of purpose to share this knowledge and storytelling with his family and people from his Country; in doing so sharing bits of his culture with others abroad, too.

Ethan is an emerging contemporary Aboriginal artist to keep an eye on. He currently resides and paints from Terrigal, NSW, with his wife, and visits Queensland regularly for time on Country.