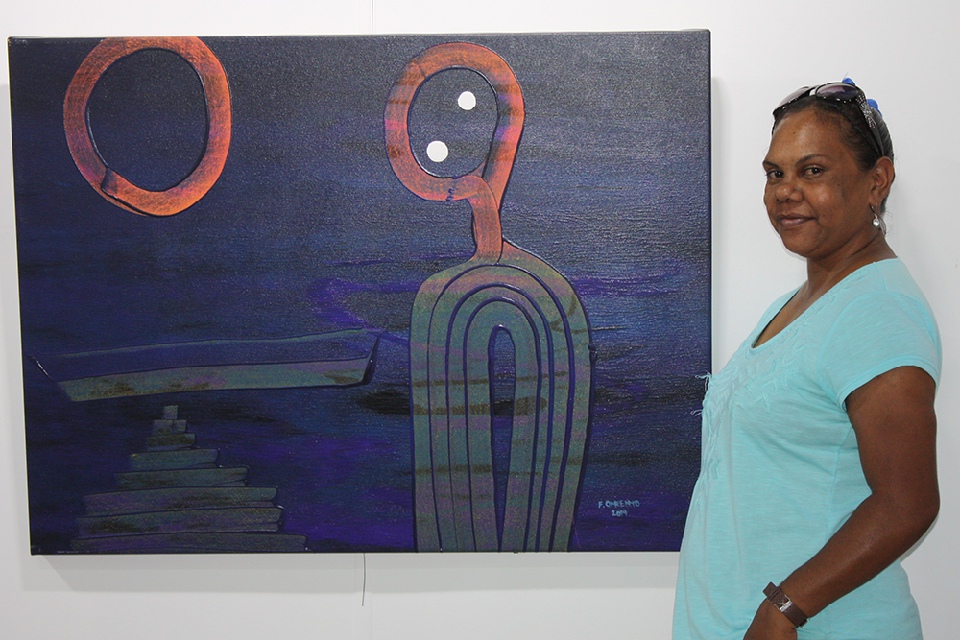 DOB: August 1981
Born: Lockhart River, QLD
LANGUAGE GROUP: Umpila
COMMUNITY: Lockhart River, QLD


Fiona Omeenyo was born in August 1981 in the Lockhart River area in Queensland. Fiona appeared on the contemporary art scene in the late 1990s as part of the original 'Art Gang' - first exhibiting her work in 1998. Fiona had her first solo show in 2001 in Broome, Western Australia. Her work was featured in 'Story Place: Indigenous Art of Cape York and the Rainforest' at the Queensland Art Gallery in 2003.

Fiona paints ancestral spirits and themes her other works on the Parrot Sisters Story from her Country. She developed her painting skills during the formative years of Lockhart River's arts emergence in the 90's and has established a solid footprint within Australia and the International art space specific to Indigenous Australian Art.

The Quinken figures found in Sandbeach rock art dominate Fiona's art and reveals the Lockhart River Mob's new thinking about traditions and conventions: how Indigenous Australian cultural traditions are regenerated and renewed. Fiona is very skilled in conveying how the past is embedded in the present, with many of her figures appearing to emanate from the stream of life running behind them.

Fiona describes her works as "I'm painting about traditional family and everyday things. I still remember my home and country through my painting even though you don't have many elders or family around you to tell you new stories. No matter where you go, you're still carrying these stories and memories for a life-time".

Fiona's work has been widely exhibited in Australian galleries since winning her first art award in 2001. She has had over 15 solo exhibitions and more than 40 group exhibitions, as well as being represented in many private and public collections.
Collections
Thomas Vroom Collection, Netherlands
ATSIC Collection, National Museum of Australia, Canberra
National Gallery of Victoria, Melbourne
Department of Native Title Collection
Cairns Regional Gallery, QLD
Queensland University of Technology, Brisbane
Northern Territory University, Darwin
Wollongong University Collection, Wollongong, NSW
Queensland Art Gallery, Brisbane
Fondation Burkhardt-Felder Arts et Culture, Motiers, Switzerland
Statement
I'm a member of the Lockhart River Art Gang. We're a group of Aboriginal Artists from the east coast of Cape York in Far North Queensland. I mainly do paintings on canvas, although sometimes I do printing and sculpture. The paintings I'm painting now are about traditional family and everyday things. I paint about my home and country through my painting. No matter where you go, you're still carrying the stories that elders and family tell you and memories for a life-time.
Awards & Recognition
2021 KAAF Art Prize, Sydney - Finalist
2019 Montalto Sculpture Prize, Red Hill South, VIC - Finalist
2001 Cape York Art Awards - 1st Prize paintings in general for an acrylic on canvas painting "Sorrow"
2000 Art of Place Awards, Canberra - work selected for exhibition
1999 Cape York Art Awards - 1st Prize in Works on Paper for etching on chine colle "Spirits Dance"



History
Selected Solo Exhibitions

2019 Ancestor Spirits, Double Stone, FireWorks Gallery, Brisbane
2018 Welcome TWO (Thompson Street), FireWorks Gallery, Brisbane
2016 Malu (Deep Water), FireWorks Gallery, Brisbane
2008 Mepla Sandbeach People, Andrew Baker Art Dealer, Brisbane
2007 Mepla One (We are one), Emerge Art Space, Perth
2007 New Life, Niagara Galleries, Melbourne
2007 Fiona Omeenyo, Hogarth Galleries, Sydney
2006 Big Step, Andrew Baker Art Dealer, Brisbane
2005 Mepla Go Long Way, Andrew Baker Art Dealer, Brisbane
2005 Mepla Ngaachi Long Way (Our Home is Far Away), Hogarth Galleries, Sydney
2004 Journey On, Andrew Baker Art Dealer, Brisbane
2003 Wunnem Me, Andrew Baker Art Dealer Brisbane
2002 Future Perfect, Niagara Galleries, Melbourne
2002 Kukiya, Hogarth Galleries, Sydney
2001 Ngaachi Pathaco (My Home), Hogarth Galleries, Sydney
2001 My Story: Miiku, Parrot Sisters and Kuchuutu, Andrew Baker Art Dealer, Brisbane
2001 From Here to There, Short Street Gallery, Broome, WA


Selected Group Exhibitions

2021 Kincha Ngampulungku | My Tradition, My Culture, Art Mob, Hobart
2021 Which Way? Fireworks Gallery, Brisbane
2021 Rosella Namok & Fiona Omeenyo: Sandbeach People, Artspace Mackay, Mackay QLD
2021 Lockhart Legends II, Kate Owen Gallery, Sydney
2021 Gold at Lockhart River, Art Mob, Hobart
2020 Innovative Australian Women, Lauraine Diggins Fine Art, Melbourne
2020 Twelve Ways, Fireworks Gallery, Brisbane
2020 Twelve Artists, Fireworks Gallery, Brisbane
2020 Blue July, Fireworks Gallery, Brisbane
2020 Lockhart Art Gang - Sharing Our Stories, Kate Owen Gallery, Sydney
2019 Overcoming Adversity, Art Mob, Hobart
2019 Large Showroom; Large Works, FireWorks Gallery, Brisbane
2019 Lunar Legacy, Art Mob, Hobart
2019 Small Mercies, FireWorks Gallery, Brisbane
2019 Lockhart Legends, Kate Owen Gallery, Sydney
2019 International Women's Day, Kate Owen Gallery, Sydney
2019 Montalto Sculpture Prize 2019, Red Hill South, VIC
2019 Stories from my heart - Which Way, Art Mob, Hobart
2019 The Colourists, Kate Owen Gallery, Sydney
2019 On the Coast - The Art of Fiona Omeenyo & Rosella Namok, Japingka Gallery, Fremantle, WA
2019 Sculpture Projects, FireWorks Gallery, Brisbane
2018 Fiona Omeenyo & Rosella Namok, Japingka Gallery, Fremantle, WA
2018 Islands in the Sea, Foundation Burkhardt-Felder Arts et Culture, Musee de l'art aborigene australien, La Grange, Switzerland
2018 My Country, Salt, Queenscliff, VIC
2018 Summer Stocktake Sale, FireWorks Gallery, Brisbane
2017 Ngampula Aalkan Nyiiku Maanchima - Mepla: Rise of a new beginning, Art Mob, Hobart
2017 Lockhart River Mob, Kate Owen Gallery, Sydney
2017 Sand, Salt, Spirit, Coo-ee Gallery, Sydney
2017 60 Xv30, FireWorks Gallery, Brisbane
2017 A SWEEP continues, FireWorks Gallery, Brisbane
2017 Along the Lines, FireWorks Gallery, Brisbane
2016 Rosella Namok & Lockhart River Painters, Japingka Gallery, Perth
2016 She Walks the Line Part 2, FireWorks Gallery, Brisbane
2016 Tattersall's Landscape Art Prize, Tattersall's Club, Brisbane
2014 QLD Gals, FireWorks Gallery, Brisbane
2014 Melbourne Art Fair, Royal Exhibition Building, Melbourne
2012 Reunion: New paintings by Samantha Hobson, Rosella Namok and Fiona Omeenyo - Vivien Anderson, Melbourne
2007 Our Way: Contemporary Art from Queensland's Lockhart River, University of Queensland Art Museum, Brisbane and Charles Wang Center, Stony Brook University, New York
2007 Looking Forward, Looking Black, Kick Arts, Cairns, QLD
2006 Uncharted Territory, October Gallery, London
2006 Histoires de Terre et Mer: Peintures Aborigenes de Lockhart River - Australie Chambre de Commerce et d'Industrie du Morbihan, Lorient, France
2006 Lockhart River Art Gang, Ewha Art Centre, Seoul, South Korea
2006 Art for Science, Murdoch Research Institute, Melbourne
2005 Aboriginal Art Show, Booker-Lowe Gallery, Houston, Texas, USA
2005 Group Show, Framed Gallery, Darwin
2005 Land of Diversity, Hogarth Galleries, Sydney
2004 Colour Power: Aboriginal art post 1984, National Gallery of Victoria, Melbourne
2004 Out of Country, Gallery 1601, Washington DC USA and The Kluge-Ruhe Aboriginal Art 2004 Collection of the University of Virginia, Charlottesville, Virginia USA
2004 Hitting On and Kicking Off, Centre of Contemporary Arts / Kick Arts, Cairns, QLD
2004 QUT Art Museum Indigenous Art Collection: Works from the Oodgeroo Collection of Aboriginal and Torres Strait Islander Art, Queensland University of Technology, Brisbane
2004 Big Country, Gondwana Gallery, Alice Springs
2003 Story Place: Indigenous Art of Cape York and the Rainforest, Queensland Art Gallery, Brisbane
2003 Contemporary Aboriginal Paintings from Lockhart River, Columbus State University, Columbus Georgia, USA
2003 Kulam Kannga (Beginning): New works by the Lockhart River Art Gang, The Kluge- Ruhe Aboriginal Art Collection of the University of Virginia, Charlottesville, Virginia, USA
2003 Beneath the Monsoon: Visions North of Capricorn, Artspace Mackay, Cairns Regional Gallery, Perc Tucker Regional Gallery, Townsville
2003 Water: Prints from Lockhart River and the Tiwi Islands, Queensland University of Technology Art Museum, Brisbane
2002 The Queensland/Berlin Indigenous Art Exhibition, Ludwig Erhard Haus, Berlin, Germany
2001 Laura Award Winners, Cairns Regional Gallery, Cairns, QLD
2000 The Art of Place - Fifth National Indigenous Heritage Art Awards - Old Parliament House, Canberra
2000 In my eyes - Lockhart River Art Gang and Friends, Cairns Regional Gallery, Cairns, QLD
1999-2001 Message Stick touring exhibition by the Lockhart River Art Gang funded by Visions Australia