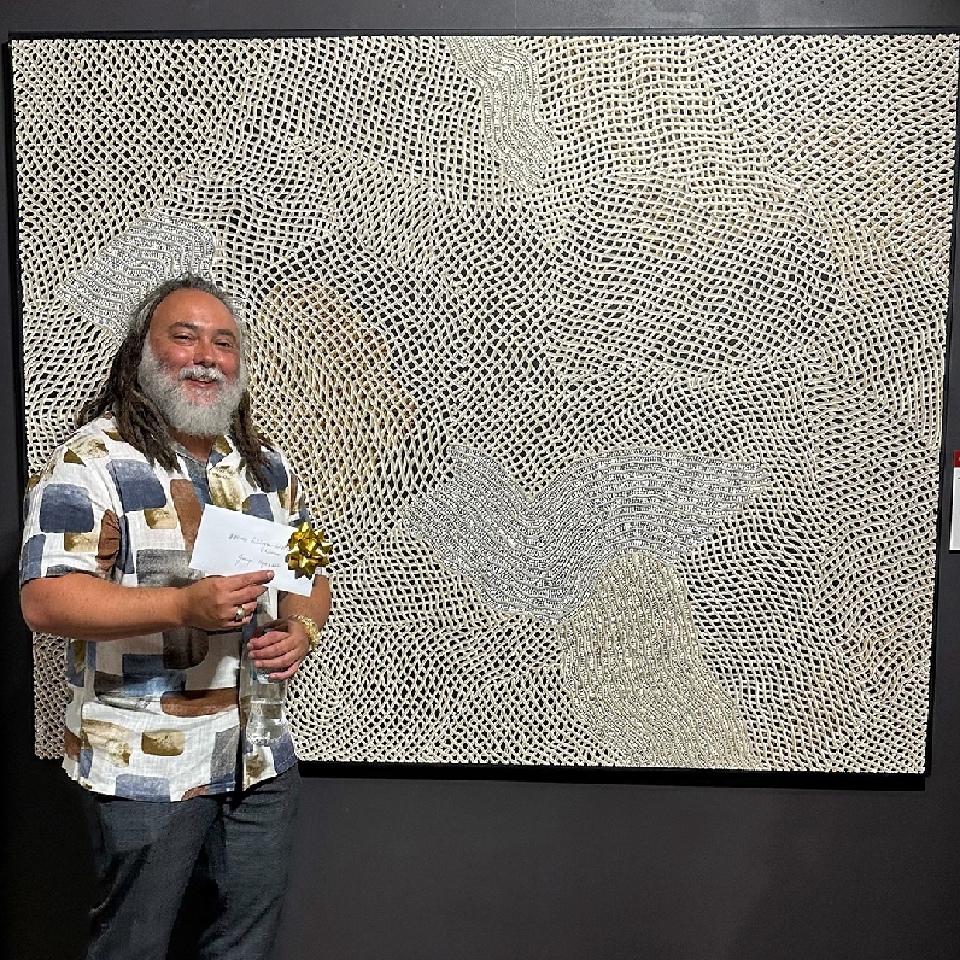 DOB: 1981
Born: Southport, QLD
LANGUAGE GROUP: Gandowal
COMMUNITY: Ngnarangwai, QLD

"Practicing culture is my passion and I will do this my entire life...Culture is very important, it gives people their true identity, a sense of belonging and empowerment."

Goompi's tribal name translates to 'possum from the place of the goanna'. He was born on Kombemerri land, however Goompi has traced his ancestors on his mother's side as being from the Gurreng Gurreng tribal area, around the Bundaberg region in Queensland. Goompi has practiced culture (song, dance and language) from a young age.

After dancing for many years as a teen with a group of local Aboriginal dancers from Stradbroke Island, Goompi learnt the songs of his teachers as well. As an adult he is now a respected song man and runs his own family dance troupe, "Bundjalung Kunjiel" which has performed for dignitaries, Members of Parliament and overseas.

In 2002 Goompi took notice of Aboriginal art after watching others paint from many different tribes around Australia. A year later, Goompi picked up the brush and initially experimented with paintings of animalistic styled artworks of his local totems and stories. Goompi has now established himself as a full time artist known for his restrained colour palette and eye-catching graphic designs. Using acrylics on canvas, Goompi is able to create exciting and engaging works of art.

Goompi naturally has a strong connection to his birthplace and has practiced culture as well as worked with the local custodians for over 25 years. Researching history, speaking with elders, learning all that he could obtain, Goompi has now become a teacher also. Through teaching local children and/or adults the knowledge of culture, song, dance and arts, he hopes to inspire others to practice and share their culture as well.

Goompi has travelled showcasing and teaching culture locally and internationally. He has travelled to France twice to exhibit his artworks and to perform as part of Bundjalung Kunjiel, and attracted the attention of many admirers such as Princess Benedikte of Denmark, the Central Intelligence Agency in the USA, and many other collectors worldwide who now own his works.