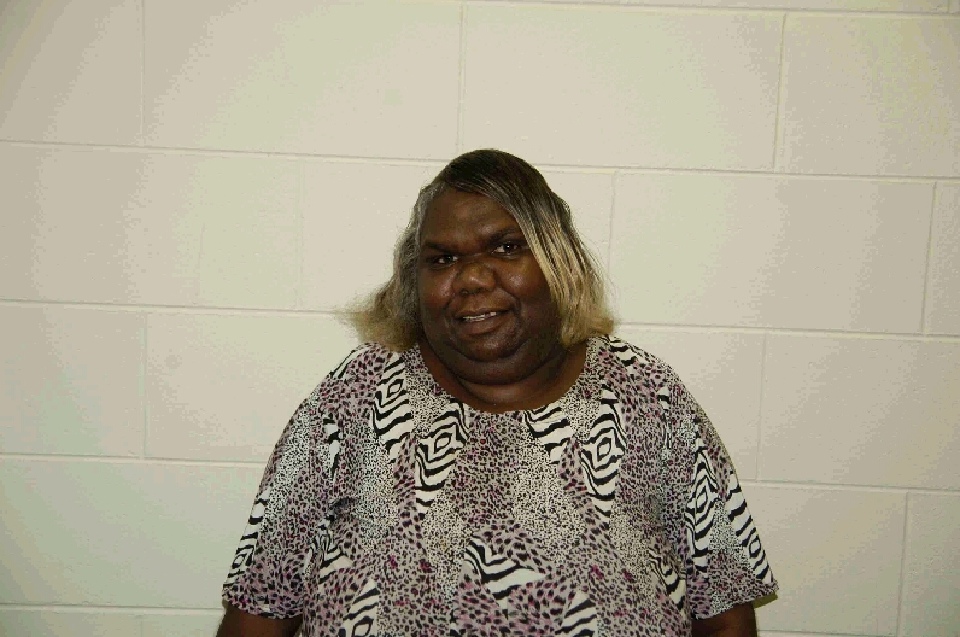 DOB: 1972
Born: Papunya, NT
LANGUAGE GROUP: Pintupi/Ngaanyatjarra
COMMUNITY: Warakurna, WA


Gracie Ward Napaltjarri was born at Papunya in 1972, just after the Western Desert Indigenous Art movement started. She is the daughter of Wynne-Prize winning artist George Ward Tjungurrayi and esteemed elder Nyungawarra Ward Napurrula. As a baby, Gracie moved to Docker River and later to Warakurna where she commenced her schooling.

With such prominent and eminent parents, not much attention was given to Gracie's artistic practice. Despite her obvious interest in painting, Gracie could not find the support to start painting in her own right, so took it upon herself to learn more. Gracie's parents taught her the basics, and she started to assist with their works in 2004. Once given the opportunity to paint in her own right a few years later, Gracie's artworks resembled classic Pintupi dot art; a restrained palette, inspired by the colours of her father's homelands with neat dotting.

In 2008 Gracie felt the need to pause and reflect on her practice. Wanting to try something different, she started to work with Geoff Henderson of Aboriginal Art World and Telstra Finalist Helen McCarthy to further develop her skills. Once given the opportunity to experiment, a bolder colour palette entered her oeuvre.

Despite her progression, Gracie felt the need to pause again in mid 2010, due to an inherent feeling that she was unable capture everything that she wanted to express in her work. Gracie decided to sit back down with her father and mother. She watched them paint, asked questions, listened and discussed culture and country.

With a deeper understanding, Gracie picked up the brush and started to paint with an assertiveness and assuredness which has resulted in a 'creative explosion'. Her works have progressed to an exciting new level, as she continues to experiment with composition, texture, and new methods to express her stories.

In recent years Gracie has captured the attention of the art world, being named as a finalist in the 2018 Mosman Art Prize - one of Australia's oldest and most prestigious local government at awards - and selected as a finalist in the 2019 KAAF (Korea Australia Arts Foundation) Prize.

Gracie is your classic diamond in the rough, but her considered and thoughtful approach to her art making practice has seen her come into her own. Gracie Ward Napaltjarri has two daughters and a son and spends her time between Warakurna and Alice Springs. She is represented by Kate Owen Gallery in Rozelle, Sydney.

We are excited to see what the future holds for this rising star.

Awards and Recognition
2019 KAAF Art Prize, Sydney - Finalist
2018 Mosman Art Prize, Sydney - Finalist
2015 John Fries Art Award - Shortlisted
History
Selected Solo Exhibtions

2015 Gracie Ward: Spectacular New Works, Kate Owen Gallery, Sydney


Selected Group Exhibitions

2020 Sounds of Summer, Japingka Gallery, Perth
2020 60 by 60 - Small Paintings, Japingka Gallery, Perth
2019 International Women's Day, Kate Owen Gallery, Sydney
2019 Landscape Colours, Japingka Gallery, Fremantle
2014 Winter Warmers, Kate Owen Gallery, Sydney
2013 George, Nyungawarra & Gracie: A Family Affair, Kate Owen Gallery, Sydney
2012 Meeting Cultures: Australian Contemporary Aboriginal Art - ARTECLASICA (Argentina Art Fair)
2012 Heirs and Successors, Japingka Gallery, Fremantle
2011 Next Generation, Ochre Gallery, Melbourne