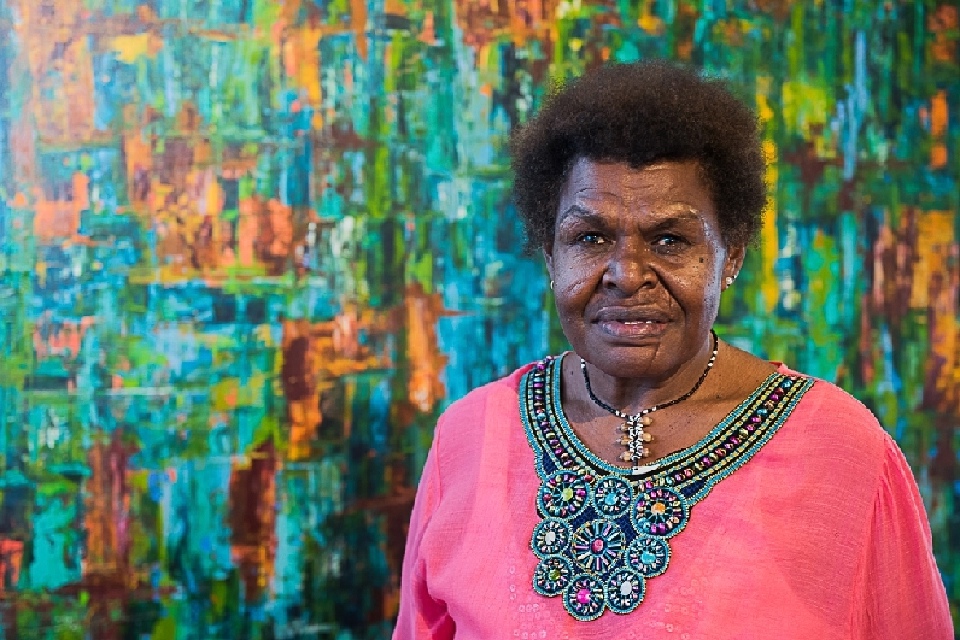 DOB: 1960
Born: Thursday Island, QLD
LANGUAGE GROUP: Kanthanampu
COMMUNITY: Lockhart River, QLD


Irene Namok is the mother of acclaimed Lockhart River artist Rosella Namok. While she is not an original member of the 'Art Gang' she carries on their approach to art making; intertwining art and tradition as a cultural and personal expression from her own own unique perspective.

Irene's paintings are full of the vibrant colour of her country, and in Irene's words, she paints about her culture and her emotions; she paints about what she knows. Irene's father was a minister of the church in Thursday Island, where she was born.

Subjects that inspire Irene's artwork include the bush, bush fires, lagoons and waterholes. Interwoven with these are meeting places and special occasions or festivals. She paints an idyllic picture of the times where 'we dress the kids up, paint them and then sit together and yarn round the campfire under the moonlight'.

Irene has participated in many successful solo and group exhibitions including exhibitions at the Booker Lowe Gallery in Texas USA (2010) and Redot Fine Art Gallery, Singapore (2014). At exhibtion, Irene's works frequently sell out, and this is a measure of their extraordinary appeal.
Statement
I was born on Thursday Island and my grandfather was a church minister at the Old Site. I was going to get married but the man I was going to marry died. I had six kids, four boys and two girls but one of my kids died so now I only have one daughter, Rosella.

I like to paint about my culture now because it's all I know. The old ones have taught me and shown me everything. I paint about the bush fires and water holes. I also paint the lagoons because we like to swim in the lagoons. I also paint about meeting times and festival times and meeting places. We dress the kids all up and paint them all and we sit together and we yarn around the fireplace under the moonlight. My paintings show my emotions about these times and places."
History
Solo Exhibitions
2014 Gallery Gabrille Pizzi, Melbourne
2013 Alcaston Gallery, Fitzroy
2010 Emerge Gallery, Perth, (Sold Out)

Group Exihibitions
2017 March, Lockhart River Mob, Kate Owen Gallery, Rozelle
2009 May, "Four of Us", Wooloongabba, Brisbane.
2009 May, Smith and Hall, Sydney
2009 May, Emerge Gallery Perth, (Sold Out)
2009 August, Cairns Indigenous Art Fair
2009 November, Affordable collectable works, Emerge ArtSpace, Perth
2010 April, "Yakai - We're Coming", Alcaston Gallery Melbourne (Sold Out)
2010 August, Cairns Indigenous Art Fair
2010 November - Booker-Lowe Gallery, Houston Texas (Sold Out)
2011 May, Alcaston Gallery, Melbourne
2011 August, Cairns Indigenous Art Fair (Sold Out)
2013 November, 'Umi - You and Me together' , Emerge Art Space
2014 December, 'Ngi'i Chu'uchi Minthama - These (are) little (but) beautiful' (Lockhart River Miniatures Show - Group Exhibition), Emerge Art Space