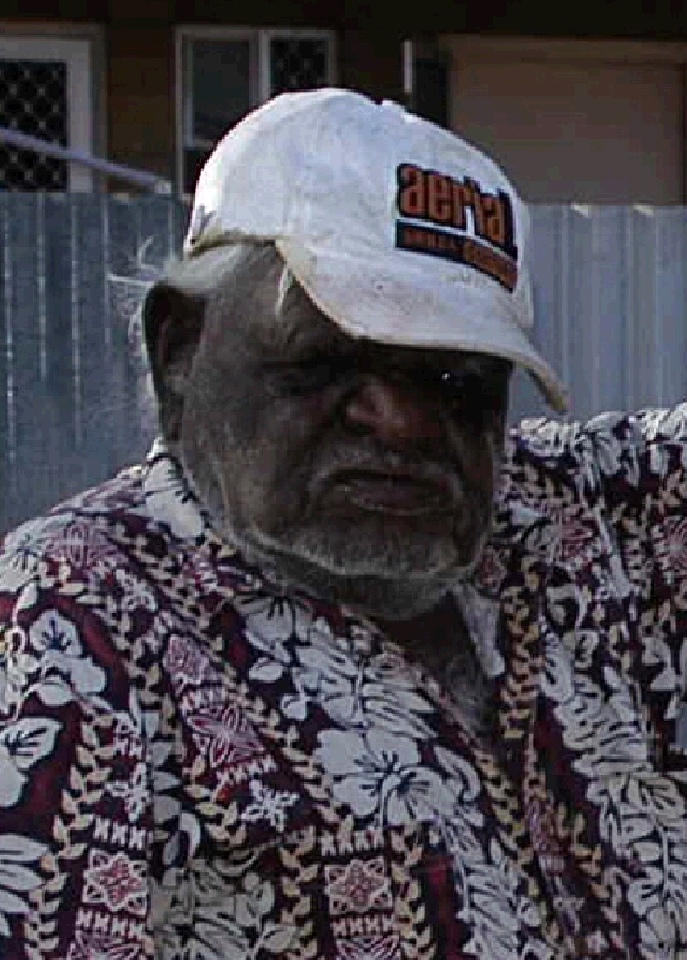 DOB: c.1915 - 20 April 2010
Born: Malumpa, Kanpi, SA
LANGUAGE: Pitjantjatjara
COMMUNITY: Kanpi, SA


When asked when he first saw white man, Jimmy replied, "Hallelujah been comin'." Jimmy's family knew nothing of white man when they first encountered them. They thought they had seen monsters and the whole family took flight up a hill and hid in a cave. Actually, they had encountered a group of missionaries travelling via camel train from Ernabella to Warburton in Western Australia. Eventually, curiousity got the better of the family and they went to investigate. The children were given lollies to try but their parents told them not to eat them as they were poison. The children buried the lollies and ate them later. The same missionaries met up with the family on the return trip and introduced them to gospel singing around the campfire. Jimmy was the first willing participant and eventually was given a gift at the end of the night for being the best singer. The missionaries tried to convince the family to come back to the Ernabella mission but the family was not ready to give up their bush life.

When he was about 15, Jimmy's father, Tjuwintjara, met one of Professor TGH Strehlow's (Jimmy calls him Taylor, but we assume he means Strehlow) expeditions through Central Australia near Kanpi and Strehlow offered him tucker to help - "Flour, sugar, jelly bean, everything" according to Jimmy. After helping Strehlow, Strehlow gave the family a letter entitling them to access the stores at Ernabella. After some discussion, the family decided that ready access to food was an attractive alternative to the ups and downs of the seasons in bush life and moved into Ernabella.

Jimmy's first job at Ernabella was grinding flour and making bread and "big damper". Hence how he got his surname Baker. Later, Jimmy moved to Kenmore Park, a station near Ernabella where he was taught to fence. "Been doin a lotta fence. Too much. Miles!" Jimmy tells us. These fencing jobs took him from Kenmore Park all the way through Fregon and on to Mimili (Everard Park). At some stage when at Mimili, Jimmy met his wife and took her back to Kenmore Park to live. He subsequently fathered three children, Anton, Kay and Marita, all of whom are artists in their own right and were leaders in the movement to establish Tjunga Palya artists.

As a mature person, Jimmy became an important "ngangkari" (traditional healer), through which he travelled far around central Australia, applying his traditional knowledge and skills

Jimmy only commenced painting in 2004 in order to preserve his stories and culture. He was already attracting attention by the time the 2005 Desert Mob was held. In 2007, Jimmy was a feature artist in the National Indigenous Art Triennial: 'Culture Warriors Triennial' exhibition at the National Gallery in Canberra. Over the only 6 years Jimmy Baker painted, he did not created only a limited number of works, which were already considered valuable even when he was still alive. His rich colours and "dot" style represent classical Western Desert art.

Jimmy was a custodian of the important Kalaya Tjukurpa (Emu Dreaming) as well as a number of other dreamings. Interestingly, in talking to Jimmy, he made no distinction between himself and the emu in the story. The man and the dreaming are one. "Me, I'm the emu. Me. I ate that turkey. Me. I did. See here (pointing to his breast bone where he bears a scar the size of a 20 cents piece). See him there, that's where I ate him."

Jimmy spent his final years between Kanpi, Watarru and Alice Springs and passed away in 2010.

Collections
National Gallery of Australia, Canberra
National Gallery of Victoria, Melbourne
The Henderson Family Collection, Sydney
The Luczo Family Collection, USA
Artbank, Sydney
Art Gallery of South Australia, Adelaide
Corrigan Collection, Sydney
History
Selected Group Exhibitions

2018 Baker Family Exhibition, Kate Owen Gallery, Sydney
2010 Desert Country, Art Gallery of South Australia, Adelaide
2008 Colours, Ladner and Fell Gallery, Melbourne
2008 Sydney Art Fair, Sydney
2007 Culture Warriors Triennial, National Gallery of Australia, Canberra