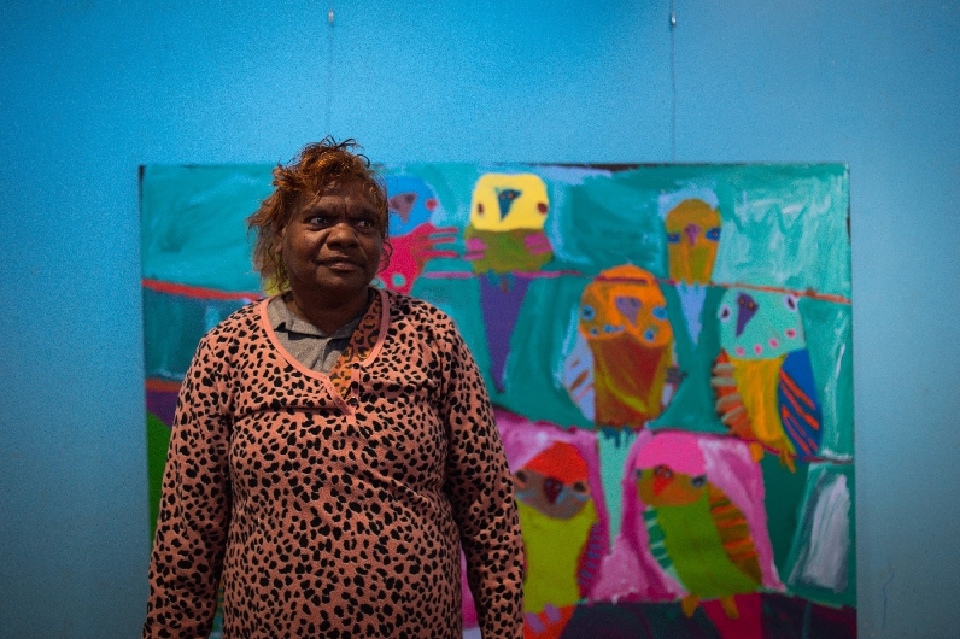 DOB: 1992
Born: Lajamanu, NT
LANGUAGE GROUP: Warlpiri
COMMUNITY: Yuendumu, NT

Karen Napaljarri Barnes is part of the exciting next generation of artists to emerge from Warlukurlangu, an Aboriginal owned and governed Art Centre, located 290km North West from Alice Springs along the Tanami Highway. Karen moved to Yuendumu once completing school in Lajamanu and started painting for Warlukurlangu in 2001. When Karen first started painting, she would sit every day next to her grandmother, esteemed artist Judy Napangardi Watson who would not only encourage her to paint but teach her all the important cultural stories and traditions.

Karen paints the dreaming stories handed down to her by her family for generations, stories which come from Mina Mina, country west of Yuendumu of which her family are the custodians. For Karen, painting retains a closeness with these stories and her family, particularly her grandmother.

In recent years, Karen has caught the attention of the Australian art scene with her depictions of Budgerigar Dreaming (Ngatijirri Jukurrpa). Karen uses a more realistic depiction of the birds and a very abstract representation of the landscape, favouring bold and contrasting colours. Whilst her compositions may appear simplistic, her quizzical critters are works of great charm and presence. Karen's distinctive style extends an existing Warlukurlangu reputation for innovative colour, of which her grandmother was one of the founding trailblazers.

Karen has extended her repertoire and has taken great delight in depicting the animals that live around Yuendumu. Each critter is simply bursting with character and expression, making her work incredibly appealing and memorable.

We look forward to what the future holds for Karen.