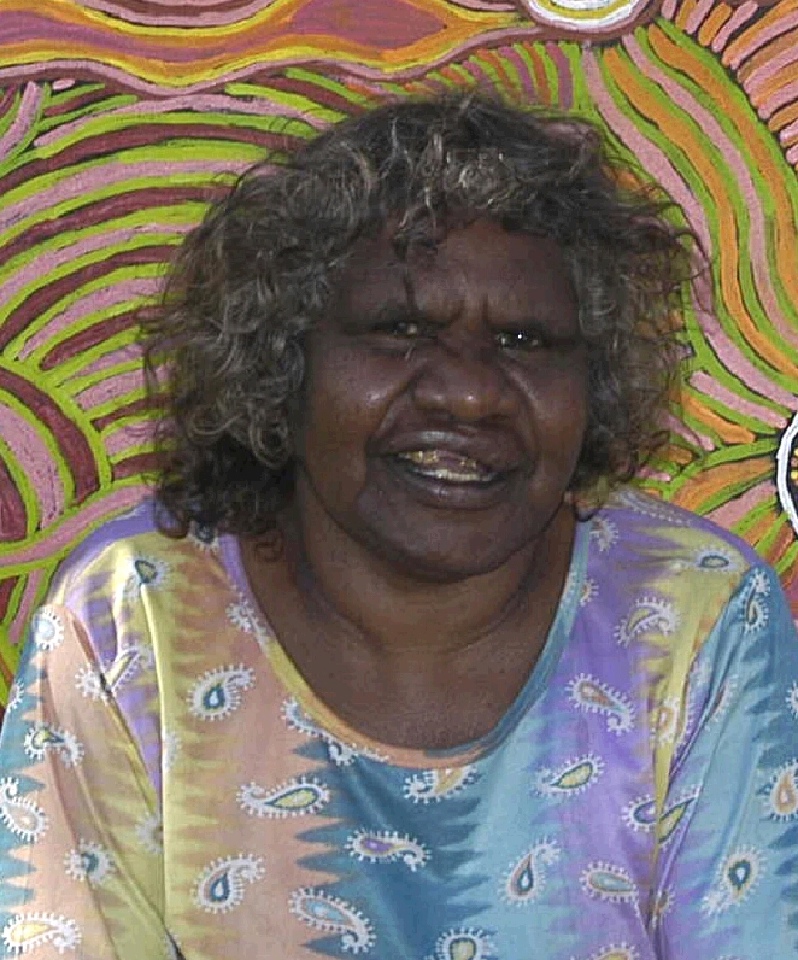 DOB: c. 1950
Born: Palvwell, Ernabella, SA
LANGUAGE GROUP: Pitjantjatjara
COMMUNITY: Kanpi, SA

Kay was born in the early 1950s at Palvwell, a birthing place near Ernabella. She grew up at Ernabella Mission where her father, noted artist Jimmy Baker, had first moved to in the early 1930s. Kay first went to school when she was about 10 years old. When she was 12, Kay moved back to her mother's country at Mimili (Everard Park) with her family. Her father worked around that area tending sheep, shearing and fencing. In those times, the Indigenous families camped in the bush together, away from, but in the vicinity of the main homestead.

When about 15, Kay moved to Fregon with the family. This brought together Jimmy's family and that of his cousin, Wipana Jimmy, later to play key roles in the establishment of Kanpi and Watarru. Kay only stayed a short time at Fregon, moving to Yirara Lutheran College in Alice Springs at the time it was established. After about a year in Alice Springs, Kay moved back to Fregon where she got a job at the Fregon Arts Centre. It was there that she started to learn arts and crafts (primarily batik and basket weaving) from her aunty, Wipana Jimmy. Kay worked at the art centre for about 15 years, during which time she met her husband and mothered 5 children, including Patricia Tunkin and Teresa Baker, who have since developed in sought after artists in their own right.

In 1985, Kay moved with her father and others to the nascent settlement of Kanpi which, at the time, consisted only of a shed, which doubled as a shop, and two houses.

Since that time, the family has played a key role in the Kanpi and Watarru townships, including agitating for the establishment of Tjunga Palya art centre. Today Kay is a Director of the art centre and spends her time between Kanpi, Watarru and Alice Springs.