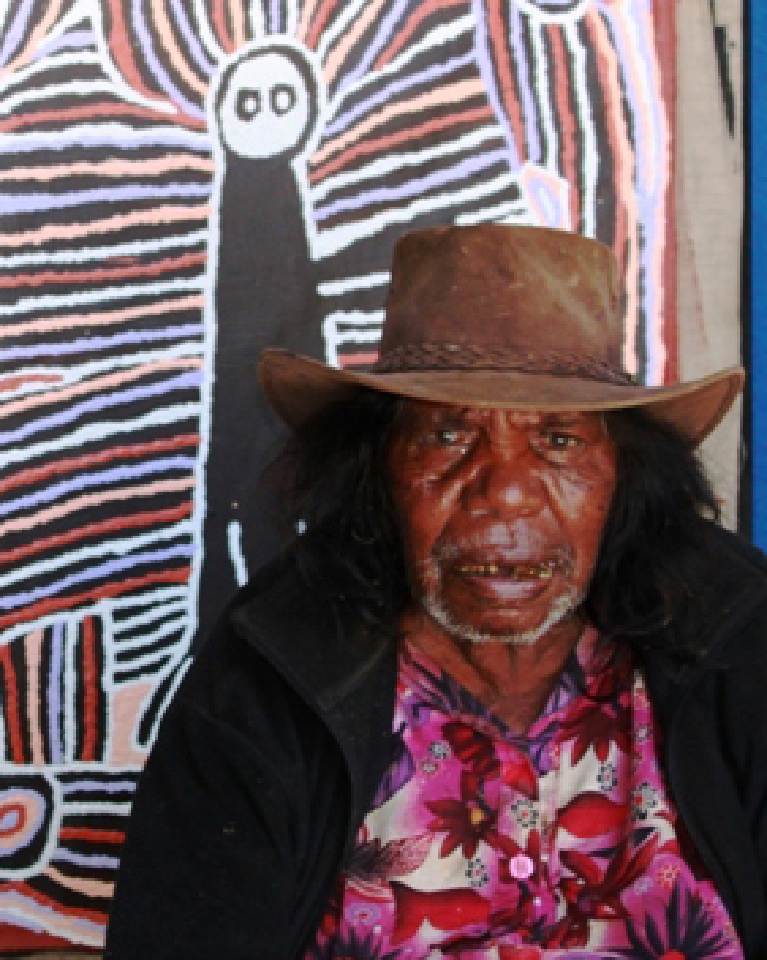 DOB: c. 1937 - 2021
Born: Lake Mackay, WA
LANGUAGE GROUP: Pintupi
COMMUNITY: Haasts Bluff, NT

Linda Syddick Napaltjarri was born in the area of Wilkinkarra (Lake Mackay). Her mother was Wanala Nangala and her father was Rintja Tjungurrayi. She was part of the last generation of Pintupi people who grew up in a completely traditional life and experienced first contact with European Australia.

Linda's paintings are inspired by both her traditional nomadic life in the desert, and the Dreaming of her father and stepfather. Linda's father was Rintje Tjungurrayi who was killed by a revenge spearing party in accordance with customary Law when Linda was about eighteen months old. Her stepfather, artist Lungkarta Shorty Tjungurrayi, subsequently brought her up.

Before Lungkarta died in 1985, he instructed Linda to carry on his work and paint his Dreaming. And so it was that in 1986 her two Uncles Uta Uta Tjangala and Nosepeg Tjupurrula taught Linda the art of painting.

Linda often painted the Dreaming story of the Tingari and the Emu Men. The Emu Men are ancestral beings that roamed the landscape during the Dreamtime or Creation Period. The Emu was the totem of her father, Rintje Tjungurrayi, and stepfather, Lungkarta Shorty Tjungurrayi. The Tingari are ancestral spirit beings, who went on very long journeys, creating much of the desert landscape in Central Australia, and instructing the people about law and custom.

Linda painted Country mostly around Lake Mackay, which has been central to the cultural and spiritual life of the Pintupi people for thousands of years. People used to camp around its shores during their seasonal journeys and gather there for ceremonies. Lake Mackay was where Linda was born and traveled for most of her early childhood. It is a large dry salt lake, which straddles the WA-NT border, northwest of Kintore.

Linda's works are quirky and highly collectable. They are not only fine artworks with superb composition, line, texture and movement, but also idiosyncratic representations of the artist's remarkable stories and experiences. She was a unique voice and sadly missed.



LINDA'S KANGAROO MAN STORY

Kangaroo Man was one of the ancestral spirits from the dreamtime. These spirits had the gift of morphogenesis. They could change their shape from being amorphous and unseen to the physical shape of animals and birds.

Kangaroo is a mans dreaming, and part of it forms the law describing how a kangaroo should be cooked, with fierce penalties applying to any man not following this edict. This is complied with even today, and determines all the aspects of dealing with and sharing out all parts of the kangaroo once it has been killed.

Linda's step father, Shorty Lungkata Tjungarrayi, was descended from the Ancestral Kangaroo men and therefore owned many of the stories and dreamings associated with them.

Before he died in 1985, Shorty passed on many of the stories and permission to paint them to Linda. In turn, Linda will hand down this information to a young member of her own family. In this way, part of the spiritual background of Aboriginality will be preserved as a lasting testament.

Sometimes Linda paints two or more Kangaroo men. In these paintings, Linda is depicting the spirits of important and influencial men in her life. The two main ones were her father, Rinte Tjungarrayi, who was killed by a revenge spearing party when she was a baby. And her step father, Shorty Lungkata Tjungarryi, with whom her family walked out of the desert in 1945. Linda depicts them travelling across her traditional country around Lake MacKay, Western Australia with the hot Australian sun above.

This information was written by Linda's husband, Russel Sim, as dictated to him by Linda as the artworks were created.