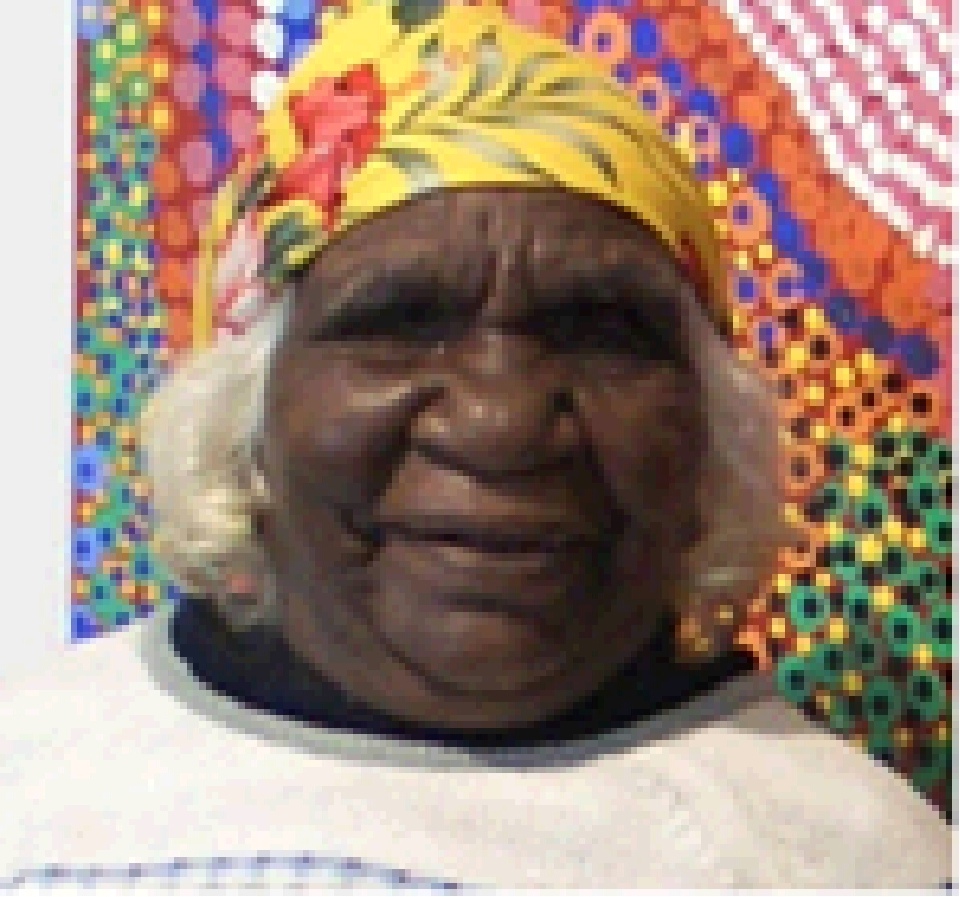 DOB: c.1930 - 2010
Born: Winparrku, Papunya, NT
LANGUAGE GROUP: Pintupi
COMMUNITY: Nyirripi, NT

Mitjili Napanangka Gibson was a highly talented artist, painting bold and colourful paintings.

Her exact date of birth is not known but is thought to be around 1930 at Winparrku near Papunya, Gibson Desert.

Mitjili lived for many years at Nyirripi as a traditional woman; hunting bush creatures and collecting bush tucker with family. Even when she later lived in Alice Springs, she returned to the bush as often as possible.

She was from the Pintupi tribe, spoke the Warlpiri language and had two children (one of whom was Cindy Nakamarra Gibson), and several grandchildren. She was the niece of the highly acclaimed artists, Dorothy Napangardi and Judy Watson Napangardi. Dorothy's painting career gave Mitjili the encouragement she needed to begin to paint herself.

Mitjili's Dreaming stories (Jukurrpa) are associated with her land, and are abstracted aerial views of the countryside and its sacred sites. Mina Mina featured in many of her works, as a sacred site for aboriginal women with the skin names of Napanangka and Napangardi. She took great pride in passing on the traditional Jukurrpa stories about her culture. Aboriginal Law formed the basis of her works, which included Love Magic and the Tingari dreaming.

Her works are highly attractive, built up with colourful, free, streaming dot work creating meandering lines intricately worked over and through each other, layer upon layer, to build up a rich tapestry of colour and texture. Her work is immediately recognisable as fine art as well as fine Aboriginal Art.

Cindy Nakamarra Gibson has now taken over her mother's dreamings and towards the end of Mitjili's life, painted a number of collaborative works with her.


Publications:
2008 New Beginnings, By Emily McCulloch Childs and Ross Gibson.
2008 McCulloch's Contemporary Aboriginal Art, The Complete Guide, by Susan
McCulloch and Emily McCulloch Childs.