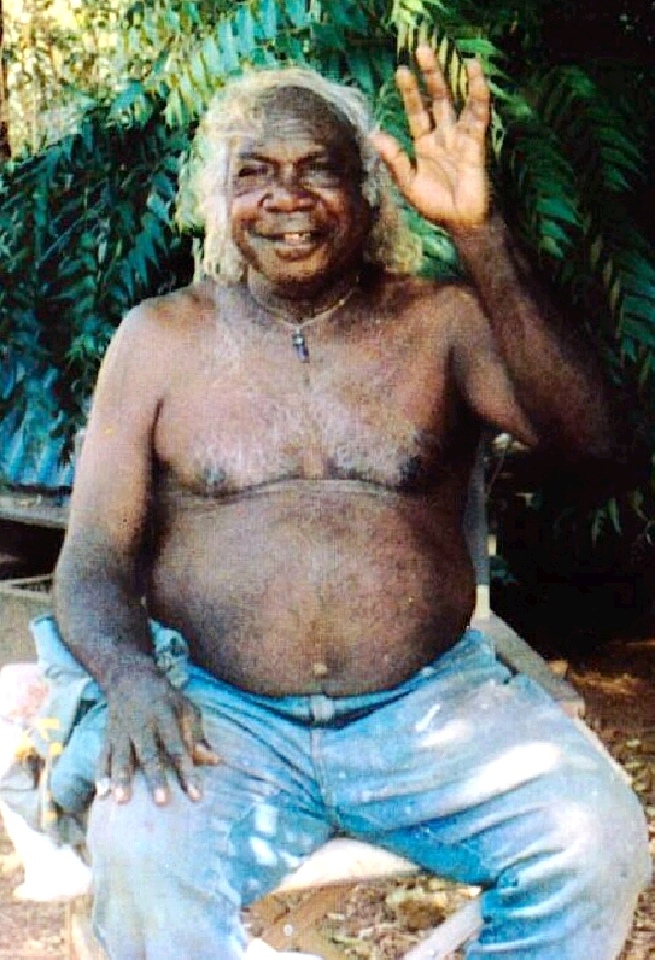 DOB: c.1932 - 2006
Born: Bamdibu, near Ramingining, NT
LANGUAGE GROUP: Rembarrnga
COMMUNITY: Jarruluk, NT


Paddy Fordham Wainburranga was displaced from his birthplace Bamdibu (south west of Ramingining) to Beswick Station, 100 km south east of Katherine. The Rembarrnga language group from Central Arnhem Land has produced many skilled painters in recent times, but none have matched his dedication to recording the history of the region through a remarkable series of works produced since the seventies.

Although Paddy Fordham Wainburranga was taught to paint by his father, the lack of ceremonial status resulted in him not having the entitlement to include the symbolism of country used by some other Rembarrnga people. At first glance, Wainburranga's figurative style takes us back to archaeological bark paintings iconography that is now unfamiliar in modern depictions of 'country' in the Aboriginal paintings of today. Art collectors are finding a resonance in the ancient pictorial forms first portrayed in both bark and rock paintings. Paddy has embraced this traditional form in his unique visual travelogue of Ngalkbun Rembarrnga mythologies.

Figurative depictions of the Balangjarngalain spirits cross over from the imagination to the linear two-dimensional forms nearly leaping off Paddy Fordham Wainburranga's canvases. There is no doubt that the gestural form of the Mimi Man, dancing as he looks over country, is the protector incarnate. Accompanying the Mimi we can see representations of the bush animals such as the file snake, long and short neck turtles, leeches, the rainbow serpent, butterflies and Paddy's favourite totem, the mosquito. Significant stories were passed down to Paddy by his father, many of which featured both these animals and the Mimi Man, who only comes out at night.

Wainburranga's artworks are housed in the collections of the National Gallery of Australia, Canberra, the Museum and Art Gallery of the Northern Territory, the National Gallery of Victoria, the Art Gallery of New South Wales, Artbank, Berndt Museum of Anthropology, Flinders University Art Museum, Museum of Victoria, Holmes a Court Collection and many more private and institutional collections world-wide.

When asked if he would ever give up painting if he became wealthy, he replied:
"No, painting won't stop. No, I gotta do that. My painting, my Dreamtime, nobody own it for me, nobody can stop this history painting. When I die, young people gotta take it over. That's why all over the world we meet up, talk together and give history to one another. I give you my paintings of your give me your painting. Everything for the children because they going to be taking over."

Paddy also appeared in the 1988 Film 'Too many Captain Cooks' (Director : Penny McDonald).