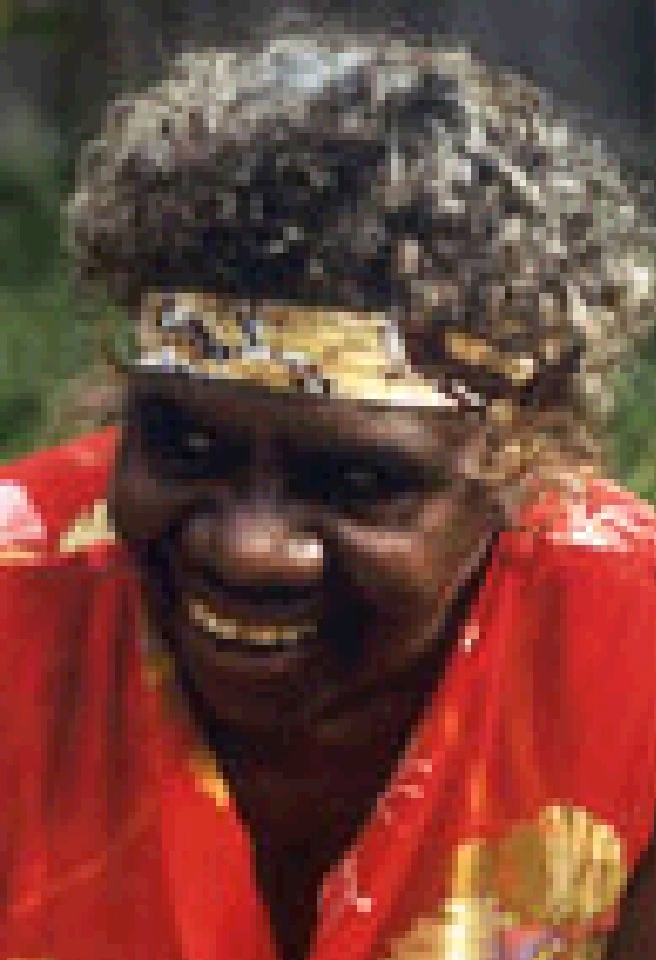 DOB: c. 1940
Born: Haasts Bluff, NT
LANGUAGE GROUP: Luritja/Warlpiri
COMMUNITY: Alice Springs, NT

Warlpiri artist, Pansy Napangati was born in 1949 and grew up on a mission settlement at Haast Bluff in Central Australia. She moved to Alice Springs in 1989.

"When I was a young girl we always travelled around a lot. We'd go to a swimming hole, hunting or gathering bush tucker. Later on I saw my uncle painting and I asked him, 'Can you tell me my mother's dreaming? I want to put them down.' "

They told her the stories and showed her in the sand how to depict them. She practised on paper and later used her designs to do collages made up with the ininti seeds from which the women used for making jewellery. As she gained experience in this form, she moved into her forte', acrylic on canvas. Since that time Pansy's paintings have inspired world acclaim. Today she is considered on of the foremost artists from Alice Springs.

Although it has been said that Aboriginal women have only been painting since the 1980's, Pansy states that she, like her sister Eunice Napangardi, commenced painting earlier. She began recording her dreamings in the early 1970's at the start of the Papunya Art Movement. By observing Johnny Warangkula and Kaapa, two established artists, Pansy's style emerged. Unlike many other women artist now associated with the Papunya Tula Artists she did not serve an apprenticeship, but began painting for herself. At the time the resources were the province of the senior initiated men that started the movement. She sold her work privately through Alice Springs until 1983 when she started painting with the Papunya Tula Artists on a full time basis.

Pansy's work gives voice to her traditional beliefs and symbolises a triumphal cultural statement by the once near defeated people of the Central Australian Desert.

Her paintings are remarkable with their use of colour. Blues, greens and pinks create a spiritual vigour and nervous energy that excite the eye. They are refreshing with their striking vitality and exploring diversity. Her paintings represent the fertility and glory of her traditional land, making a statement about the relationship of the her people and the land.

Pansy is an artist who constantly experiments and surprises. Her close contact with Non-Aboriginal Australians has progressed her in her search for new rhythms and frontiers yet she always remains firm within the confines of Aboriginal traditions.

Her work was seen at the 1988 Brisbane expo as well as the cover of 'The Inspired Dream', which was published at the same time. She has had several solo exhibitions, one of them at the Sydney Opera House, followed by the Gallery Gabrille Pizzi. Her work is featured in many group exhibitions including Richard Kelton Foundation collection, 'Mythscapes' at the National Gallery Canberra and the 'Karnta' exhibition at the New South Wales Art Gallery.

In 1989 she won the 6th National Aboriginal Art Award and in 1993 won the Northern Territory Art Award.