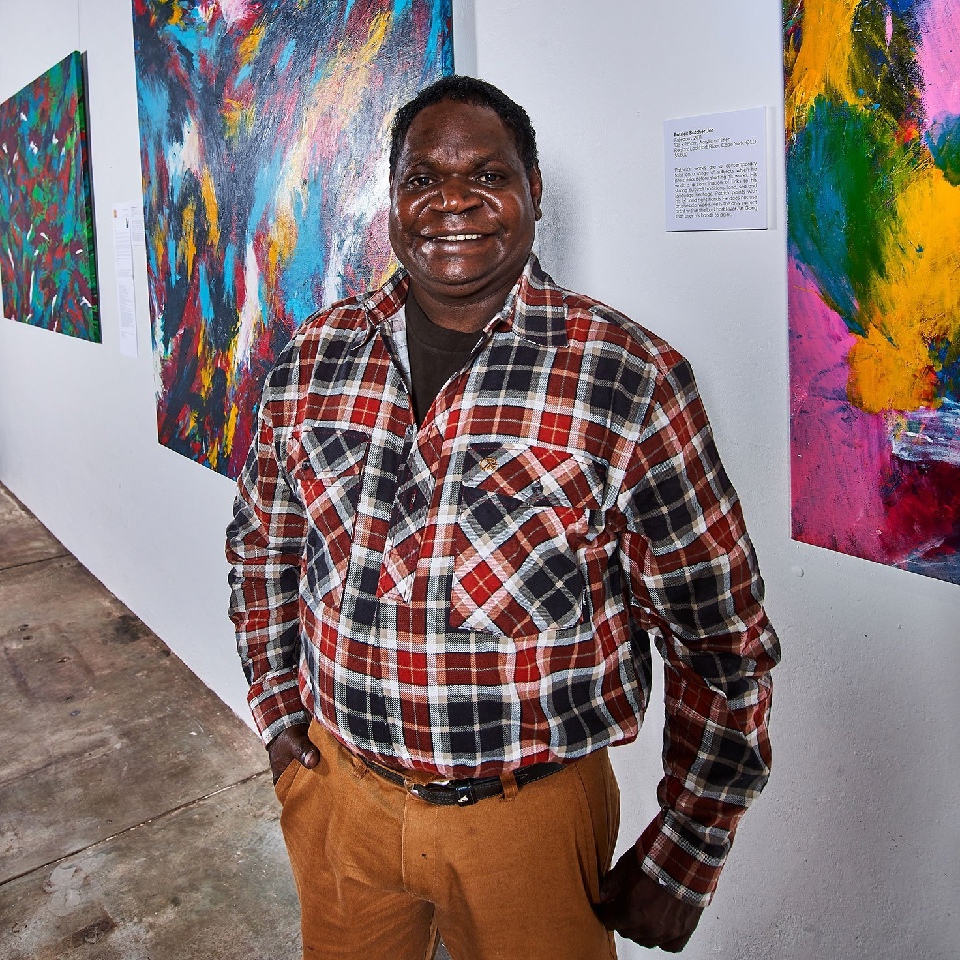 DOB: January 1977
Born: Lockhart River, QLD
LANGUAGE GROUP: Umpila
COMMUNITY: Lockhart River, QLD

Patrick Butcher is an Aboriginal artist who was born in 1977 in Lockhart River, a community located 800km north of Cairns, on the east coast of the Cape York Peninsula in Queensland. Lockhart River was established in 1924 when people from five traditional territories in the area were forced in to an Anglican Mission. Despite a tumultuous history, the people of Lockhart River are proud that throughout it all the community has maintained connection with their ngaachi (place/land/country) as well as traditional law, culture and customs.

Patrick has worked with various artistic mediums, including but not limited to Batik, lino-printing and pottery. He was part of the early group of artists, who, in the mid 1990's formed the Lockhart River 'Art Gang'. Lockhart River Aboriginal artists are well known for their bright and vivid use of colour, and Patrick's application of paint has an immediacy that gives his work a Pollock-like effect. There is also a lovely fluidity to his work that makes viewing his art such a pleasurable experience.

Patrick's Aboriginal artworks draw on Dreamtime stories associated with cultural and linguistic traditions and the land and sea which surround his community.

Patrick paints with his left and right hands; he does not use brushes for his works. As such, he is an interesting example of the use of Aboriginal hand painting to communicate his culture via Indigenous artworks.

Patrick has exhibited extensively throughout Australia, and his art has been acquired by a number of State Galleries.

In his spare time, Patrick likes to go spear fishing for stingrays and fish amongst the rocks and offshore. Patrick explains that he likes to make his own spear and have a "yarn" with the elders about bush tucker.