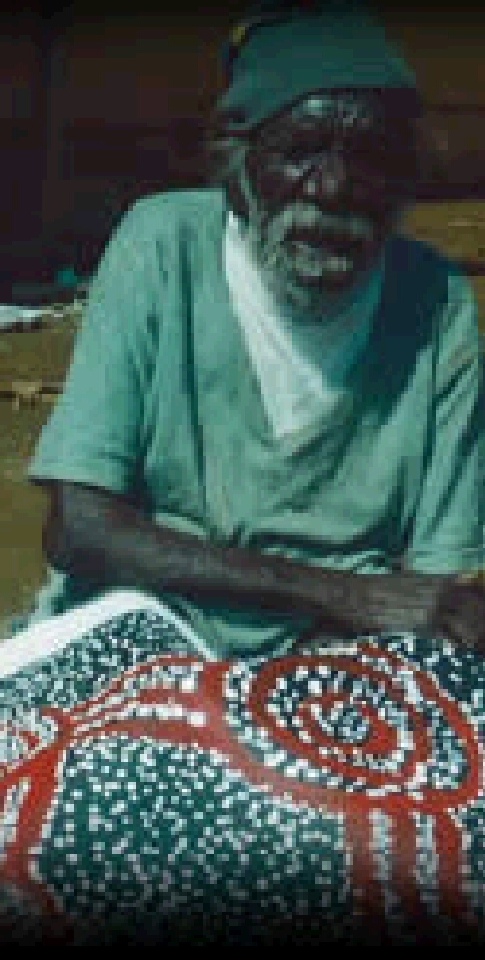 DOB: c. 1920 - 2006
Born: Tarkurrnga, Kiwirrkurra, WA
LANGUAGE GROUP: Pintupi
COMMUNITY: Mt Liebig, NT

Peg Leg Tjampitjinpa, a senior Pintupi painter, was born around 1920, and lived in the vicinity of Wilkinkarra until his family moved to Yuendumu in 1964. He was appointed a trustee of the Wilkinkarra Land Trust in 1984. He now lives at Mt Liebig (Watiyawalu).

Pegleg began painting with the influence of his close friend and relation Pinta Pinta Tjapanangka, while at Walungurru. Following Pinta Pinta's death Pegleg stopped painting as a result of his failing eyesight, and has only recently taken up painting again after an eye operation that restored his sight.

Pegleg's paintings feature a limited palette and focus on Tingari design. His style is reminiscent of that of many Pintupi works of the early 1970's, though unmistakably his own. Using rough outlines of traditional designs, usually with unmixed ochres on dark backgrounds, Pegleg depicts the traditional Tingari Men's Dreaming cycle.

His work is represented in major public and private collections across the globe, and has featured in an important exhibition at the Art Gallery of NSW, Sydney, "Papunya Tula - Genesis and Genius" in 2000.