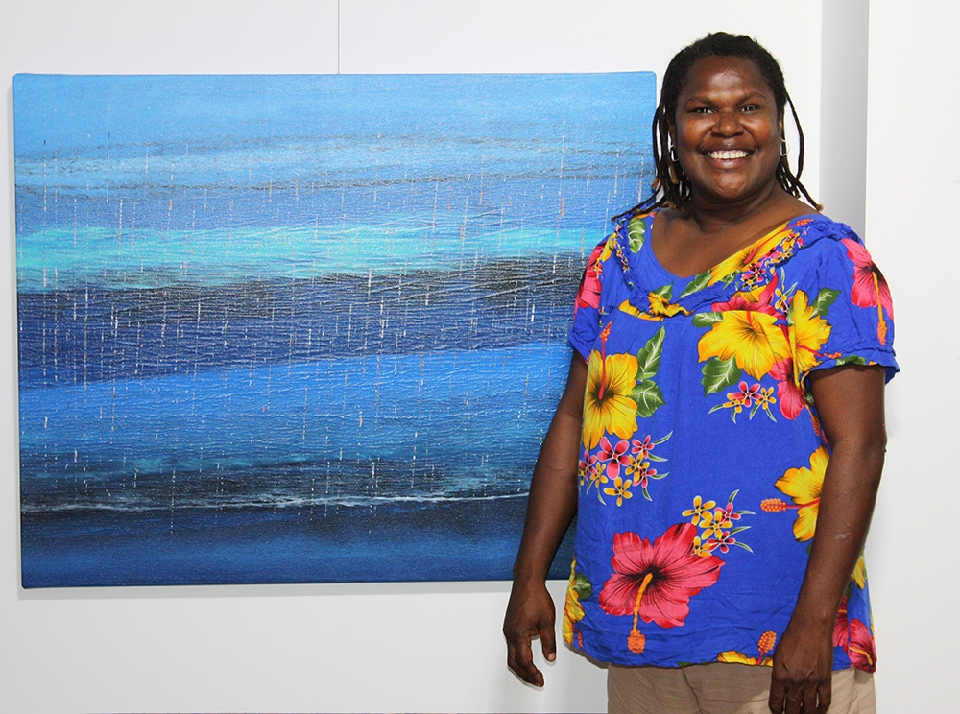 DOB: May 1979
Born: Lockhart River, QLD
LANGUAGE GROUP: Kanthanampu and Aangkum
COMMUNITY: Lockhart River, QLD

Born in May 1979, and from the Kanthanampu and Aangkum language group, Rosella Namok comes from an artist bloodline: she is the daughter of another leading Lockhart River artist, Irene Namok.

Rosella is a prominent member of the Lockhart River 'Art Gang'. Her work straddles the ground between modern and traditional, referring to the traditional stories of her people and the clans of her area, while also exploring personal and contemporary narratives.

In describing her art, Rosella explains "I paint about country and people around me...about traditional culture...about things that happen... things we do... the weather... our isolated community. My recent paintings have been about how people live in our community and about Country."

Rosella was the first Lockhart River artist to have a solo show 1999, and since then has had regular exhibitions in Melbourne, Brisbane and Sydney. In the short span of her career, her work has been included in over 30 national and international exhibitions, biennales and prizes, and acquired by every major public gallery in Australia - not to mention major corporate and private collections here and overseas.

Rosella's depictions of the monsoonal rains in her tropical homeland may be the most representational in her abstract oeuvre, but they also capture the psychological impact of the downpour: from the joyous light, misty rain to the dense engulfing deluge.

In 'Early Shower Rain', we can also see the influence of Rosella's silk-screen background - the pull of carefully selected colours suggest the form of the landscape and allows for a certain degree of relaxed contemplation in her imagery.

In 'Old Girls... Yarn at Night Time', Rosella paints with her fingers, an adaptation of the way that women elders pull their fingers through the sand while yarning. Each panel has a character of its own, and yet they have a tonal and formal coherence. One feels impelled to read each panel as one of the group of women who gather to yarn about their life and the community and to pass on knowledge to the younger generation.

Another preoccupation in Rosella's body of work are her clan artworks, where she uses line and circle to express the complex kinship systems in Sandbeach. She takes the complexities and dynamics of everyday life as her inspiration and represents them in a visual abstraction that effectively maintains the essential idea.

Rosella has two children, and when she is not painting, she enjoys fishing and camping with family.