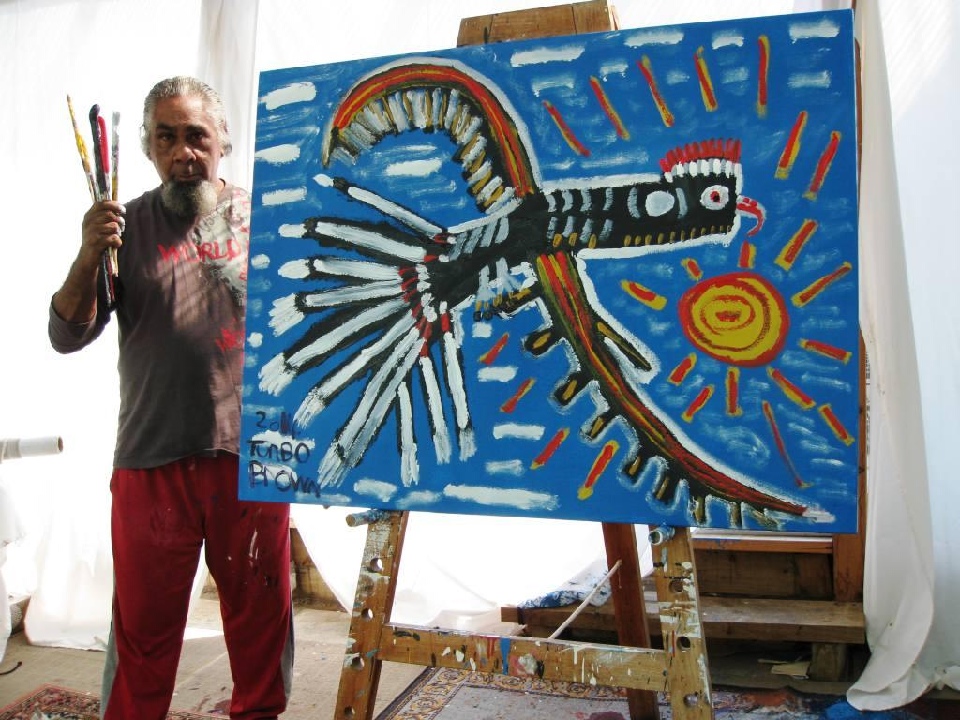 DOB: 1967 - 2017
Born: Mildura, VIC
COMMUNITY: Latje Latje

Trevor 'Turbo' Brown was a Latje Latje man who was born in 1967 and grew up in Mildura, a regional city in North Western Victoria. Born with an intellectual disability and abandoned by his family at a young age, he spent much of his youth homeless.

By 1982, Turbo was slipping into alcohol abuse and crime when a local policeman introduced him to Uncle Herb Batten and his wife, Aunty Bunta. They adopted Turbo and moved to Melbourne where he took up boxing and became a keen rapper and breakdancer. His nickname 'Turbo' began at this time and is the name of a lead character in the breakdancing film 'Breakin' (1984).

In 2001, Uncle Herb and Aunty Bunta enrolled in a diploma of visual arts at the Bundoora RMIT campus and took Turbo along. It was clear from early on that Turbo had an exceptional talent for being able to express on canvas the stories and images in his mind. In just a few years, Aunty Bunta and Uncle Herb could see that art had transformed Turbo's life.

Turbo painted animals because, as he told Uncle Herb, when he was a teenager living on the Mildura streets and the Murray River bank, the animals were his only friends. Turbo's work may seem naive in the simplicity of form, but there is an incredible energy in the dynamic composition, colour and line. Using bright colours and bold outlines, he usually worked on a large scale and painted quickly using unmixed acrylic paint. His engaging pictorial style and distinctive creatures from the dreamtime made his works pulsate with an irresistible and syncopated beat.

By 2005 Turbo already had his first solo exhibition in Melbourne, a sell-out, completed a Diploma of Visual Arts at the Royal Melbourne Institute of Technology and was a finalist in Australia's biggest Indigenous art prize, the Telstra National Aboriginal & Torres Strait Islander Award. Building on that, Turbo achieved substantial recognition for his bold and innovative style and carved out a significant exhibition history. He was a finalist in the Telstra National Aboriginal & Torres Strait Islander Award three times and was also the recipient of the Deadly Award, Victoria's highest honour for an Indigenous artist, at the 2012 Victorian Indigenous Art Awards.

In 2006, Turbo was included in 'Landmarks' - an exhibition curated by Judith Ryan and Stephen Gilchrist - at the National Gallery of Victoria. Judith Ryan, senior curator of Indigenous Art, commented at the time that he produces work "of energy and integrity that is strongly expressive of his cultural identity".

In 2007, Turbo was part of 'Culture Warriors' the inaugural National Indigenous Art Triennial curated by Brenda Croft. He also exhibited at the prestigious Rebecca Hossack Gallery in London and was included in 'Gori-lla', a show of approximately 90 Indigenous Australian artists in Italy.

Turbo passed away suddenly in early 2017, aged just 49.