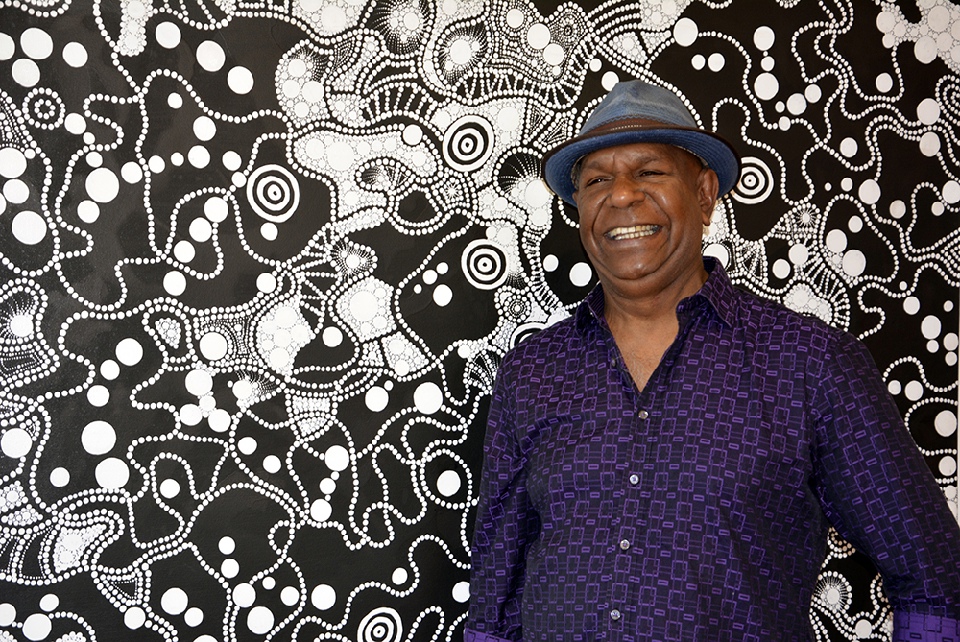 DOB: 1961
Born: Alice Springs, NT
SKIN NAME: Karntawarrra

Walangari Wangardi Kartawarra Jakamarra, also known as Colin McCormack, was born in Alice Springs in 1961. He is of the Arrernte, Luritja, Walpiri, Yankuntjatjarra, Pintubi and Alyawarre peoples of the Central and Western Desert.

Walangari has held many executive positions and directorships of various Aboriginal Councils. He chaired CAAMA (Central Australian Aboriginal Media Association), the first Aboriginal owned radio station, and was a director of the first Aboriginal television station, Imparja.

He is committed to improving the lot of his people and helping ensure that the voice of Aboriginal Australia is heard. He has Bachelor of Arts and Bachelor of Education degrees, and an Associate Diploma of Aboriginal Education.

Walangari has designed and conducted his own very successful cross-cultural course at the Institute of Aboriginal Development in Alice Springs. The course was attended by many overseas and local professionals and students.

Like the course, Walangari sees his paintings as a form of communication between cultures. Walangari is multi talented. He is a gifted musician and dancer, with a wonderful stage presence.

It was the legacy of his famous great-grandfather, Albert Namatjira and the inspiration of his grandfather Clifford Possum that encouraged him to paint.

While his paintings tell the traditional stories of his people and feature the iconography of the "Western Desert", Walangari uses a fuller colour spectrum and unique effects to forge a striking path within modern Aboriginal Art. His paintings are widely acclaimed and he has exhibited extensively both in Australia and overseas.

In 1995 he painted the first prize for the inaugural Indigenous Surfing Competition sponsored by Billabong and Coca Cola. Walangari's life and paintings have been featured in many publications, including the "International Artist" magazine. The Australian Museum featured Walangari in the CD ROM that they produced as part of their "Living Colour" exhibition in March 2000.

He was commissioned to paint a work for the Rugby World Cup Paris Exhibition in 2003. In the same year his work featured in the annual selling exhibition "Art Paris" in the Carrousel du Louvre.

The National Gallery of Australia has acquired one of his early works.