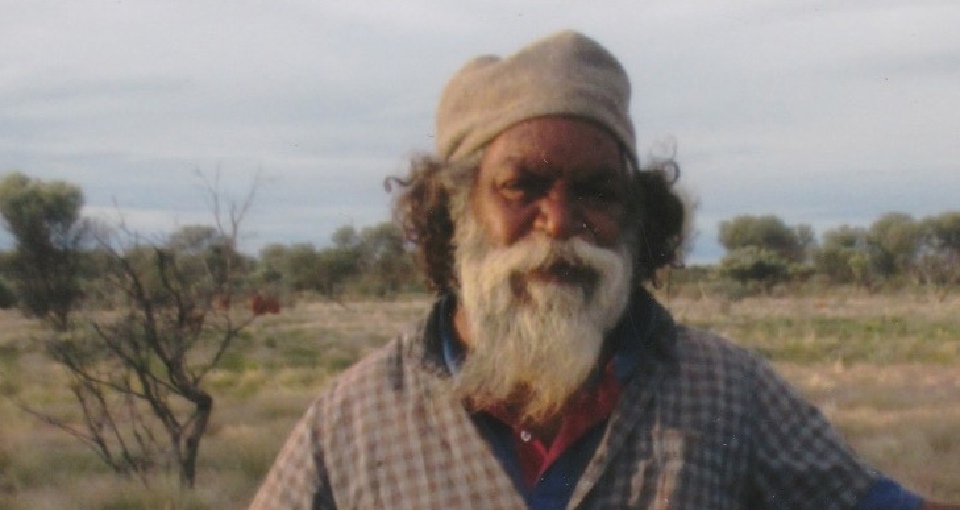 DOB: c.1958
Born: Tjuurlnga in the Angus Hills, east of Kiwirrkurra
Language: Pintupi
Community: Kiwirrkura, WA


Warlimpirrnga was the son of Papalya Nangala and Waku Tjungurrayi, an old man who had three wives (Papalya and two of her sisters). They lived out in the desert, avoiding any contact with Westerners. Warlimpirrnga grew up following the traditional lifestyle of the Western Desert people in the country west of Wilkinkarra. After his father's death, when Warlimpirrnga was about five years old, Waku's place as senior man of the group was taken by Lanti Tjapanangka, who married Waku's widows and continued to enforce the group's isolation. A few years after Lanti died, the twice-widowed sisters sent off Warlimpirrnga (now in his mid 20s) and his older half-brother Piyirti to search for their long-lost relatives.

In October 1984, the brothers encountered Pinta Pinta Tjapanangka and his son Matthew trying to fix a flat tyre at their Mt Webb outstation, just outside of the newly established Pintupi homelands community of Kiwirrkurra. The subsequent arrival of the family group of nine in Kiwirrkurra made national headlines (known as the 'Pintupi Nine' or 'The Lost Tribe'). Up to this point, Warlimpirrnga had had no contact with Europeans and their way of living.

One night, about two months after arriving at Kiwirrkurra, Piyirti crept away from his camp and walked back into the desert with his spear. His fate is the enduring mystery of the Pintupi Nine story. Warlimpirrnga and his brothers were taken under the watchful guidance of Dr. George Tjapaltjarri, a 'medicine man' of high regard who continued their instruction through the 'law'.

After observing Dr. George and other artists at work, Warlimpirrnga approached Daphne Williams of Papunya Tula Artists, with the request that he be allowed to paint. Other artists instructed him in the use of paint and canvas, and he completed his first painting in 1987. His first eleven paintings were exhibited at Gallery Gabrielle Pizzi in 1988.

After painting for some time, Warlimpirrnga began teaching his brothers Walala and Thomas Tjapaltjarri to paint, and by 1996 Walala had taken to accompanying his brother on trips to Alice Springs. All three brothers as well as Dr. George Tjapaltjarri began painting for Gallery Gondwana during the late 1990's.This was due in large part to the personal relationship they shared with Gallery Gondwana Manager Brice Ponsford, who had worked for Papunya Tula in Kiwirrkura when they first arrived in the community a decade earlier.

By 1999 Dr. George painted less and less frequently as his eyesight began to fail, and Walala, preferring his independence, lived in Alice Springs and Katherine, where he painted for a number of independent dealers. Warlimpirrnga, however, tired of life too far from his family and homeland and returned to paint principally for the Papunya Tula art centre, other than on his infrequent travels during which he also painted for others.

Since then Warlimpirrnga has appeared in many exhibitions. In 2000 Warlimpirrnga travelled to Sydney with a group of four men from Kiwirrkurra to make a ground painting at the Art Gallery of New South Wales for the opening of 'Papunya Tula: Genesis and Genius'. In 2012, Warlimpirrnga was amongst a small group of Australian artists to have work included in DOCUMENTA (13) in Kassel, Germany. In 2015, Warlimpirrnga had his first solo exhibition in the United States, when 'Maparntjarra' opened at Salon 94 In New York City. The New York Times and The Wall Street Journal both wrote articles about the ground-breaking show.

Warlimpirrnga paints Snake and Tingari stories for his country, including the sites of Marawa and Kanapilya and the salt lake and soakage area of Kalparti, which is the southwest section of Wilkinkarra (Lake Mackay). Other recurrent subjects are Minatapinya, a large swamp south of Marawa, where Tingari men camped as they made their way east towards Wilkinkarra, as well as Malu (Kangaroo) Dreaming.

To view Warlimpirrnga's art is an extraordinary visual experience, and thus is no surprise that he has been at the forefront of the Men's Painting Movement at Papunya. The designs featured in his paintings display the rich optical overall effect that is a feature of recent Papunya Tula paintings and is an innovation within the Tingari ancestral cycle of stories and ceremonies. Lozenge shapes appear to gaze from the variegated field of dotted lines resembling the effects of wind on the desert sandhills.

Warlimpirrnga's earlier paintings depict segments of the Tingari cycle in the classic Tingari style. This vast, undulating religious cycle re-enacted in men's and women's ceremonies, tells of the journeyings of large groups of ancestral beings and novices across the country.

Fred R. Myers, an anthropologist at New York University, who has studied the Pintupi and their art since the early 1970s, explains that "he is highly respected in his homeland for his knowledge and experience, and his paintings of his stories are really very much tied to that respect."

Warlimpirrnga's work can be found in many public and corporate collections, including the the National Gallery of Victoria, Art Gallery of New South Wales, Musee National des Arts Africains et Oceaniens, Paris, and the Kelton Foundation, USA.

Warlimpirrnga is married to Yalti Napangati, who is the older daughter of Lanti Tjapanangka and Nanu Nangala (Papalya's younger sister). They have four children: two sons and two daughters.
Collections
Art Gallery of New South Wales, Sydney
The Kelton Foundation, Santa Monica
Macquarie Group Collection, Sydney
National Gallery of Victoria, Melbourne
Moree Plains Gallery, Moree
Griffith University Art Collection, Queensland College of Art, Brisbane
Harvard Art Museums, Cambridge
Hank Ebes Collection, Melbourne
The Luczo Family Collection, USA
National Gallery of Australia, Canberra
Artbank, Sydney
Museo Sa Bassa Blanca, Mallorca, Spain
Musee National des Arts Africains et Oceaniens, Paris
Corrigan Collection, Sydney
Awards and Recognition
2009 26th NATSIAA, Darwin - Finalist
2005 22nd NATSIAA, Darwin - Finalist
2002 19th NATSIAA, Darwin - Finalist
History

Selected Solo Exhibitions:

2017 Marawa, Piermarq, Sydney
2015 Maparntjarra, travelling the USA: amongst other locations: Salon 94, Gallery on the Bowery, New York, Perez Art Museum, Miami
2009 Warlimpirrnga Tjaplatjarri, Patrick Tjungurrayi, Scott Livesey Galleries, Melbourne
1988 Gallery Gabrielle Pizzi, Melbourne


Selected Group Exhibitions:

2020 Pintupi Masters - Enduring Dreamings, Kate Owen Gallery, Sydney
2020 Mapa Wiya (Your Map's Not Needed): Australian Aboriginal Art from the Fondation Opale, The Menil Collection, Houston, TX, USA
2019 Pintupi Artists of the Western Desert, Japingka Gallery, Fremantle
2019 Defining Tradition: the first wave & its disciples, Kate Owen Gallery, Sydney
2019 Desert Painters of Australia - paintings from the Steve Martin Collection, Gagosian Galleries, New York and Los Angeles
2019 defining tradition | black + white, Kate Owen Gallery, Sydney
2018 2018 Papunya Tula Artists: Visual Rhythm II, Paul Johnstone Gallery, Darwin
2018 Tjukurrpa: Stories from the Western Desert, Piermarq, Sydney
2018 Three Brothers, Kate Owen Gallery, Sydney
2018 Reverence - Sydney Contemporary, D'Lan Davidson, Sydney
2017 Sydney Contemporary, Carriageworks, Sydney
2017 On View, Olsen Gruin Gallery, New York
2017 NEW - The latest from Kiwirrkurra, Utopia Art Sydney
2016 From the Western Desert, James Makin Gallery, Melbourne
2016 No Boundaries: Aboriginal Australian Contemporary Abstract Painting, Charles H. Wright Museum of African American History, Detroit, Michigan, USA
2016 No Boundaries: Aboriginal Australian Contemporary Abstract Painting, Herbert F. Johnson Museum of Art Cornell University, Ithaca, New York, USA
2015 No Boundaries: Aboriginal Australian Contemporary Abstract Painting, Nevada Museum of Art, Reno, Nevada, USA; Portland Institute for Contemporary Art, Portland, Oregon, USA; Perez Art Museum Miami, Florida, USA
2015 Community VII, Utopia Art, Sydney
2014 George Tjungurrayi - Warlimpirrnga Tjapaltjarri, Scott Livesey Galleries, Melbourne
2014 The 38th Alice Prize, Araluen Art Centre, Alice Springs
2014 Reticulation, A Multi Authored Survey Of The USU Art Collection, Verge Gallery, Sydney
2014 Parcours des Mondes, Arts d Australie, Stephane Jacob, Paris
2014 George Tjungurrayi - Warlimpirrnga Tjapaltjarri, Scott Livesey Galleries, Melbourne
2014 Abstraction, Utopia Art, Sydney
2013 Travelling Through Country, Gallery Gabrielle Pizzi, Melbourne
2013 Salon des refuses, Darwin
2013 Recent Works, Papunya Tula Artists, Alice Springs, Northern Territory
2013 Papunya Tula Artists, Masters of The Western Desert Of Australia, Harvey Art Projects USA, Sun Valley
2013 Painting Now, Utopia Art, Sydney
2013 George Tjungurrayi, Ronnie Tjampitjinpa & Warlimpirrnga Tjapaltjarri, ReDot Fine Art Gallery, Singapore
2013 Desert Mob, Araluen Art Centre, Alice Springs
2013 Community V, Utopia Art, Sydney
2013 Community V, Utopia Art Sydney
2012 Visual Rhythm, Cross Cultural Art Exchange, Darwin
2012 Unique Perspectives: Papunya Tula Artists and the Alice Springs Community, Araluen Arts Centre, Alice Springs
2012 Tjukurrpa Ngaatjanya Maru Kamu Tjulkura - Dreaming In Black And White, ReDot Gallery, Singapore
2012 dOKUMENTA (13), Kassel, Germany
2012 Desert Mob, Araluen Arts Centre, Alice Springs
2012 Community IV: Celebrating Forty Years of Papunya Tula Artists, Utopia Art, Sydney
2012 Classic Works from Papunya Tula Artists, Utopia Art, Sydney
2012 Abstraction, Utopia Art, Sydney
2011 Revival in Small, Artkelch, Freiburg
2011 Recent Pintupi Works, Papunya Tula Artists, Alice Springs
2011 Pintupi Trails 2011, Gallery Gabrielle Pizzi, Melbourne
2011 Australia in Two Colours, Artkelch Collectors Lounge, Schorndorf
2011 Art Karlsruhe 2011, Karlsruhe
2011 Aboriginal Art 2011, Scott Livesey Galleries, Melbourne
2011 40 years of Papunya Tula Artists, Utopia Art, Sydney
2010 Wilkinkarralakutu - Journeys to Lake Mackay, Cross Cultural Art Exchange (CCAE), Darwin
2010 Wilkinkarralakutu - Journeys to Lake Mackay, Cross Cultural Art Exchange, Darwin
2010 Papunya Tula Artists: Art of the Western Desert, Harvey Art Projects USA, Sun Valley
2010 Ngurra Kutju Ngurrara, Belonging To One Country, ReDot Gallery, Singapore
2010 Desert Icons Australasian Arts Project, Singapore
2010 Art Bodensee 2010, Dornbirn, Austria
2010 Aboriginal Art 2010, Scott Livesey Galleries, Melbourne
2009 Warlimpirrnga Tjapaltjarri, Patrick Tjungarrayi, Scott Livesey Galleries, Melbourne
2009 Tjukurrpa Palurukutu, Kutjupawana Palyantjanya - Same Stories, A New Way, Papunya Tula Artists, Alice Springs
2009 Pro Community, Papunya Tula Artists, Kunstwerk, Ebergingen-Nussdorf, Germany
2009 Pro Community, Papunya Tula Artists, ArtBar71, Berlin, Germany
2009 Pro Community, Papunya Tula Artists, VDMA, Frankfurt, Germany
2009 Pro Community, Papunya Tula Artists, Artkelch, Freiburg, Germany
2009 Pintupi 2009, Tony Bond Art Dealer, Adelaide
2009 Papunya Tula Classics, Utopia Art, Sydney
2009 Papunya 2009, Senior Pintupi Artists, Gallery Gabrielle Pizzi, Melbourne
2009 Painting the Country, Cross Cultural Art Exchange, Darwin
2009 Nganana Tjungurrayi Tjukurrpa Nintintjakitja: We are Here Sharing our Dreaming, East Galleries, New York, USA
2009 Nganampatju Kanpatja Winki, Nganampatju Yara Winkii - All Our Paintings, All Our Stories, Papunya Tula Artists, Alice Springs
2009 Darwin Aboriginal Art Fair, The Chain Building, Bennett Park, Darwin
2009 26th Telstra National Aboriginal and Torres Strait Islander Art Award (NATSIAA), Darwin
2009 Community - The Heart of Papunya Tula Artists, Utopia Art, Sydney
2009 5th Annual Shalom Gamarada Aboriginal Art Exhibition, Shalom College University of NSW, Sydney
2008 New Paintings from Papunya Tula Artists, Chapman Gallery, Canberra
2008 David Larwill and the Western Desert Artists, Stephan Weiss Studio, New York, USA
2008 Adelaide Biennale of Australian Art: Handle With Care, Art Gallery of South Australia, Adelaide
2008 Aboriginal Art 2008, Scott Livesey Galleries, Melbourne
2007 The Black and White Show, Red Dot Gallery, Singapore
2007 Pintupi - Mixed Exhibition, Papunya Tula Artists, Alice Springs
2007 Master Works from Papunya Tula, Birrung Gallery, Sydney
2007 Group Show, Jan Murphy Gallery, Brisbane
2007 Elysees de l'Art, Galerie Arts d'Australie - Stephane Jacob, Paris, France
2007 Big Paintings by Papunya Tula Artists, Utopia Art, Sydney
2007 Aboriginal Art 2007, Scott Livesey Galleries, Melbourne
2006 Well Represented, Utopia art, Sydney
2006 PTA, Utopia Art, Sydney
2006 Pintupi, Hamiltons Gallery, London, UK
2006 Pintupi Dreamtime, Red Dot Gallery, Singapore
2006 Pintupi Art 2006, Tony Bond Aboriginal Art Dealer, Adelaide
2006 Papunya Tula Artists 2006, Gallery Gabrielle Pizzi, Melbourne
2006 Melbourne Art Fair, Melbourne
2006 Land Marks, National Gallery of Victoria, Melbourne
2006 Group Show, John Gordon Gallery, Coffs Harbour
2006 Contemporary Aboriginal Art, Jan Murphy Gallery, Brisbane
2006 Aboriginal Art 2006, Scott Livesey Galleries, Melbourne
2006 A Particular Collection, Utopia Art, Sydney
2005 Strong and Stately' Red Dot Gallery, Singapore
2005 Pintupi Artists, Papunya Tula Artists, Alice Springs
2005 Pintupi Art 2005, Tony Bond Art Dealer, Adelaide
2005 22nd Telstra National Aboriginal & Torres Strait Islander Art Award (NATSIAA), Darwin
2005 Papunya Tula Artists, Gallery Gabrielle Pizzi, Melbourne
2005 Papunya Tula - New Paintings from the Kiwirrkura Region, John Gordon Gallery, Coffs Harbour
2005 New Works from the Western Desert, Indigenart, Perth
2005 Native Title Business - Contemporary Indigenous Art, Riddoch Art Gallery, Mount Gambier
2005 Living Legends of the Western Desert, Walkabout Gallery, Sydney
2005 Aboriginal Art 2005, Scott Livesey Art Dealer, Melbourne
2004 Talking About Abstraction, Ivan Dougherty Gallery, University of New South Wales, Sydney
2004 Pintupi Artists, Papunya Tula Artists, Alice Springs
2004 Pintupi Art 2004, Tony Bond Art Dealer, Adelaide, SA
2004 Papunya Tula Artists - 2004, Gallery Gabrielle Pizzi, Melbourne, VIC
2004 Papunya Tula - Selected Paintings, William Mora Galleries, Melbourne
2004 Native Title Business - Contemporary Indigenous Art, Koorie Heritage Trust, Melbourne
2004 Native Title Business - Contemporary Indigenous Art, Gippsland Art Gallery, Sale
2004 Native Title Business - Contemporary Indigenous Art, Carnegie Gallery & Salamanca Arts Centre, Hobart
2004 Native Title Business - Contemporary Indigenous Art, Ararat Gallery, Ararat
2004 Native Title Business - Contemporary Indigenous Art, Academy Gallery, University of Tasmania, Launceston
2004 Melbourne Art Fair 2004, Royal Exhibition Building, Melbourne
2004 Ma Yungu/Pass It On, Framed Gallery, Darwin
2004 Looking Closely at Country, Ivan Dougherty Gallery, College of Fine Arts, The University of New South Wales, Sydney
2004 All About Papunya, Chapman Gallery Canberra
2004 Aboriginal Art 2004, Scott Livesey Art Dealer, Melbourne
2003 Pintupi Artists, Papunya Tula Artists, Alice Springs
2003 Pintupi Art From The Western Desert, Indigenart, Perth
2003 Pintupi Art 2003, Tony Bond Aboriginal Art Dealer, Adelaide
2003 Papunya Tula Masters, The Depot Gallery, Sydney.
2003 Papunya Tula Artists - A Gift from the Desert, Utopia Art, Sydney
2003 Native Title Business - Contemporary Indigenous Art, Toowoomba Regional Art Gallery, Toowoomba
2003 Native Title Business - Contemporary Indigenous Art, Perc Tucker Regional Gallery, Townsville
2003 Native Title Business - Contemporary Indigenous Art, Noosa Regional Gallery, Noosa
2003 Native Title Business - Contemporary Indigenous Art', National Museum of Australia, Canberra
2003 Native Title Business - Contemporary Indigenous Art, Cooloola Shire Public Gallery, Cooloola
2003 Native Title Business - Contemporary Indigenous Art, Cairns Regional Gallery, Cairns
2003 Masterpieces from the Western Desert, Gavin Graham Gallery, London
2003 Kintore-Kiwirrkura 2003, Gallery Gabrielle Pizzi, Melbourne
2003 Aboriginal Art 2003, Scott Livesey Art Dealer, Melbourne
2003 Ab Op II, Utopia Art, Sydney
2002 William Mora Galleries, Melbourne
2002 Saluting Papunya, Chapman Gallery, Canberra
2002 Pintupi Men's and Women's Stories, Indigenart, Perth
2002 Pintupi Artists, Papunya Tula Artists, Alice Springs
2002 Native Title Business - Contemporary Indigenous Art, Queensland Museum, Brisbane
2002 Native Title Business - Contemporary Indigenous Art, Gladstone Regional Art Gallery & Museum
2002 Native Title Business - Contemporary Indigenous Art, Duaringa Shire Art Gallery, Blackwater
2002 Melbourne Art Fair 2002, Royal Exhibition Building, Melbourne
2002 Gallery Gabrielle Pizzi, Melbourne
2002 Family, Utopia Art, Sydney
2002 Art Born of the Western Desert, Framed Gallery, Darwin
2002 Aboriginal Art 2002', Scott Livesey Art Dealer, Melbourne
2001 The White Show 2, William Mora Galleries, Melbourne
2001 Size Doesn't Matter, William Mora Galleries, Melbourne
2001 Pintupi, Alice Springs
2001 Pintupi Exhibition, Papunya Tula Artists, Alice Springs
2001 Papunya Tula 30th Anniversary exhibition, Chapman Gallery, Canberra
2001 Papunya Tula 2001, William Mora Galleries, Melbourne
2001 Palm Beach Art Fair, Palm Beach, Florida, USA
2001 Museum, Utopia Art, Sydney
2001 Musee des Beaux-Arts d'Archeologie de Vienne, France
2001 Kintore-Kiwirrkura, Gallery Gabriele Pizzi, Melbourne
2001 Dreamscapes - Contemporary Desert Art, Mostings Hus, Frederiksberg, Denmark
2000 Utopia Art, Sydney
2000 Pintupi Men, Papunya Tula Artists, Alice Springs
2000 Lines, Fireworks Gallery, Brisbane
2000 Indigenart, Perth
2000 Genesis and Genius - Papunya Tula, Art Gallery of New South Wales, Sydney
2000 Melbourne Art Fair, Melbourne
2000 Aboriginal Art 2000, Scott Livesey Art Gallery, Armidale
1999 Two Men, Exhibition together with Ray James Tjangala, Gallery Gabrielle Pizzi, Melbourne
1999 Desert Mob Art Show, Araluen Art Centre, Alice Springs
1998 Gallery Gabrielle Pizzi, Melbourne
1998 Culture Store, Art Gallery, Rotterdam, The Netherlands
1997 Papunya Tula Artists, Alice Springs
1996 Gallery Gabrielle Pizzi, Melbourne, Victoria, Australia
1996 C.A.A.A.C.E., Araluen Art Centre, Alice Springs, Northern Territory, Australia
1995 Utopia Art, Sydney
1995 Papunya Tula Artists, Alice Springs
1995 Art Gallery of New South Wales, Sydney
1994 Chapman Gallery, Canberra
1993 Dreamtime Gallery, Broadbeach QLD
1992 Naidoc Week Exhibition
1990 The Isaacs Gallery, Toronto, Canada
1990 L'Ete Australien a Montpellier, Musee Fabre Gallery, Montpellier, France
1990 Friendly Country, Friendly People, Touring Exhibition
1990 Friendly Country - Friendly People, Araluen Arts Centre, Alice Springs
1989 Myths capes, National Gallery of Victoria, Melbourne