Dear Aileen & Claudia
We know that you said no gifts,
but we really wanted to get you something to commemorate your wedding, something that you can see every day that reminds you of your special day, and of us.
A piece of art is a very personal choice so we have organised this gift voucher, with the plan that you can visit the gallery when you are in Sydney and can choose a piece that speaks to you both.
We hope that this becomes a treasured addition to your new house.
With love Gisela, Len, Karen and Norah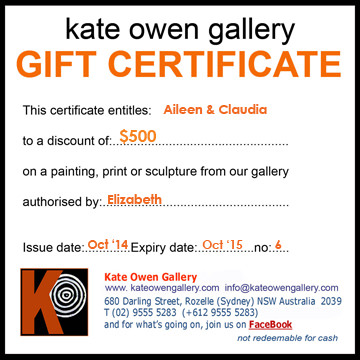 About Kate Owen Gallery
We are a friendly, informative gallery, keen to help art lovers, from first-time-just-thinking-about-it buyers to committed collectors.
We love our visitors to take time to really experience our wonderful gallery, so please accept a complimentary glass of wine or two from our bar, take a comfortable armchair and spend time simply enjoying some superb Aboriginal art.
First time buyers or people newly interested in indigenous artworks are very welcome, and our friendly staff will always take the time to share their knowledge and enthusiasm with you, or to help you find the perfect painting for your home or business.
[youtube:-yIcQIx9YHc]
How to find your perfect artwork:
It has never been so easy: If you don't know much about Aboriginal art but you want to look at styles and the range available, use our Find Aboriginal Artworks tool where you can select price, colours, sizes, shapes, styles, regions and a whole lot of other criteria to find an artwork that's exactly right for you.
Or, you can search for highly collectable works, check out your favourite artists, find art from selected communities or regions, see our newest artworks or for the thrifty, you can find a bargain on our sale page.