One interesting thing you'll find in most Indigenous languages, is that there is no word for 'stranger'. That is because everyone is related through a very complex kinship system known as Skin Names.
Aboriginal people may have a lot of names; their European first name and surname, their bush name and nick name, but you will find in the Central & Western Desert it is by their skin name that most people are referred to in general conversation. You many also find that when you first meet people who come from communities with strong skin name protocol, they may be quite reserved. That's because without a skin name, it can be very hard to place you – it really is quite an unheard of thing not to have a skin name.
It is very easy to see reoccurring names such as Petyarre, Tjapaltjarri, Tjungurrayi, Napangardi etc. on our website and think that all of the artists are related. Well, in the eyes of the artists, they would agree that they are related, and may even call each other their brother and sister, but this may not mean that they have the same mum and dad. It makes drawing out the family tree very complicated sometimes.
It's the Skin Name that determines how people are related to each other (who can marry whom, and who to avoid), their roles and responsibilities to one another, their land and for ceremonies. It determines how each family lineage is linked to particular dreaming stories and sites.
There can be up to eight skin names given to men and eight given to women. There are certain skin names that are the most desirable to marry, and certain ones that are to be avoided. Mother in-laws are to be avoided by the son/daughter in-law as sign of respect, and could so far as to avoiding all women with the same skin name as the mother in-law.
You will notice on our website some skin names are spelt differently - for example 'Napaljarri' or 'Napaltjarri' - this is simply because different symbols have been used in the different languages for writing particular sounds. So the spellings for skin names varies according to the region.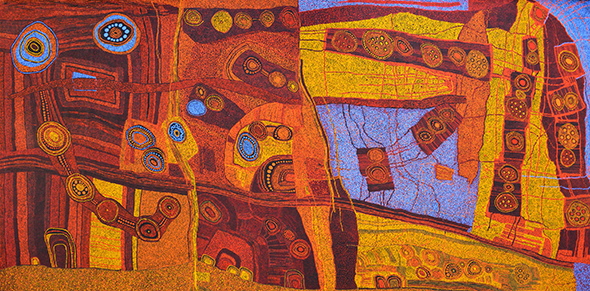 Journey Home by Helen McCarthy Tyalmuty is a visual articulation of her Family Tree, each circle is a family member.
Alternatively in certain communities people are classified into moiety groups.
Related Topics:
What is Aboriginal Art
Sorry Business
Aboriginal Art Symbols & Iconography