Modern and Contemporary Aboriginal Art

What do these terms mean? And what's the difference?


On this page we'll take you through these common phrases to help you communicate your vision for your space, and what kind of artwork you're looking for.
'Modern' and 'Contemporary' are two words you've probably heard a lot when people are describing art and design. And they can mean different things depending on the context. First, let's look at them from an interior design perspective and how Australian Aboriginal Art can help influence your space.
Creating a Modern Mood
Think you might want to add a Modern mood to your space? At a glance, the Modern Style is characterised by;

• Décor pieces that are functional
• Colour palettes tend to be more natural and neutrals
• Favours clean lines
• Often features wood and earthier elements

Modern design emphasizes crisp lines, warm neutrals, and balance. The Modern style is firmly rooted in the early to mid-1900s. So it is best for a homeowner who enjoys the era's preference for functional elements and warm, natural colours.

Art is an essential component to modern interior design. In these logical spaces, modern Aboriginal artworks and sculptures can be expressive with bold colour and unexpected forms. Or they can bring out the natural and earthier elements in the space.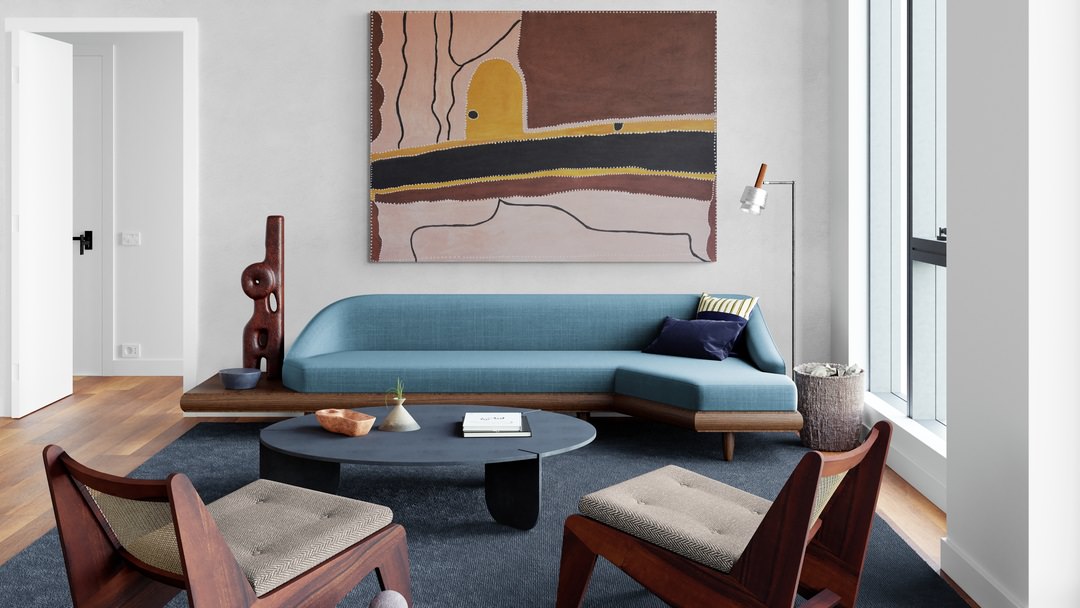 An ochre painting by Beryline Mung Mung
Creating a Contemporary Space
Think you may want a contemporary flair to your space? Contemporary by its very definition is what's happening in design at this very moment in time. Some of its characteristics are;

• State of the art materials, glass and metals
• Sculptural lighting pieces and emphasis on lighting design
• A Colour palette that tends toward contrast, with lots of blacks and whites
• Often features curves
• It has many variations and trends, such as eclectic, Scandi, minimalism, coastal, industrial, and glam

In contemporary home interiors, artwork is celebrated and often placed on its own. A feature wall or space for a standalone sculpture in an entryway is often included.
View Contemporary Aboriginal Art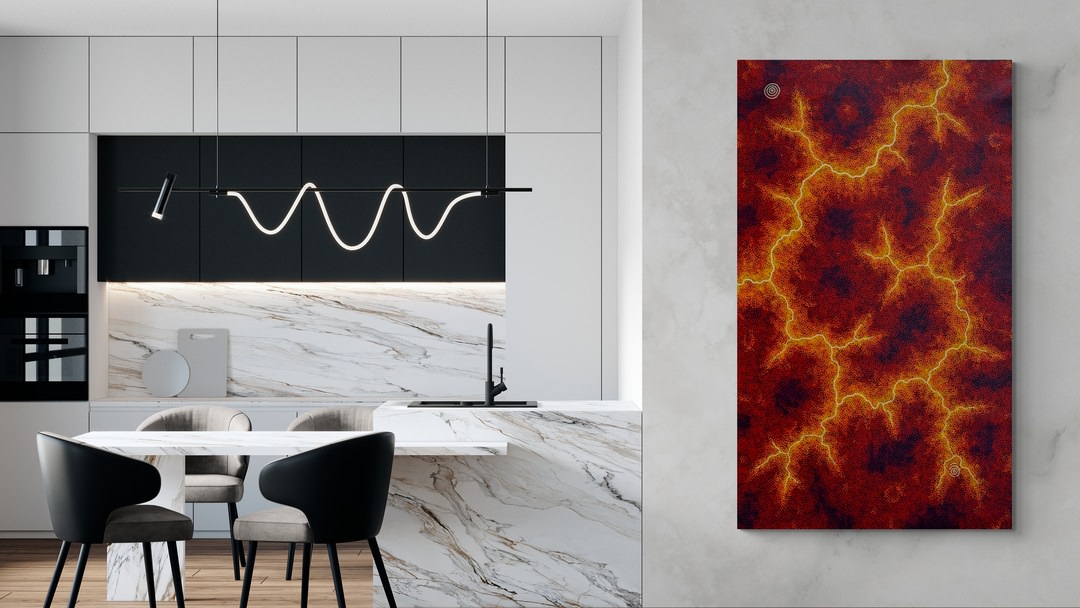 'Earth Images' by Tarisse King
Bear in mind - your style can be a combination of two or more styles. Both contemporary and modern design are minimalist with clean lines, and both have an 'open space' feel.
Now, let's look at the terms from a fine art perspective
Modern and Contemporary Art
In the Western Art Canon, these are two different time periods.
Modern art refers to creative expression from the late nineteenth century through to the early-to-mid twentieth century. It is art that sought a new alignment with the experience and values of modern industrial life. Sitting under the umbrella of modern art are famous movements such as impressionism, cubism, and expressionism to name a few.
It can be very tempting to draw comparisons between western modern artists and Aboriginal artists.

Many say there is an echo of Rothko in Kudditji Kngwarreye's paintings.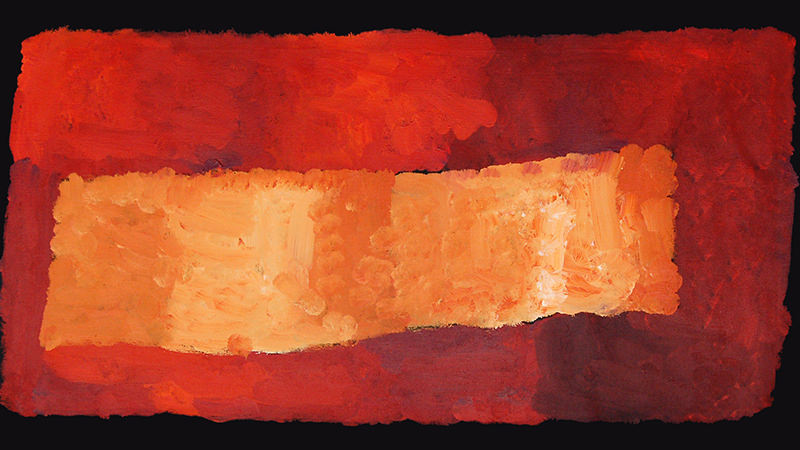 'My Country' by Kudditji Kngwarreye

And many paintings depicting the Tingari Dreaming also use geometric shapes to create optical effects. Just like Op artists did in the 1960s.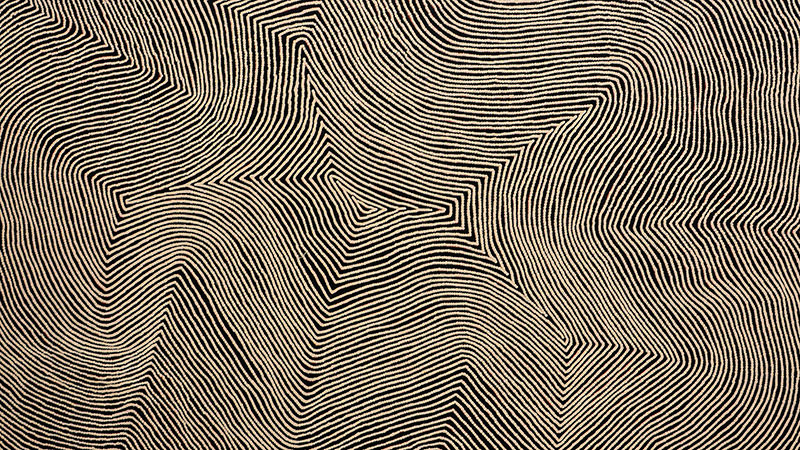 'Tingari' by Warlimpirrnga Tjapaltjarri Collaborative

But it's important to remember that Aboriginal art has developed from a very different visual language to that of Western art. With no written language, Indigenous Australian cultures used a sophisticated and complex visual language. Deceptively simple designs hold multiple meanings and, in some instances, great power.
To be contemporary means to be of one's time. Strictly speaking, it refers to art made by artists living today. At the turn of the century, Monet would have been considered a contemporary artist. However, with the passing of time, his art is now tied to a style of painting and philosophy that was followed by artists during that period.

One of the things that makes contemporary Australian Aboriginal art so compelling is that contemporary Indigenous Australian artists belong to the oldest living continuous cultures on earth. Ancient stories and designs may be present in their work because they still very much touch on and influence the lives of artists living today.

Galya Pwerle painting in Utopia, 2010
The Contemporary Aboriginal Art Movement
Generally speaking, the Contemporary Indigenous Art Movement began when Indigenous Australians started producing creative methods of expression for an outside audience. For artists living on the East Coast of Australia, this started early.
Aboriginal communities such as the La Perouse Community in Sydney produced tourist art from as early as 1880. Others such as Tommy McRae used introduced materials like ink on paper to depict their life and Aboriginal culture before contact.
However, it is widely considered that the pioneer of the contemporary Indigenous Australian art movement was Albert Namatjira (1902 – 1959). Albert was an Arrenete painter from the Hermansburg community who painted in the Western landscape style using watercolours.
He was one of the most famous Indigenous people of his generation and his artistic success inspired Aboriginal people across Australia.
In 1948 a craft room was established at the mission in Ernabella. And Ernabella Arts is now Australia's oldest, continuously running Indigenous Art Centre.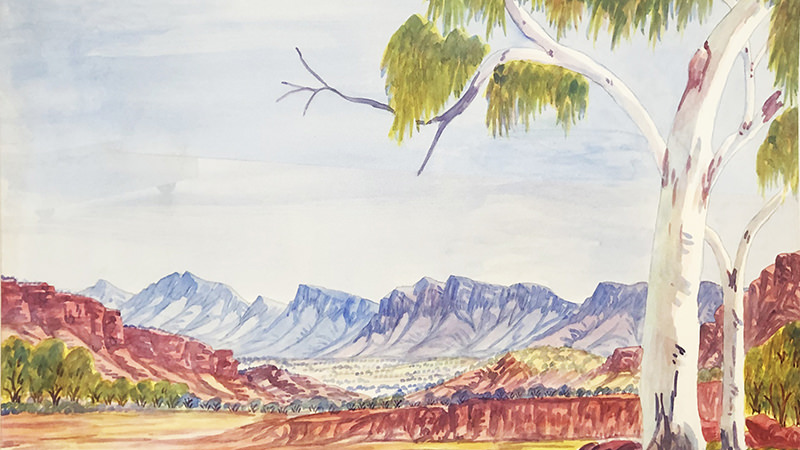 Painting by Hilary Wirri Japaltjarri, one of the 'Hermannsburg School' style watercolour artists, who paint in the tradition of Albert Namatjira

These early initiatives are important precursors. But when many tell the story of contemporary Indigenous art, it begins in Papunya in 1971. In this remote community 240 kilometres west of Alice Springs, a group of Aboriginal men, with the assistance of schoolteacher Geoffrey Bardon, began to experiment.
Brushes were dipped into acrylic paint as the men navigated their way across the canvases, creating dots, lines, animal tracks and circles. Traditional designs found in ceremonial sand paintings from the central and western desert were adapted and placed on new mediums to tell their Dreaming stories.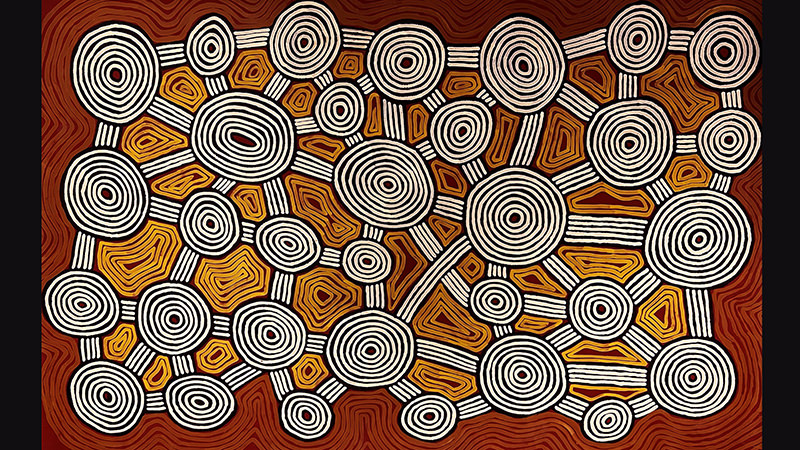 'Kalkarindji' by Ronnie Tjampitjinpa
The acrylic painting on canvas and uniquely Aboriginal designs that we now love generated a lot of interest in the community. It was quickly taken up by the men of Papunya.
They established their own company, Papunya Tula, to support the creation and marketing of their works. Through the 1980s and 1990s, the painting movement spread rapidly through many Aboriginal communities in the Northern Territory, Western Australia and right across Australia.
Over the years, different styles and themes have developed, sometimes contradicting previous notions of what contemporary Indigenous painting means. It makes Aboriginal and Torres Strait Islander art some of the most dynamic, rich, and exciting art produced today.
The power of hindsight is resulting in distinct schools of expression being celebrated within the large umbrella of 'Aboriginal Art'. And there's a growing appreciation that somehow Australian Aboriginal Art bridges the chasm from the deeply traditional to the contemporary.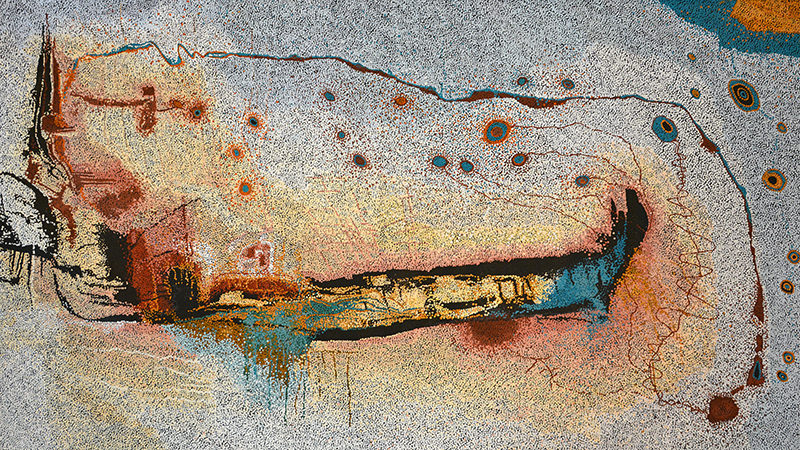 'Tyemeny Liman's Wutinggi (Grandpa Harry's Canoe)' by Helen McCarthy Tyalmuty
We love showcasing leading Indigenous artists in our gallery along with emerging talent from across Australia. It gives our gallery a wealth of variety in colour, texture, subject matter and technique. We look forward to the exciting next generation of trailblazing artists who will continue to define the movement.
We hope you have enjoyed learning about Contemporary and Modern Art, Design and Aboriginal Art. Our consultants are a wealth of knowledge and are always available to help you find the perfect piece. Contact us now or continue to explore our website: