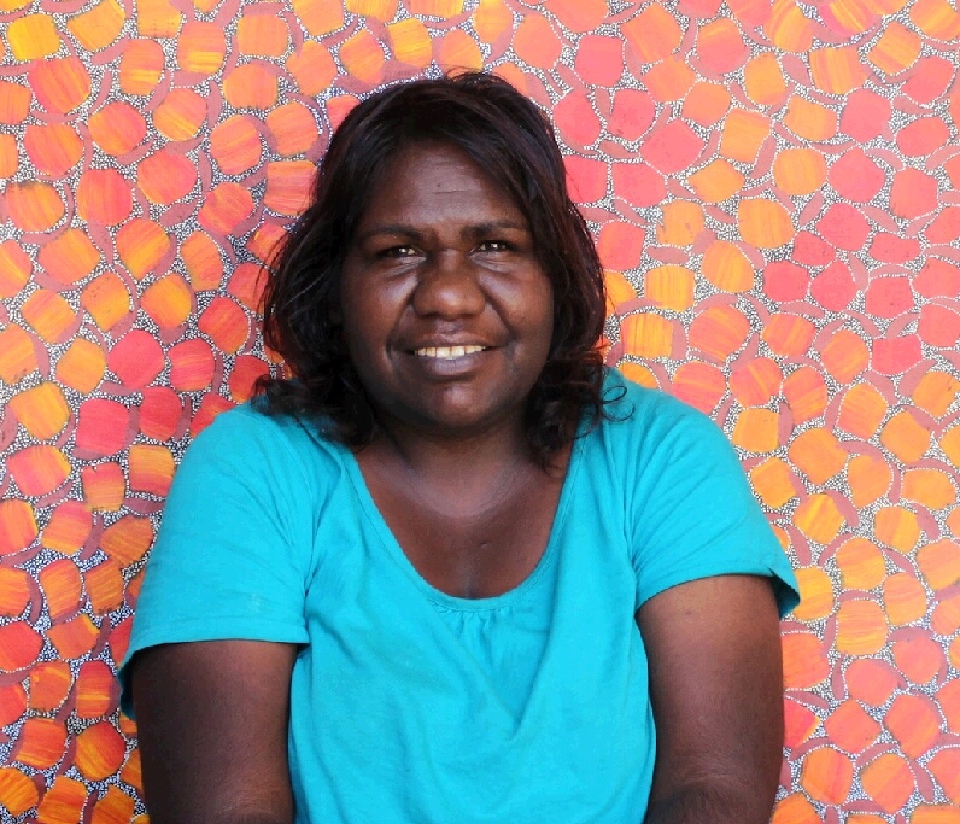 DOB: 1977
Born: Antarrengeny, Utopia NT
LANGUAGE: Alyawarr
COMMUNITY: Ampilatwatja, NT

Selina Teece Pwerle was born in 1977 in her traditional country of Antarrengeny, which lies in Alyawarr country north of the Utopia region in Central Australia.

Utopia was a cattle station that was returned to Indigenous ownership in the late 1970s. It is part of a broader region known as the Sandover, containing about 20 Indigenous outstations and centred on the Sandover River. Due to the fact that Utopia was pastoral land, and no government settlement or mission was established, the people of Utopia have an unbroken and continued connection to land. Many Aboriginal men worked as stockmen and Aboriginal women as domestic help in exchange for food rations and clothing. At the same time, however, ceremonies and important cultural traditions remained strong.

Since Utopia has been owned by the community, the land has not been grazed significantly and has largely returned to its natural state. Utopia is made up of many outstations. There is a community-owned store and council offices in the largest outstation, Arlparra, which is the closest thing to a sort of municipal centre in Utopia. Five small schools are distributed among the outstations. People still harvest and consume traditional bush tucker and bush medicine. Ceremonies are a part of everyday life in Utopia.

In the late 1980s, Utopia became well known for the exceptional female artists that were bursting onto the Australian art scene. Compared to the male painters at Papunya, the women at Utopia had a more gestural and unrestrained quality to their artwork. Some of the artists were involved in making batiks, prior to working with paint on canvas during the 1980s, which gave them a strong sense of colour and movement. There is a confidence and assuredness in the way many Utopian women paint, which undoubtedly comes from an intimate knowledge of culture and country.

Selina grew up surrounded by artists and amidst the growing interest in art from the Utopia region. She developed her own artistic talents at a very young age and has already revealed great versatility as an artist. The theme for her paintings relate to the stories from her father's country Antarrengeny.

Her painting style can vary from patterns of intricate dots when illustrating a landscape of her country to bold linear work when representing body paint design. Selina is also inspired by other designs that she sees in her country, and is constantly experimenting with design and colour.

In Spring, the desert literally becomes a blanket of wild flowers in a matter of weeks. Many of these are used for medicinal purposes and they are also used as food. As the leaves and petals dry out they fall off and are blown around the ground by the wind. Selina manages to capture this fleeting moment in many of her 'gum blossom' and 'bush medicine' artworks, making them quite mesmerising.

Interest in Selina's work has been steadily increasing and she has already been represented in numerous exhibitions both nationally and internationally since 2001. Selina shows great promise and is an artist to watch out for in the future. She currently lives at the Irrerlirre Outstation in the Arltar/Pilta region which is north east of Alice Springs. She lives with her husband, two children and a large extended family.