Aboriginal Community Art Centres
Art centres play a fundamental role in Aboriginal communities, allowing original and creative activity to occur and providing a space to promote Aboriginal art to the world.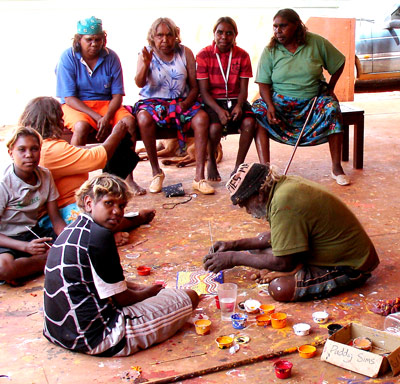 Community Art Centres
Art centres offer two basic functions. They provide a cultural base for artists, allowing Aboriginal communities to express their creativity and celebrate their unique culture and native landscapes. They also provide Aboriginal communities with a vital source of income. The revenue generated from these centres allows communities to run and survive and to help purchase much needed equipment such as fridges or vehicles.

Each community owns and manages their centre. Aboriginal councils and management committees also assist in their development. These groups employ art advisors with skills in art production or marketing to assist in centres operating successfully. The ability to control where and how their art is marketed is instilled in communities and ensures their culture is conveyed to Australia and internationally.

New generation Aboriginal artists convey their traditional stories and day-to-day life experiences through a variety of mediums and forms such as painting, wood carving, lino prints, batiks or jewelry. While the majority of painters use acrylic/polymer paints, many still use traditional ochres and natural pigments. The variety of these different mediums allows artists to express their culture in a multitude of vivid forms.
The first Aboriginal art centre was established in 1948 in Ernabella, northern South Australia. Around 6000 to 7000 Aboriginal people, one quarter of Australia's total indigenous people are engaged in the making of art. In 1996, 30 art centres existed and today nearly 100 now operate throughout central and northern parts of Australia.