Aboriginal Community Art Centres
Art centres play a fundamental role in Aboriginal communities, allowing original and creative activity to occur and providing a space to promote Indigenous art to the world.
They offer two basic functions. To provide a cultural base for artists, allowing Indigenous communities to express their creativity and celebrate their unique culture and native landscapes.
They also provide Aboriginal communities with a vital source of income. The revenue generated from these organisations allows communities to run and survive and to help purchase much needed equipment.
What is an Art Centre?
It's an Indigenous owned and operated entity, generally located on an Indigenous community.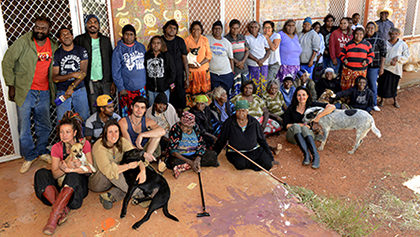 They are typically managed by a board made up of local Aboriginal people and operate as not-for-profit organisation distributing benefits to stakeholders who are local Indigenous artists.
Usually they act as an agent for the production and sale of art works for community members.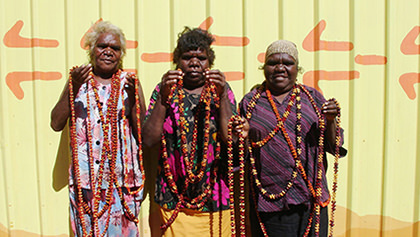 Where in Australia are they located?
It is frequently assumed that art centres are only found in the remote locations of the Northern Territory, South Australia and Western Australia, particularly in the western desert.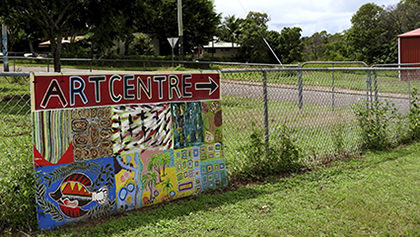 But there are also established and developing Indigenous arts and craft industries in urban and regional locations. These organisations play an important role in bringing greater recognition of the diversity of Indigenous cultures in Australia.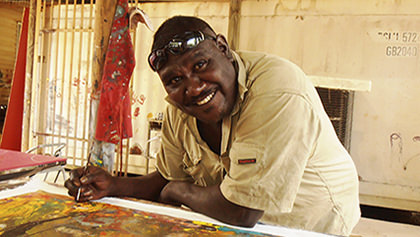 How do the Centres work?
Each community owns and manages their corporation. Aboriginal councils and management committees also assist in their development. These groups employ art advisors with skills in art production or art marketing to assist in operating it successfully.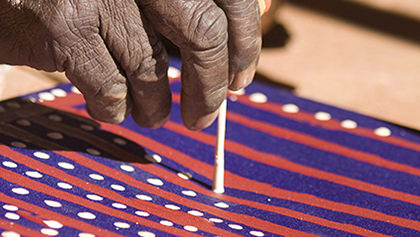 They have strong relationships with commercial art galleries who are able to promote and market their artworks nationally and internationally. Gallerists can also assist in the development of an artist's career by identifying and supporting strong emerging talent.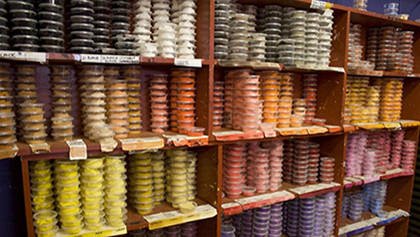 Most are also supported through peak bodies such as ANKAA and Desart and some are members of associations such as the Aboriginal Art Association of Australia.
Diverse spaces that are the creative and social hubs of communities
They can vary a lot in size and structure. Some are open-sided tin sheds providing shelter from the elements. Others are more sophisticated, with architect-designed buildings and air-conditioned storage and display areas.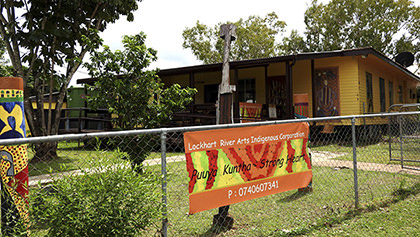 Some encourage visitors and have a display area with works hanging and stacked against the wall. Others prefer to operate at 'arm's length' and do not encourage large groups of visitors.
They are usually a place where community members can congregate, seek opinions, joke and argue among themselves, paint, eat biscuits and drink tea, socialize and jump on the computer. They are a creative and social hub and always buzzing with activity.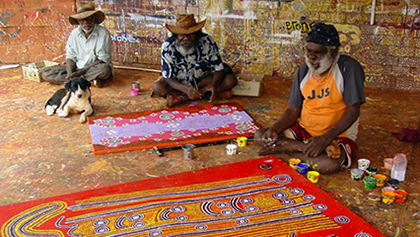 What do the Centres produce?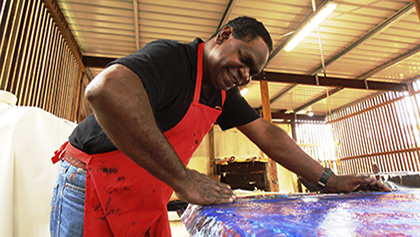 Aboriginal artists convey their traditional stories and day-to-day life experiences through a variety of mediums and forms such as painting, wood carving, lino prints, batiks or jewellery.
While the majority of painters use acrylic/polymer paints, many still use traditional ochres and natural pigments. The variety of these different mediums allows artists to express their culture in a multitude of vivid forms.
The role of an Art Centre
Their role straddles arts and culture. Aboriginal culture is central to everything they do and for many it is important to balance culture and 'money business' in everything they do.
Their first focus is to maintain the culture of the region. Aboriginal law and culture are the foundation for all the art and craft produced and sold at these marketplaces. It gives Indigenous artists immense dignity and pride in their identity.
They often provide many social benefits to the community and a variety of community development programs also operate in the space.
Their context in the history of the Aboriginal art movement
The first Aboriginal art centre was established in 1948 in Ernabella, northern South Australia. Other early establishments include Papunya Tula, Balgo, Warlukulangu, Buku-Larrnggay Mulka and Tiwi Art. Prior to this, artists worked independently or did not have an outlet for their creativity.
It wasn't until the late 1990s that many of the artist cooperations we've come to know and recognize were established. In 1996, 30 art centres existed and by June 2002 there were at least 110 of these organisations operating around the country, particularly in the northern and central Australia.
Did you know?
Renowned artist Emily Kame Kngwarreye never painted for an art centre. She was an Independent artist who painted for art dealers in Alice Springs and around Australia. Similarly, Clifford Possum Tjapaltjarri chose to paint independently as well as through the community owned Papunya Tula. Remarkably, both went on to achieve national and international acclaim whilst running their private art businesses.
All images have been generously supplied by Warlukurlangu Artists and Lockhart River Arts.