The Stories of Karen Napaljarri Barnes
Ngatijirri Jukurrpa (Budgerigar Dreaming)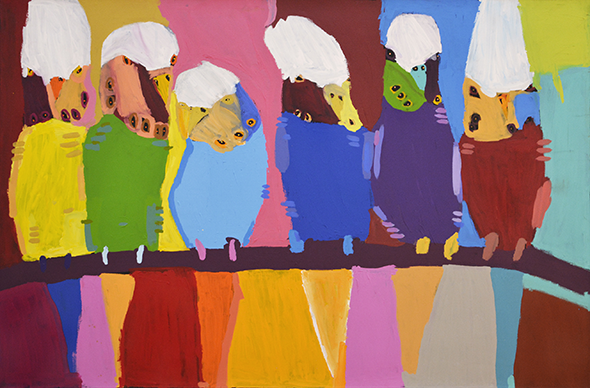 'Ngatijirri' are small, bright green birds native to central Australia which are common around the Yuendumu area, especially after the summer rains.
The ancestral 'ngatijirri' travelled to Yangarnmpi from Patirlirri, near Willowra to the east of Yuendumu and travelled further on to Marngangi, north/west of Mount Dennison and west of Yuendumu. Each time the flock of ancestral 'ngatijirri' lands, they perform ceremonies, singing and dancing as they fly and roost in the trees.
Custodians for the Ngatijirri Jukurrpa are Napaljarri/Nungarrayi women and Japaljarri/Jungarrayi men.
Men would hunt for 'ngatijirri' nests, robbing them of eggs and juvenile birds, which are both considered delicacies. The men would also go out hunting for adult, flying 'ngatijirri', which they would kill by swinging branches, killing sticks or 'karli' (boomerangs) to hit the birds in flight.
Jarntu kuja kalu nyinami Yurntumu-rla (Dogs that live in Yuendumu)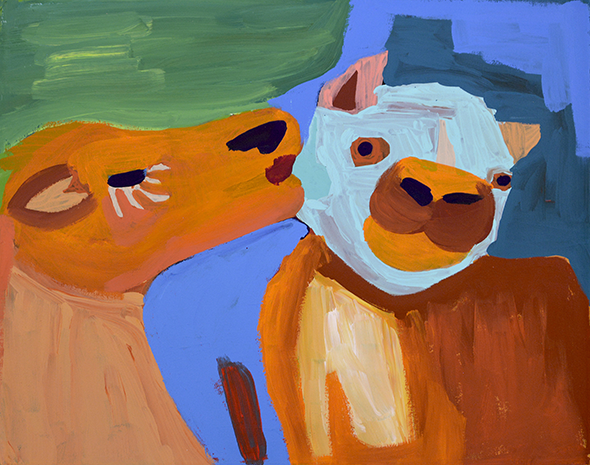 Karen also portrays some of the 'jarntu' or 'maliki' (dogs) that live in Yuendumu. Families in Yuendumu tend to own many dogs. They are good 'marlpa' (company). Many people think of their dogs as 'warlalja' (family). Dogs in Yuendumu like to follow their owners around whenever they can.
Some people use their dogs to help them hunt 'marlu' (kangaroo) and 'wardapi' (goanna), among other animals. People also have dogs to protect themselves from intruders, monsters, and other things that might try to hurt them and their family. Many monsters are invisible to 'yapa' (Aboriginal people). However, dogs are able to see and smell them. Dogs will warn 'yapa' about them or steer them away from the monsters, and thereby keep them safe.
'Jarntu' or 'maliki' also feature in a number of 'Jukurrpa' (Dreaming) stories. One 'maliki Jukurrpa' (dog Dreaming) comes from a site called Pindara, southwest of Yuendumu. Another dog Dreaming story, 'malikijarra Jukurrpa' (two dogs Dreaming), comes from country adjacent to Warlarla (Rabbit Flat). This site is part of a long Dreaming track that stretches from Yarrajalpa in the extreme west of Warlpiri country to Warlaku (Ali Curung) in the east. This Dreaming story describes proper conduct in families and marriages.
Jurlpu kuja kalu nyinami Yurntumu-wana (Birds that live around Yuendumu)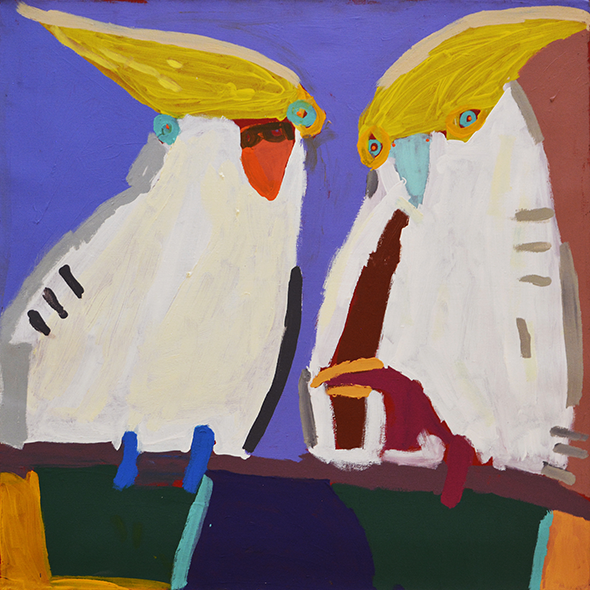 Sometime Karen depicts one of many 'jurlpu' (bird) species that live around Yuendumu. The bush around Yuendumu provides many different habitats for birds to live in. Many bird species live around waterholes and rivers, like the 'pirniny-pirninypa' (black fronted dotterel). Others live in the spinifex country, like the 'nuwiyingki' or 'panngarra' (cockatiel). Others make nests in trees, like the 'juwayikirdi' (grey crowned babbler).
People hunt some of these species for meat. The most popular species to hunt today are the 'yankirri' (emu ) and 'wardilyka' (bush turkey). People also used to hunt 'yupurru' (spinifex pigeon) and 'ngapilkiri' (crested pigeon), among others.
A number of bird species tell people messages. Several species tell people when rain is coming, including the 'jintirr-jintirrpa' (willy wagtail) and 'kalwa' (crane). The cries of other birds, like the 'kirrkalanji' (brown falcon ) and 'ngamirliri' (bush stone curlew ), can make children sick. The 'paku-paku' (crested bellbird) and 'kurlukuku' (diamond dove ) are messengers of love songs.
People also use messages from birds to help them hunt. The 'juwayikirdi' (grey crowned babbler) and 'piirn-piirnpa' (yellow throated miner ) cry when goannas are nearby. People know to run quickly when these birds cry, so that they can catch the goannas.
In Warlpiri culture, 'jurlpu' (birds) are associated with a number of different 'Jukurrpa' (Dreaming) stories. Some are even associated with major ceremonies, including the Jardiwarnpa fire ceremony
Other Animals that live around Yuendumu
Karen loves animals. She started painting budgerigars which is her dreaming. But now she also paints different animals that can be found around Yuendumu and Australia such as kangaroos, emus, crocodiles..and sometimes she has been commissioned to paint domestic animals such as chickens, dogs, cats, pigs, goats etc
Related Links