Please enjoy our selection of limited-edition Aboriginal art prints created by some of our most popular contemporary Indigenous artists. Prints are a beautiful and affordable option to begin your Aboriginal art collection. And, if you're like us, you'll soon be hooked by the diverse range and versatility this medium has to offer.

Please read on to find out more about this art form, our range and artists we represent. Please don't hesitate to contact us at the gallery with any queries. Kate Owen Gallery guarantees all of our art for quality, authenticity and provenance.


Aboriginal Art Prints for Sale
Our Range
We offer a variety of modern Australian Aboriginal art prints, from dot art to traditional motifs through to contemporary expressions. Some pieces are paired back and minimalistic in their approach, while others are highly detailed. Bold colours, black and white and earth tones are all featured as well.
We have an example of each Indigenous art print framed and hanging on our walls, so you can get a feel for what the piece will look like in your space. The remaining editions are unframed making them easy to take away with you.
Our current offering is limited to small to medium sized prints, however the look of a large Aboriginal art print can be achieved through a statement frame or by grouping together as a diptych or triptych.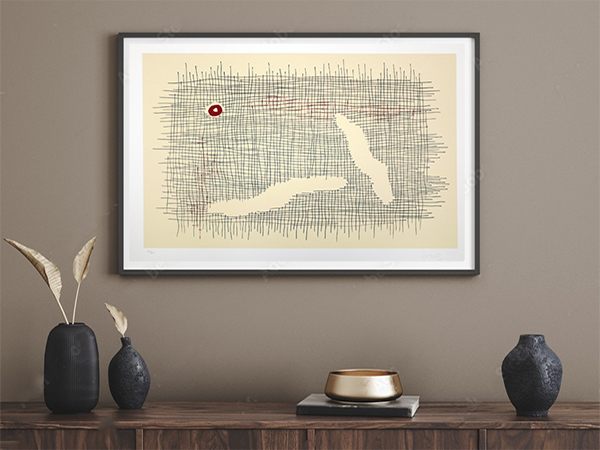 The Artists
We are proud to present a range of fine art prints from some of our most popular contemporary Aboriginal artists.
Gurindji sisters
Tarisse
and
Sarrita
King have captivated the artworld with their paintings that are beautiful interplays of colour, design, heritage and spirit.
They have always enjoyed pushing the boundaries and extending their repertoire, resulting in an artistic oeuvre that is quite remarkable for artists of their age. Following in the steps of their father, Tarisse and Sarrita are investigating other mediums to bring their stories to the world.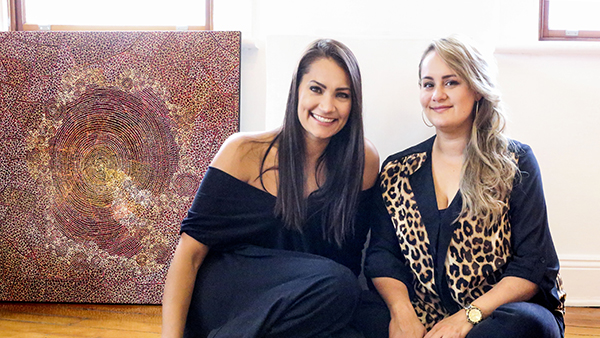 Their range of prints has opened up a new channel for the sisters to share the beauty of their culture and landscape that has transcended boundaries. Their unique artistic voice has resonated with collectors around the world.
Raymond Walters Penangke
is an Anmatyerre man from the Alice Springs region who loves sharing his culture with the world. Whilst living in Victoria with his wife and children for a number of years, Raymond found the perfect channel to connect to culture, community, and family through painting and printmaking.
While his paintings are bold interplays of colour, his prints are more paired back and feature traditional iconography.
Many community based Aboriginal art centres also collaborate with printmakers or have their own printmaking studio on site.
Warlukurlangu Artists
in the Central Desert and
Buku-Larrngay Mulka
in Arnhem Land have become world renowned for their limited-edition fine art prints.
Benefits of Prints
Australian Indigenous art prints are a very popular way to bring life into your home and office! Here are some of the (many) reasons we love fine art prints.
An Affordable Wall Art Option
In most instances, art prints have a very reasonable price point and are a great entry point to begin your art collection. Because they are more budget-friendly, it really means anyone can enjoy Aboriginal art at a fraction of the price.
If you are interested in buying art as an investment, it is best to stick to limited edition prints. Prints from large editions (200 or above) are usually seen as less valuable. Some other factors that can determine the value of a print are the techniques used, its condition and its provenance.
Easy to ship and transport
Shipping artwork doesn't have to be difficult. We've developed strong partnerships with artwork transportation companies and arranged delivery of countless Aboriginal artworks across Sydney, Australia and the world since 2007. Want to find out more about the shipping process?
Click here to read about our services.
If you're travelling and want to take a piece of Australia home with you, then an unframed Aboriginal print is a perfect option. Once carefully rolled by one of our art handlers and placed in a strong cardboard tube, they can be carried onboard or packed in your luggage. Lightweight and won't take up precious suitcase space – what more could you ask for!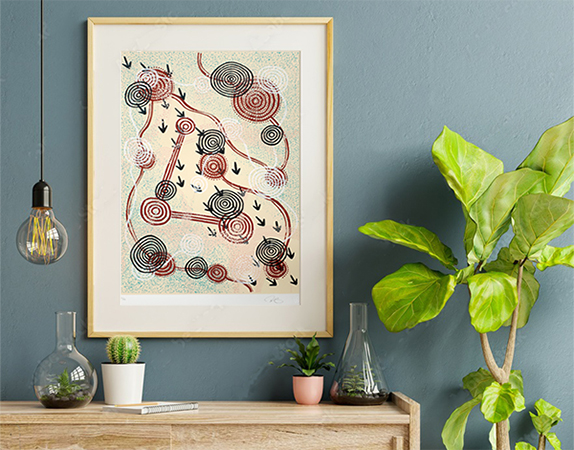 Home Décor versatility
Framing Aboriginal art prints is a must to ensure your piece lasts the test of time. With so many exciting new framing options now available, it makes it easier than ever to express your own personal style. Selecting the right frame can really help pull your eye-catching wall art piece together with the personality of your space. You can feature one as a statement piece or collect all your favorites and arrange them in clever clusters.
When it comes to arranging prints together, there are no set rules. The options are limitless. But, if you'd like some inspiration to get you started you can try browsing by size, style, colour or theme. It will certainly give your space that finishing touch and wow factor you were after and is a great opportunity to play with pops of colour, styles and texture.
What is a Print
A print is a work of art that differs from painting or drawing. While it is made up of ink on paper, the ink is not applied to the paper via a pen or other instrument. Instead, the ink is applied through an indirect transfer process. This means the artist begins by drawing a composition on another surface. It is then transferred to paper when it meets the drawn surface (usually by running it through a printing press).

Because of this unique art making process, one key point of difference about a print is that there can be multiple examples as new pieces of paper can be sent through the press in the same way. Prints can offer a completely different creative outlet to the artist. Famous western artists such as Pablo Picasso were prolific printmakers.
The prints we market are not made in large production runs. A limited number (known as an edition) are produced. As a result, they are true works of art, and as important to the artist as drawings or other works on paper.

To check if your print is an 'original' (a unique artwork produced as a limited number of editions) you can check that it has an edition number, which is typically written as a fraction underneath the image.

For example, in the image below, 7/30. The number to the right of the slash indicates the edition size, while the number to the left is the individual print's number. Some art collectors go so far as to always collect the same print number every time!