Aboriginal Colours in Art

Aboriginal people have always used the colours available to them and incorporated them into their art. Before contact, colour was made using natural earth pigments. Today, artists use a variety of colours to express themselves and add layers of meaning to their art.


Popular Colour Themes Colour Combo Search

Key moments in the Aboriginal art movement
In 1971, a group of Aboriginal men in Papunya, Northern Territory were the first of their people to inscribe their culture in permanent images. The painting movement they started began an explosion of artistic creativity still reverberating across Indigenous Australia today.
These pioneers of western desert art relied on a range of basic colours, often gouache or water-based paints, using black, white, yellow, red and brown tones. These colours were the ones most like the ochre earth pigments that had been used for ceremonial painting and rock art for thousands of years. At the time, they were also the colours most readily available in remote Central Australia.
By the 1980s there was easier access to modern acrylic paints and the range of colours became much broader. As they have for thousands of years, Aboriginal Australians quickly adapted. This time it was to this new artistic landscape.
While Papunya Tula and part of the western desert art movement continued to use soft earth colours, other communities opted for vibrant primary colours. Warlukurlangu Art Centre led the way and has become synonymous with bright, bold and colourful Aboriginal art.
---
Judy Watson Napangardi was one of the trailblazing artists at Yuendumu, who cemented Warlukurlangu Art Centre's reputation for their bold use of colour. She would load the brush with original and vital colour which she would then shuffle across the canvas.
Her creations were a massive step away from the art of the 1970s and opened the world's eyes to the different ways Aboriginal people see their world. Importantly though, their coloufulness in no way diminished the depth of their cultural meaning.
Aboriginal women were also making waves in the community of Utopia. In the late 1970s a group of women were taught the art of batik which instilled in them an incredible sense of colour, design and movement.

From the outset, their works reflected the daily interaction with their environment including much flora together with fauna such as local leaves, flowers, seeds and grasses.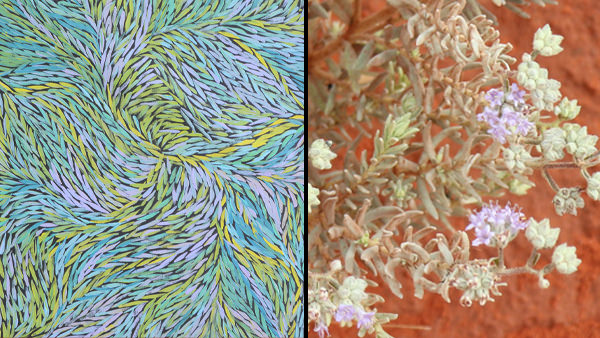 In the late 1980s, the Utopia Women's batik Group had the chance to transfer their skills to painting on canvas with acrylic paints. The results were incredible. This new creative wave saw the rise of many famous artists of the Aboriginal art movement, including Emily Kame Kngwarreye, Gloria Petyarre, Kathleen Petyarre, Minnie Pwerle, Kudditji Kngwarreye and Barbara Weir. Their colour choices continued to reflect the colours seen in their environment.
---
In 1995 a group of young students in Lockhart River, Queensland created 'The Art Gang'. The Gang quickly became one of the most important Aboriginal artist collectives to have formed. As well as imaginative representations of traditional culture, the group has become known for their bold abstract paintings that reflect the region's social issues and its diverse coastal and forested landscapes.

Located roughly 800 kilometers north of Cairns, Lockhart River is an isolated community. The colours of the natural environment are astounding. It is part of the healthiest section of the Great Barrier Reef, with mangroves and river systems that pattern the coastal region, rainforest, red dirt road and rock art aplenty. These 'colours of the coast' give their paintings a freshness unsurpassed by their contemporaries.
Samantha Hobson also has an incredible ability to capture the colour and intensity of a moment and transform its radiant energy into an emotional charge pulsating through the artwork. Her Great Barrier Reef Series captures the jewel like quality of this pristine natural wonder, with bold splashes of paint conjuring those twinkling seconds a wave breaks. Her Series leaves the viewer feeling energised, much like a dip in the fresh saltwater.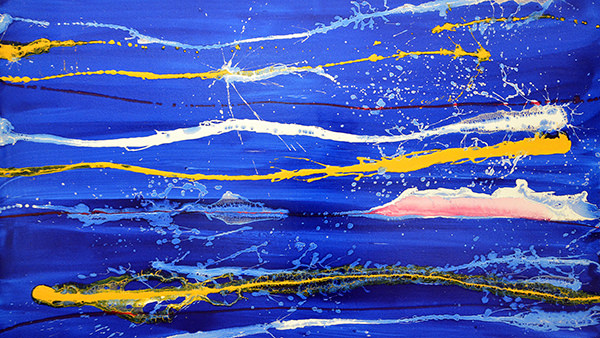 ---
Another great trailblazer in the use of colour (or lack thereof) was Dorothy Napangardi. The inspiration and subject of her work has always been her beloved homeland of Mina Mina, west of Yuendumu Community.
Already painting in a cut back style, when Dorothy returned to Mina Mina in the mid 2000s, she was further inspired by the landscape of her home country. Her work then evolved towards a previously unseen abstracted method of Aboriginal art. All iconography was pared back to the barest essentials. Her colour palette returned to the same basics as used in Papunya in the 1970s.
Aboriginal Australians use of colour in their art continues to evolve as new materials become available and new inspirations arise. Art and colour in Aboriginal art is a never ending cycle of evolution, the same as is the culture that inspires it.
---
Colours in Aboriginal Art


Ochre
For many visitors to the gallery, the natural ochre pigments are what they consider 'traditional' or the quintessential colours of Australian Aboriginal art.
Originally ochres were used by Aboriginal people for body paint, medicinally, as a coating on wooden implements, as paint in ground paintings, on bark paintings and in rock art.
Ochre is a precious resource and a valued commodity in Aboriginal Australia. To this day, ochre is still used in ceremony, even by Aboriginal communities that have largely embraced acrylics in their paintings. Ochre still has a spiritual significance to Indigenous people. It has that ancient connection that goes back unbroken for tens of thousands of years.
Contemporary Aboriginal artists continue to use natural ochres in paintings on bark or canvas and in a variety of other mediums. Other artists use modern mediums such as acrylic paint but use a restrained colour palette that reflects the colours of the Australian earth.
While the most recognised ochre colours are red, yellow, white and black, other colours such as orange, purple, pink and turquoise are also found and used.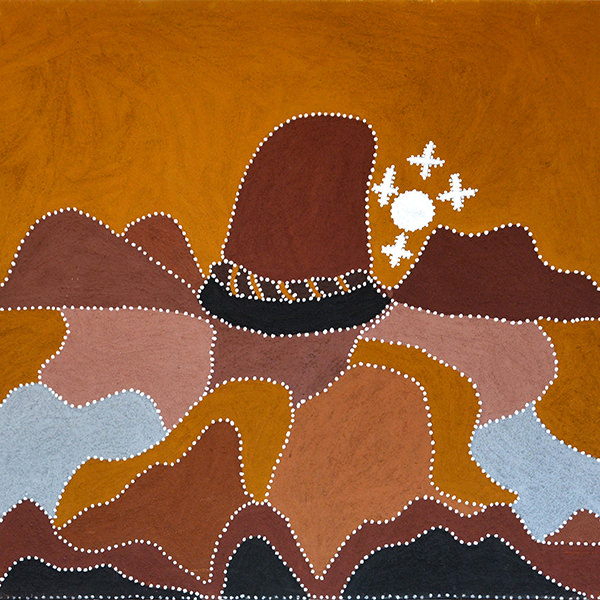 Modern Traditions
Since the advent of the Aboriginal art movement around 50 years ago, many Indigenous Australians have have moved away from traditional ochres and embraced the new medium of acrylic paints. The reasons were largely practical.
Not only do acrylics offer a huge rainbow of colours, but they are easier to use, quick drying and readily available.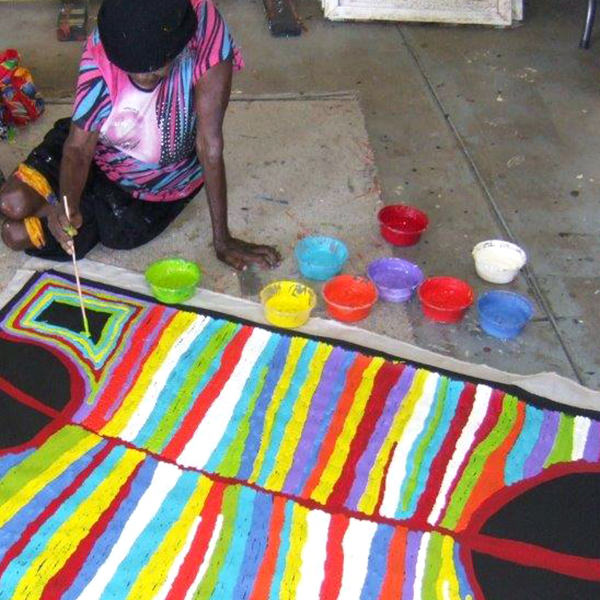 They also give the artist the opportunity to better express the diversity and subtlety of colour in the landscape that surrounds them.
Some people are surprised to see such bold and vibrant colours used by artists. Some contend that there is none of this vibrant colour occurring naturally in the Australian landscape, particularly in the desert regions. This cohort maintains that these artworks are somehow not an accurate or 'authentic' depiction of the Australian landscape or of Aboriginal culture.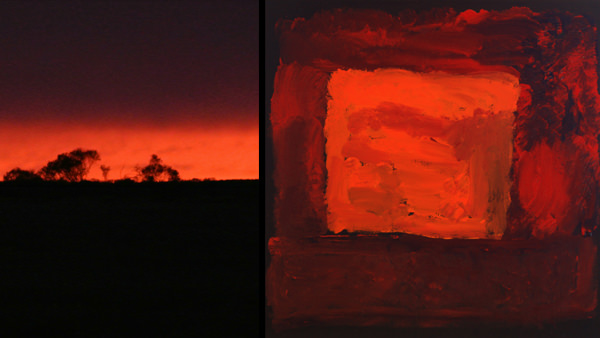 But read on and you'll discover the richness and intensity of natural colours found in our own backyard, and how artists have incorporated them into their artworks. We also discuss this topic in depth in our exhibition blog
Defining Tradition: The Colourists.
Colours of the Australian Aboriginal Flag
The Aboriginal flag was designed in 1971 by Luritja man and artist Harold Thomas. is a striking design and uses the colours red, black and yellow.
Since then, many Indigenous artists and designers have incorporated the flags colours into their works to reflect their own distinctive identities while referencing a common Aboriginal identity.
In view of its wide acceptance and importance, the Australian government took steps in 1994 to give it legal recognition. After a period of public consultation, it was proclaim a 'Flag of Australia' under the Flags Act 1953.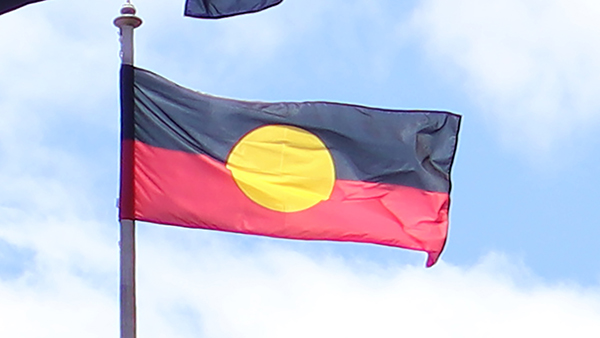 ---
Aboriginal Art Colours and Meanings

Significance of Ochre Colours
For many Aboriginal people, traditional ochre colours have a spiritual meaning and application. Many ochre deposits are associated with totemic beings. For example, many red ochre sites are associated with the blood of the totemic kangaroo or emu. The pure white clay in western Arnhem Land is the faeces of the great Ngalyod serpent.
The significance of certain ochre colours meant it was traded and sometimes involved organized expeditions. When Mungo Man was discovered in south-western New South Wales in 1974, he was found lying on his back with a covering of red ochre. That ochre, dating back over 40,000 years, was not found in that locality.
Each ochre colour is associated with quite specific meaning and use. White is often used during times of 'sorry business' and is recognized as the colour of the spirit world. The colour yellow is most often associated with women's ceremonies. Red ochre has many associations but is frequently used where conflict is happening, as well as celebration and ceremony. Black pigment is most often derived from coal and is used for men's business.
Signifiers
Much like the symbols used in Aboriginal art, colours can hold meaning and can be read and understood. Colour can give meaning to activities like gathering bush food and medicines and forecasting the weather.
For example, Polly Ngale paints the Arnwetky or 'bush plum'. It starts as a green tangled, spiny shrub that produces fragrant white flowers. After the summer rains, tiny green berries begin to grow and ripen, changing colour over the weeks from light green to pinks and browns to yellow, to shades of red and purple when they finally ripen.
The colours represented in Polly's paintings tell us of the seasonal changes that are occurring on her Country. There is also a spiritual and ceremonial level of meaning, as the Anmatyerre people pay homage to the spirit of the bush plum by recreating it in their ceremonies through song and dance.
The patterns and colours in Polly's paintings represent the fruit of the plant, its leaves and flowers, and also the body paint designs that are associated with it during ceremony.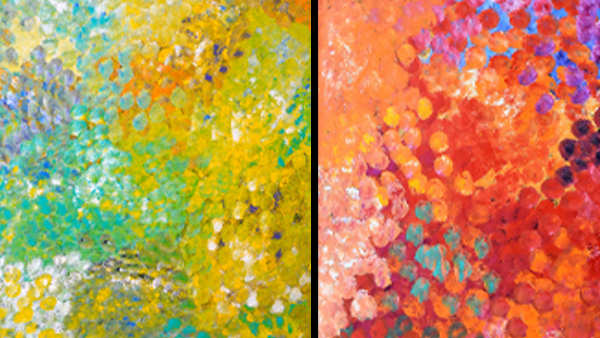 Family Traditions and Influences
Of course, we must realise that we are all influenced by what we see around us and what has come before us. Painters are influenced by what other painters did before them. This includes the colours we see and use, the effects in nature we try to convey, the things which inspire us and make us want to paint. All these reactions are conditioned by the traditions we respect and the influences and conventions we absorb - many of them unconsciously.
The history of contemporary Indigenous art in Australia is marked by stories of great artists who have inspired other close or extended kin to follow their direction, resulting in a number of distinct schools, lineages or 'traditions'. The Baker Family from the APY Lands is a good example of this.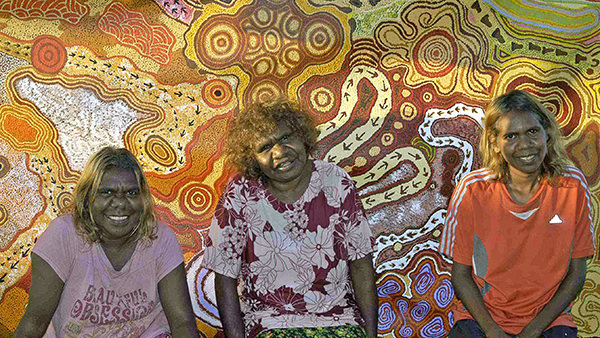 Jimmy Baker (c.1915 – 2010) was a trailblazing artist from the region who gained international attention for his paintings in rich, bold contrasting colours. His children, grandchildren and great grandchildren are all talented artists in their own rights, and they've all managed to inherit a truly incomparable use of colour.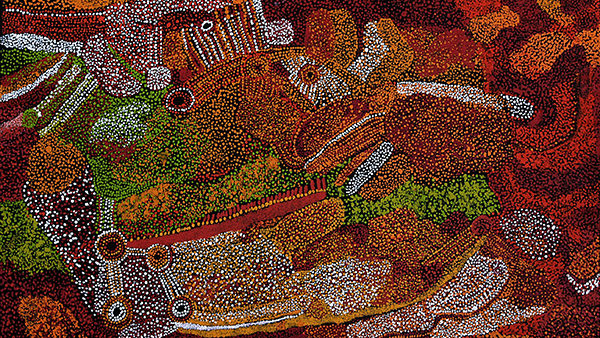 It means you can easily tell if you're in the presence of an artwork created by a Baker family member by its sizzling rich reds and warm tones, pierced with a contrasting bright white or lime green.
Colour Advice from our Art Consultants
If you would like more help, we have a wonderful team of friendly, informative art consultants. With over 50 years' experience between them, we're certain they can help you find the perfect artwork to finish off that home or office project.


Contact an Art Consultant Today