How To Frame Aboriginal Artworks | Price Guide | Works on Paper
Framing Video Tutorial | Painting - the basics
So you've found the perfect work of art for your space – congratulations! Next step is to make sure it is ready to hang. Kate Owen Gallery has a beautiful selection of Indigenous Australian paintings as well as fine Aboriginal art prints. On this page, we'll run you through your options on how to best display your art, so it not only looks great, but protects it from the natural elements.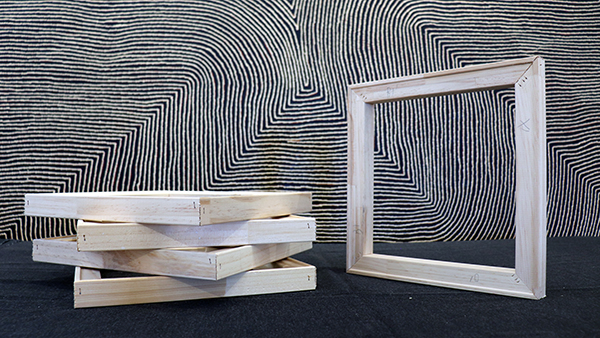 How to Frame Aboriginal Paintings
Below are the two options we believe are the best way to frame Aboriginal art.
1. Stretched Around a Stretcher Bar
The most common way to display Aboriginal paintings is to stretch the canvas or linen over a wooden stretcher frame. This is how we show most of our paintings at the gallery.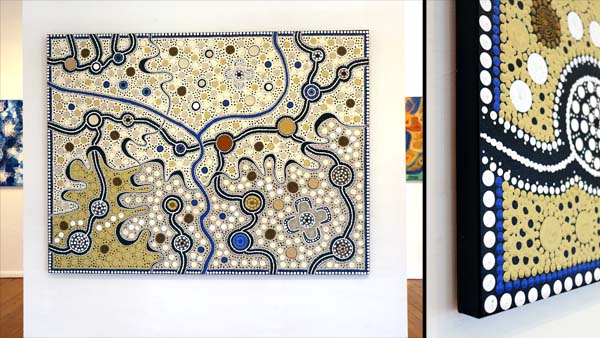 The artwork dimensions we list on our website relate to the artwork once it is stretched this way, with all the painting on the face of the canvas and not wrapping around the edges.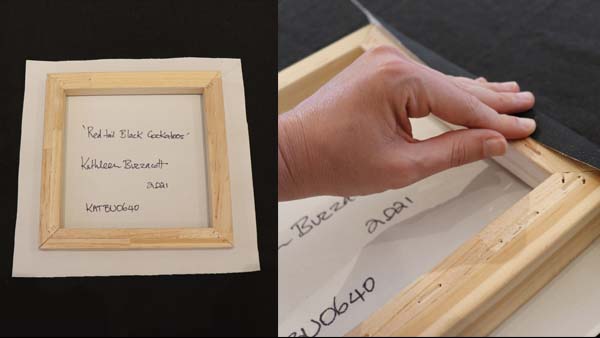 It is possible to stretch the artwork around the edges of the frame too. Alternatively, artists usually leave a painted edge to fit around the sides.
2. Adding a Frame Around the Edges
In addition to a stretcher frame, you may like to consider a floating frame or shadow box frame. It is essentially a small piece of timber that surrounds the sides of the painting.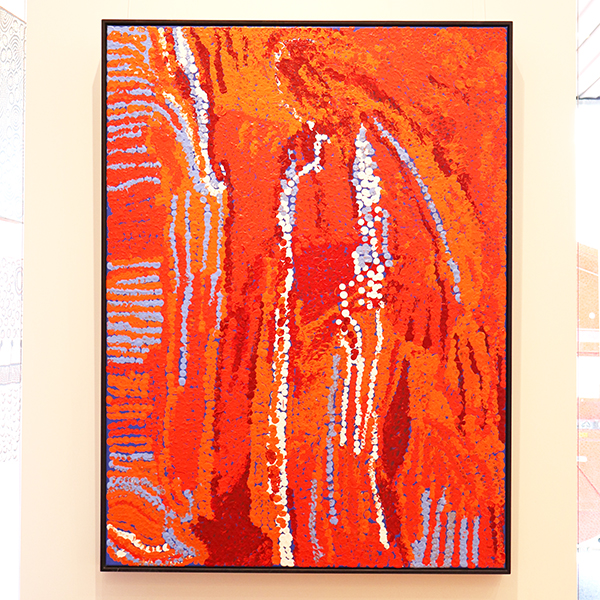 It is a striking look that can add prominence and depth to the piece. We also recommend it if the artwork is made of delicate materials such as ochre, to help protect the edges.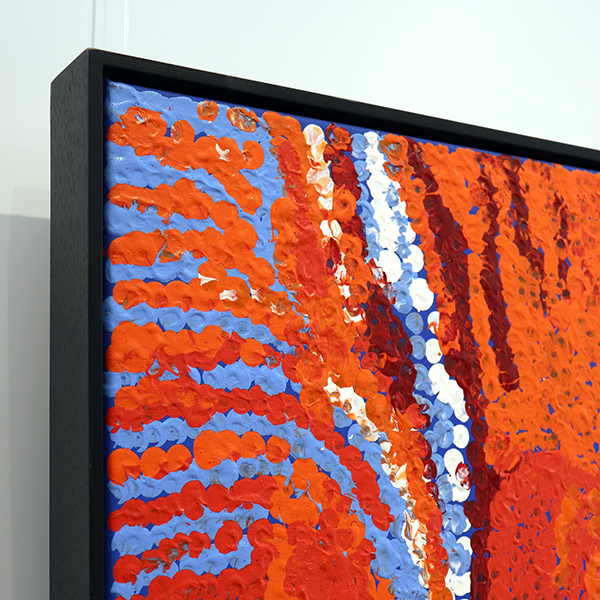 There is no need for glass in front of the artwork which is great because it means there is nothing to interrupt the experience of the original work.
How much does it cost to stretch an Aboriginal painting?
We offer complimentary stretching on all paintings purchased at Kate Owen Gallery. We also attach D-Rings and string so all you need to do is find a place on your wall and start enjoying your art.
If you can't make it to our gallery in Sydney, then this website is the best place to view and buy any of our paintings. You can contact us to discuss, or by using our secure payment portal on line.
If you've already found your perfect piece elsewhere don't worry – stretching an artwork is quite a straightforward process and many local framers are able to provide this service.
You may like to shop around for a shadowbox frame that you feel not only matches the painting but works with your home décor.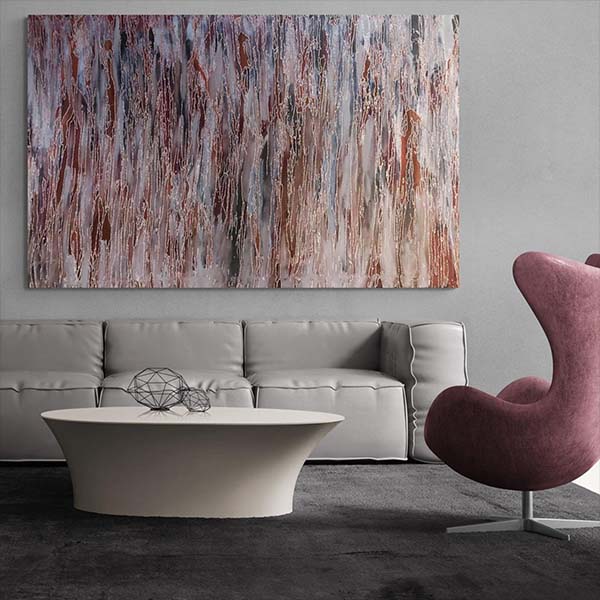 Aboriginal Art Prints
Art on paper, whether it be an original painting or a limited-edition print, has a beautiful quality to it. They are also usually more affordable and easier to ship around the world. To make sure they last the test of time however, you do need to invest in framing them properly.
Keeping works on paper directly out of the sun and framed behind glass is recommended. It is also important to make sure there is something between the paper and glass, so the art doesn't stick over time.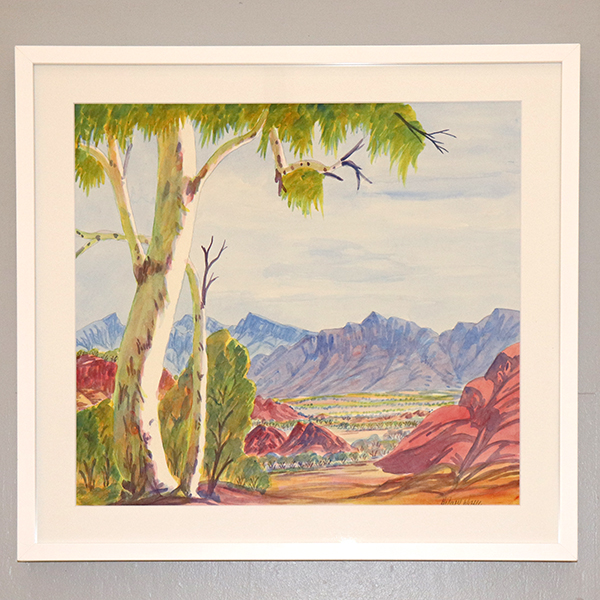 There is a huge range of framing options for
Aboriginal prints
. Sometimes, the artist may also have a preferred style of framing their pieces. Just make sure that the materials used contain low acid levels, so the artwork won't deteriorate over time.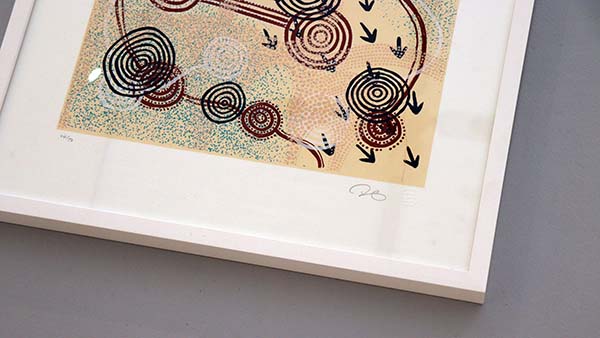 Don't be afraid to take your time in choosing a framer. Enjoy exploring all your framing options, and don't settle until you feel comfortable that they can answer all your questions and has been able to provide detailed information on the materials available.
We have a lovely selection of framed art prints and watercolour paintings, as well as unframed options which can be easily shipped worldwide.
How to Frame Aboriginal Art Video Tutorial
We're delighted to introduce you to Laetitia, Kate Owen Gallery's registrar, framer and conservator.
Born and raised in Paris, she has always had a passion for antiques and has a degree in Art History from the Universite de la Sorbonne in Paris and a diploma in Painting Restoration from the ATP in Paris.
When getting your Indigenous art stretched at Kate Owen Gallery, you can rest assured that it's in safe hands. Here's a little 'sneak peek' of Laetitia in action getting some artworks framed for an upcoming exhibition.
Want to frame it yourself? Here is some advice from Laetitia:
Take the time to measure the artwork so the dimensions of your stretcher frame is spot on
Start your stapling in the centre of the frame so you keep a nice tension as you work out towards the edges.
Start small. Smaller artworks are easier to move around than larger artworks.
Indigenous Australian Paintings – the basics
Most of the paintings in our Sydney gallery are painted with synthetic polymer paint, also known as acrylic paint. Not only does it mean artists have a kaleidoscope of colours to choose from, but it is also readily available, easy to use and dries quickly.
We find many artists from remote Aboriginal communities and regional towns like
Alice Springs
also prefer this option, as it makes their artworks very durable and easy to ship rolled. Other mediums like oil or ochre paintings are much more labour intensive, slower to dry and need to be carefully shipped to avoid damage.
The material that artists paint on is usually either canvas or linen. Canvas is made from cotton fibres. It is affordable and stretches very easily. A properly prepared cotton canvas will last a long time, although it can be too flexible for very large paintings.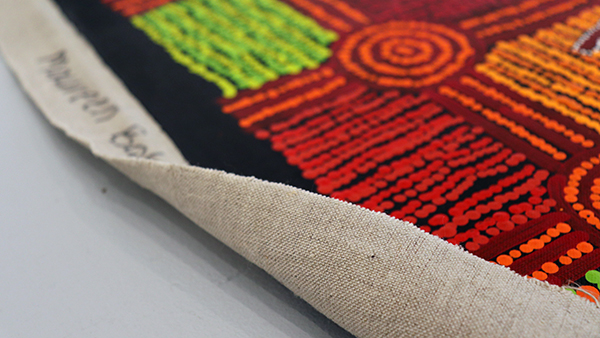 Linen is strong and durable and remains the preferred surface for many artists. But it is expensive. Linen retains its natural oils, which helps to preserve the fibre's flexibility and stops it from becoming brittle over time. Because of its strength, linen holds up to a heavy painting and does not become slack as easily as cotton.