Ochres used in Aboriginal paintings were traditionally mined or dug from areas with a type of colourful soft stone. There are many such sites across much of Australia but some of the most impressive are the Ochre Pits in northern South Australia, and in the Breakaway Mountains not far from there. The colours are a range of browns, reds, sandy yellows, whites, greys, moody purples, and even greens.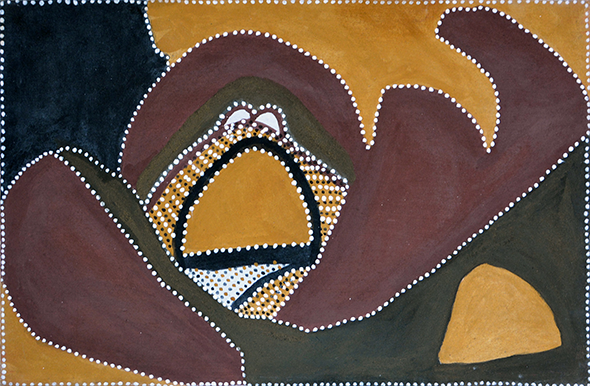 Aboriginal people would sometimes travel quite a distance to get the best ochres for ceremonial uses. Indeed western cultures too grind down these same ochre pigments to manufacture the quality earth colours in oil and acrylic paints. Where Indigenous Australians mixed ochres with various natural gum resins or with animal derived oils/fats (from creatures such as emus and kangaroos) to bind, retain the colour and preserve their ochre paints, contemporary western manufacturers use acrylic compounds, vegetable oils (such as linseed), and gum based water solutions to do exactly the same. Apart from a little more precision in the mix and the processing method, it is not so very different.
Today there are still several communities using the traditional ochre pigments in their paintings. One of the main ones is Warmun, which used to be called Turkey Creek up in the Kimberly. Rover Thomas is widely regarded for establishing the East Kimberley or Warmun School of painting in the 1970s. Linked to traditions of rock paintings and body designs, Rover painted the landscape using the landscape itself. He used a sparse simplicity and aerial perspectives to depict map-like images of his country which communicated ancient stories and more recent accounts of white contact and the frontier. Rover Thomas gained international success, and was one of three artists to represent Australia in the 1990 Venice Biennale.
All Artworks from Kimberley Region
After witnessing the success of the male Warmun artists and with the encouragement of Rover Thomas, Queenie McKenzie started painting in the late 1980s. Queenie followed Rover Thomas' style, but her landscapes are very distinctive. Queenie liked to use natural pigments that included the soft pink and pale violet colours that she made from ochres that she dug from the ground.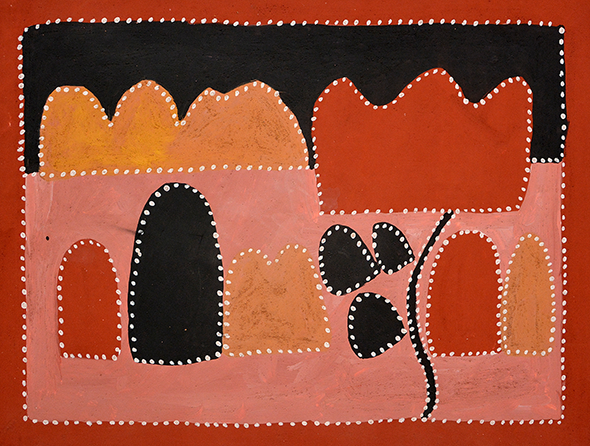 Working concurrently (and who actually started painting earlier than his contemporaries) was Jack Britten, who had learnt to paint from his grandparents and in his early artworks continued to use traditional binding methods such as bush gum and kangaroo blood. Jack Britten became the most senior living custodian of Purnululu (The Bungle Bungle ranges) and his depictions of his Country are exceptional; daring in their execution, moody and atmospheric.
Another Kimberley artist that Kate Owen Gallery is proud to represent is Jack Dale. Jack was one of the last remaining Kimberley elders whose life was Kimberley history personified. His life story has been recorded by historians and academics, and for 15 years Jack Dale used painting as a method to tell his story from his own unique perspective and aesthetic. Jack uses ochre pigments, and sometimes binds them with acrylic paint producing vibrant colour.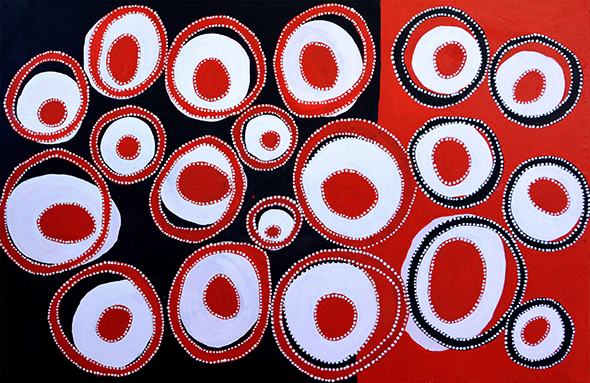 Jack Dale 'Djalala' 128 x 197cm. Find out more about Djalala here
Kathy Ramsay is an exciting emerging artist from Warmun Art Centre in the Kimberley region. While Kathy only began painting in 2013, she has already been a finalist in the John Fries and Port Hedland Art Awards, as well as being included in numerous group exhibitions and private collections across Australia and internationally. We will have new artworks by Kathy on the website soon!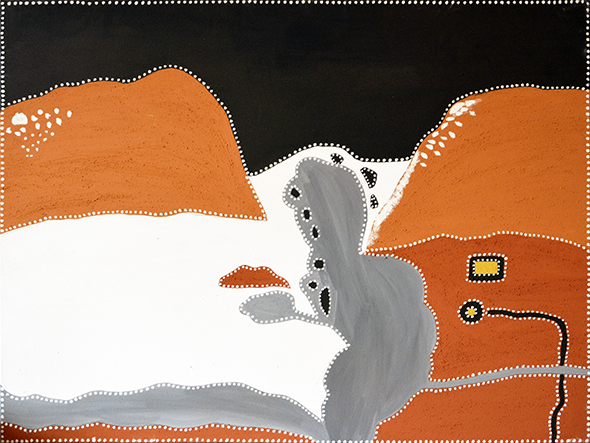 Kathy Ramsay 'Dick's Yard - (Bow River Country)' 90 x 120cm
While discussing ochre paintings, it also important to mention other communities that continue to use ochre pigments in their artworks, such as Arnhem Land and their powerful rarrk (cross hatching) designs, The Tiwi Islands, and the artists from Caldwell in far north Queensland that use ochre pigments to decorate their Bagu Jinman sculptures.
A traditional ochre painting needs to be extremely carefully stored and handled. These days, many Indigenous artworks which use traditional ochre pigments, are mixed with a synthetic polymer emulsion, or acrylic compound, to give more durability and strength. They are still far less durable than acrylic paint because they are not as finely ground and therefore at a micro level, they are more crumbly and less 'contained' by the acrylic, but if handled properly, they can last a very long time, especially since the ochre colours have high colourfastness properties.
Despite the difficulty in handling and transporting ochre paintings, and the limited palette they provide, they possess a soft, earthy quality which is unique and very attractive, and so they are still the preferred medium of many Indigenous artists.
Related Topics:
Cross Hatching Style
Aboriginal Bark Paintings
Art Symbols & Iconography
Aboriginal Art Styles