Australian Aboriginal Wood Carvings and Sculpture
Indigenous sculpture and carvings offer some superb examples of Aboriginal culture, and are growing in popularity and place in the scheme of things.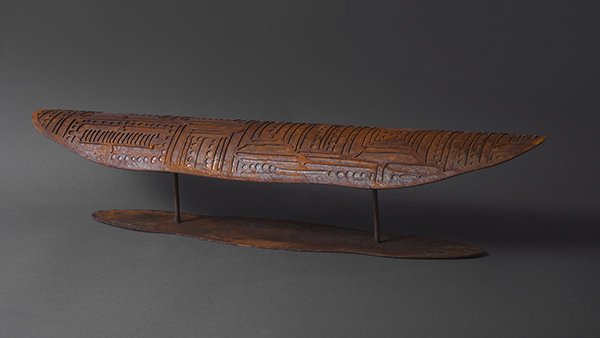 If you have ever gazed upon Lin Onus' 'Fruit Bats' sculpture, featuring that great Australian icon, the Hills Hoist clothes line, you will have marvelled at the eerie and penetrating energy emanating from the hundred or more life sized, fruit bats suspended from the wires. Decorated with traditional cross hatching design they are clustered together en masse, hanging upside down and clinging by their feet where normally clothes would be.
Perhaps you have walked in awe amongst the mass of hollow log coffins originating from the Ramingining and surrounding areas in central Arnhem land and now housed in the National Gallery.
Camp dog sculptures sourced from communities in the far north are in many ways, humble and plainly fashioned works, but they have the presence (or perhaps more) than the real camp dogs that populate any Indigenous community. Bush Critter sculptures, carved from wood, look askance at passers by with the exact same, eccentrically wild expression they have when surprised in the bush.
Pukamani funeral poles from the Tiwi people of Melville Island, often fashioned from extremely heavy and durable ironwood, have a spiritual and aesthetic presence that dominates any space or situation. Apart from shedding the occasional family of wood eating insects, Bill Harney's Lightning Spirits (a form of Mimi Spirit), carved very simply from tree branches and trunks, have such lively individual character and presence that they endear themselves to anyone who sees them.
Dennis Nona fashions impeccably fine and exotic stingray and other sculptures from bronze and aluminium.
There is such a variety of sculpture and carving, much stemming from basic everyday needs such as weaponry, canoes and an array of containers. Still more have a ceremonial purpose and a role in passing on the spiritual and other important knowledge of the Aboriginal culture.
Related Topics:
Body Paint and Ceremonial Artifacts
Aboriginal Bark Paintings
Rock Art from the Kimberleys
Aboriginal Art Styles